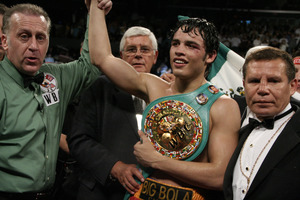 By Marc Livitz at ringside: Julio Cesar Chavez, Jr. fulfilled the wishes of Peter Manfredo, Jr. and agreed to turn the fight into a slugfest. Against the backdrop of a nearly 100% pro-Chavez crowd at the Reliant Arena in Houston, TX, the undefeated son of the Mexican legend (Julio Cesar Chavez, Sr.) started slowly, but finished with a very strong statement.

The opening round saw the two fighters attempting to get a sense of what the other held. Manfredo, Jr. (37-7(20)) constantly tried to press the action and quickly bring the fight to Chavez, who himself was using the ring and moving well. This would be perhaps the only period that could have been scored close to even. By round two, Manfredo, Jr. was landing jabs, but only one at a time. By stark contrast, Chavez increased his activity level and began to land solid combinations to the head of Manfredo thanks to a very quick and snappy left jab. In round three, Chavez proceeded to use his reach advantage and by this point, he was landing shots flush to
the head and body. Manfredo would score the occasional power shot, but as before he would not follow in any way the slow progress he had gained. The round ended in a heated exchange of blows, which brought the raucous crowd to it feet.

The fifth stanza was somewhat misleading. Peter Manfredo, Jr. was at times beating Chavez to the punch. To the neutral eye, Manfredo was almost dominating the round as he was taking advantage of Chavez's reluctance to pick up the pace. How things quickly changed. Julio Cesar Chavez, Jr. took advantage of Manfredo, Jr.'s charge forward and connected with a crushing overhand right that sent Manfredo stumbling backward to the ropes.

Chavez literally jogged across the ring and began to land shot after solid shot to the head, body, mind and spirit of the dazed Manfredo, Jr. When the Providence, Rhode Island native failed to respond to the onslaught, referee Laurence Cole stepped in and stopped the contest. Julio Cesar Chavez, Jr. is still undefeated by way of his TKO victory at the 1:52 mark of round five.

Undercard Notes

Joshua Clottey returned to the ring after a lengthy absence and scored a second round knockout of Calvin Green in an eight round Super Welterweight bout. Clottey (35-4-0-1(21)) had not fought since losing a lopsided decision to Manny Pacquiao at Cowboys Stadium in March of last year.



Mickey Bey of Cleveland, OH remained undefeated after he overcame a second knockdown to score a unanimous decision victory over Mexican journeyman Hector Velazquez in an eight round Welterweight contest. Velazquez once battled Manny Pacquiao in 2005. Bey improved to (18-0-1(9)).


Marcus "Too Much" Johnson (20-0(15)) UD 6 over William Bailey (10-12(4)), Light Heavyweights

Luis Zarazua (1-0(1)) UD 4 over Ricardo Avila (1-5), Featherweights

Ivan "Gamboa" Otero (6-0(1)) MD 4 over Gino Escamilla (5-10-1(2)), Super Featherweights

Alex Saucedo (Pro Debut) TKO 1 over Cedric Sheppard (0-1(0)), Welterweights

Wale "Lucky Boy" Omotoso (19-0(17)) UD 8 over Lanard Tyner (25-4-2(15)), Welterweights

Jose Pinzon (20-2-1(13)) UD 8 over Larry Smith (10-7(7)), Super Welterweights

November 20, 2011