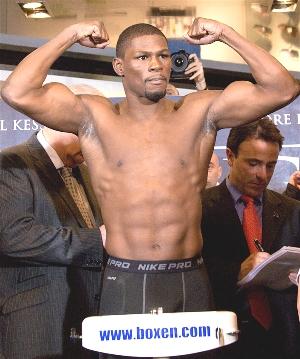 By Matthew Hurley: Jermain Taylor's announcement that he would bow out of Showtime's Super Six Word Boxing Classic in the wake of his vicious knockout loss to Arthur Abraham came as a relief.

Taylor, long a favorite at this address, was scheduled to take on super middleweight titleholder Andre Ward in the second round of the tournament on April 17th. But the Arkansas native fought twice in 2009, against Abraham and Carl Froch, and was knocked out brutally both times with only seconds remaining in the final round. His pride and fighting spirit told him to carry on, but family and friends seem to have brought him to the realization that a long rest is his only true recourse.

"I'm going to take some time off from the sport of boxing and take myself out of the Showtime World Boxing Classic tournament," he said in an official statement. "It's important that I give my body and mind some much needed rest, because I have been boxing for nearly twenty years. I plan on keeping myself in shape and making a return to the sport sometime in the future."

Good for him.

The right hand from Abraham that separated Jermain from his senses caused a severe concussion and short-term memory loss. After being released from the hospital the fighter seemed intent on participating in the second round of the tournament but those closest to him advised him that a break would be in his best interest. His promoter Lou DiBella, who genuinely cares for him, resigned when Taylor notified him that he would fight on. DiBella's decision to walk away from a fighter he's worked with since his professional beginnings probably prodded Taylor into making his final decision. It was a classy move on DiBella's part considering all the money he would make had he decided to continue promoting his fighter.

DiBella told ESPN.com that, "I know it must have been a difficult decision for Jermain and I'm very happy for him and his family that he decided to give himself a much needed break."

Taylor's ascension to boxing prominence began in the 2000 Olympic games in Sydney where he won a bronze medal. He was heavily courted by HBO and became one of their up-and-coming stars. He hit pay dirt in 2005 when he won a split decision over Bernard Hopkins to claim the undisputed middleweight crown. He would again outpoint Hopkins in the rematch, this time by unanimous decision, but the close nature of both fights took some of the shine off his achievement in the eyes of many. Maybe HBO's new golden child wasn't quite the fighter he'd been hyped to be. Considering the extraordinary run Hopkins went on after those two losses make Taylor's two spirited efforts against 'The Executioner' more impressive in retrospect.

Taylor's middleweight reign would become something of a headache for the talented but precocious fighter. No matter what he did, who he fought, the manner in which he fought, it would never be enough to win over the naysayers. And when he failed to achieve the lofty goals others had set for him the criticism came in volleys until he finally collapsed under the thunderous punches of Kelly Pavlik in 2007.

Yet he never complained. His Arkansas homespun civility precluded him from becoming arrogant when he won or infuriated in the face of criticism when he struggled, and ultimately left him humbled when he lost.

After those two close victories over Hopkins, which was when all the criticism started, Taylor then took on a succession of difficult opponents starting with defensive wizard Ronald 'Winky' Wright. In yet another close, pitched battle Taylor escaped with a hard fought draw. And the criticism continued to mount.

He then took on and beat still tough Kassim Ouma and the tricky Cory Spinks. Neither bout helped his cause but, without taking a breath, he signed to fight rising contender, and now current middleweight kingpin, Pavlik. The two engaged in a breathtaking battle that saw Taylor nearly knock out Pavlik in the second round before finally coming undone in the seventh round after a vicious assault. It was the type of fight that elevated both men, but it must have been bittersweet for the former champ to realize that only in defeat had he finally won over his skeptics.



Perhaps for that reason he immediately signed to fight Pavlik again, this time in an over the weight non-title bout. Taylor fought admirably but a late surge from Pavlik helped him capture a close unanimous decision.

There are some who think Jermain Taylor was as good as he would ever get in his two bouts with Bernard Hopkins. His talent had reached its apex and he struggled but fought evenly with a future hall-of-famer.

Others believe had he followed a more disciplined training regime, like that of Hopkins, and adopted a more healthy diet between bouts his stamina may never have become the liability that it did.

The reality is that Jermain Taylor was never going to be an all time great fighter. There were too many flaws, too many chinks in his armor that were never corrected. Had he been a gym rat like Hopkins he may have found the wherewithal to withstand the final round assaults of Pavlik in their second fight and Carl Froch in April of 2009. But his love for cheeseburgers packed on the pounds between fights and a changing set of trainers, each focused on different aspects of the game, all conspired against him. He was also a little too much of the country boy – a kid who suddenly made a great deal of money after struggling for so long and could finally indulge his healthy appetites.

But despite his shortcomings he always fought his heart out. He did everything he could with what he had and he did it with a wounded pride. His willingness to get in the ring with anyone eventually brought his critics around. How can you not applaud a man who fought Bernard Hopkins twice, Kelly Pavlik twice and most recently Carl Froch and Arthur Abraham back to back? And all six of those fights were compelling affairs.

The odd thing about Jermain Taylor's career has been his precocious nature – that youthful exuberance that never seemed to go away. All the wrinkles in his game that should have been ironed out over time just stayed right there for all to see. He never seemed to learn how to pace himself or relax in the ring. He never truly matured. Perhaps that revolving door that spun in trainer after trainer is to blame, but if it is then the blame must be placed on Jermain's shoulders. It was his decision after all.

Yet, after winning the middleweight title his competitive nature kicked into overdrive. His courage eventually eclipsed his talent – or, perhaps it always did. That was what made you root for him, and it's what made you cringe when he lay flat on his back, unconscious, still jabbing at the air after Arthur Abraham concussed him.

And it's why we should acknowledge his decision to drop out of the Super Six tournament as the correct decision. The kid needs a break. Whether that break should be a permanent one from the occupation that has dominated his life for the last two decades is something Taylor will have to decide for himself in the coming months.

If we have seen the last of Jermain Taylor in the ring it says here that his career will be reevaluated in a more positive light than when it was in motion. He wasn't the best of his era but he fought many of the best and gave them all they could handle. His courage and competitive spirit were his two greatest assets and they were on display each and every time he stepped through the ropes. And for a professional prizefighter that's really all we can ask for.