Book Review – Sorcery At Caesars: Sugar Ray's Marvelous Fight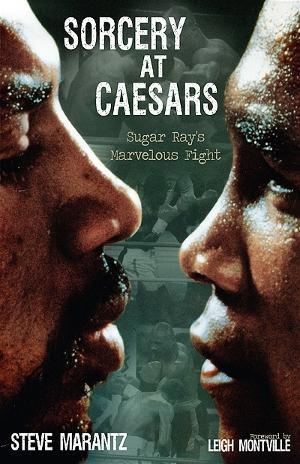 By Matthew Hurley: Every few weeks I make my way to the local Barnes and Noble to pick up the latest boxing magazines and then I make a quick check in the book section to see if any new selections have been published. Usually the boxing book shelf is filled with countless tomes on Muhammad Ali, most of them telling the same stories we've all heard many times over. But every so often an author takes on a new, interesting subject that hasn't been tackled before. So, it was with great pleasure that I picked up author Steve Marantz's new book 'Sorcery At Caesars: Sugar Ray's Marvelous Fight' – an intriguing back story on the 1987 super-fight between middleweight champion Marvelous Marvin Hagler and Sugar Ray Leonard.

Marantz leaves no doubt right from the beginning as to who he was pulling for in that pivotal bout in boxing history. He began covering boxing for the Boston Globe in the early seventies and one of his first assignments was to cover an up and coming fighter from Brockton, Massachusetts named Marvin Hagler. Marantz followed a then 19-year-old Hagler from the days when he was hidden away in dingy clubs all the way up to his signature victory over Thomas Hearns in 1985, to that fateful night at Caesars Palace in 1987 when, after conceding nearly every advantage to the man he had pursued for years and had grown to resent so much, everything seemed to come unglued for Marvin Hagler.

Right from the get-go Marantz presents Sugar Ray Leonard as an opportunist. The picture he paints of arguably the finest fighter of his generation will no doubt irritate fans of Leonard. But within his less than flattering character study he reveals a cool, calculating athlete who was able to not only market himself as a sports celebrity easily embraced by both black and white fans, but as a tactician in and out of the ring. Leonard is presented as a man who waits on and baits his opponents. If there is a fault in Marantz's approach it is that he doesn't give Leonard enough credit for being the great fighter that he truly was. For example as Leonard is preparing himself for an eventual welterweight title shot the author opines that he "ducked" WBA champion Pipino Cuevas and contenders Thomas Hearns and Carlos Palomino to go for the easier mark in WBC champion Wilfred Benitez.

"Pipino Cuevas, a hard-hitting Mexican knockout artist, held the WBA title. Either title would do, but Leonard chose the safer opponent, Benitez, a deft boxer who possessed little of Cuevas' punching power, or for that matter, Leonard's."

By minimizing Benitez as a fighter Marantz begins what becomes a somewhat revisionist history in regards to Leonard's career. Benitez, now enshrined in the boxing hall of fame, was arguably the best welterweight in the division at the time. The fight turned into a nip and tuck affair with Leonard emerging with a 15th round TKO in his twenty-fifth fight. Two fights later he would take on Roberto Duran in Montreal in an epic encounter that saw the seething 'Hands of Stone' wrest the title from the champion after Leonard elected to stand his ground and fight on the inside to prove his toughness both to himself and to a skeptical boxing public who viewed the 1976 Olympic gold medalist as a pre-fabricated product. Even with hindsight Marantz tends to agree with this assessment and he presents this portrait of the fighter with the silver spoon in his mouth alongside the grittier story of the blue collar Hagler who fought Vito Antuofermo on the undercard of Leonard – Benetiz, settling for a disputed draw in his first title fight.

Where Leonard's ascension to the top is viewed as "preordained" Hagler's journey is one fought in obscurity. His story is presented as heroic whereas Leonard's seems gift wrapped and then marketed brilliantly. After years in the dangerous ghetto district of Newark, New Jersey where he saw brutality and racism on a daily basis Hagler developed an inherent distrust of whites as riots erupted all around him. Upon moving to Brockton, Massachusetts in 1969 Hagler, looking for an outlet for his anger and frustration, entered the Petronelli School of Boxing in 1971 and forged a lifelong friendship/partnership with Pat and Goody Petronelli after Goody, seeing something in the young, fearsome looking man asked, "You want to learn how to box?"

"Yeah," Hagler replied.

"Why is that?"

"I want to be a champion."

The exchange is not unlike any other between a young pupil and a teacher but Goody knew he had something in Hagler as the aspiring fighter showed an unrelenting resolve and tenacity in the gym. Their journey would take them to Philadelphia in match ups against some of the roughest customers in the sport – Bennie Briscoe, Willie Monroe, Eugene Hart and Bobby Watts.

It's in the early stages of both fighters careers where 'Sorcery At Caesars' truly shines. Little anecdotes from several different people (associates, writers, television commentators) offers unique insight into the mental make-up of Hagler and Leonard. If there is a fault with the book it is in Marantz's portrayal of Leonard as a conniving huckster. Certainly there is substance there – Leonard has always been image conscious and, in the estimation of many, was motivated as much by money and celebrity as he was to be great inside the ring. It's the duplicity of his character that Marantz clings to and fully exploits, ultimately presenting a rather unlikable man. Marantz opens the book with Ray's notorious "A Night With Sugar Ray Leonard" in which the boxer invited Hagler to this pseudo press conference, tribute and fund raiser at the Baltimore Civic Center to announce whether he would continue to fight on or not. Ray had recently had surgery for a detached retina. The feeling was, with Hagler an invited guest, Leonard would announce their long anticipated showdown was a go. Instead he baited Hagler, finally announcing, "A fight with this great man, this great champion, would be one of the greatest fights in the history of boxing. But unfortunately, it'll never happen."

Hagler was crestfallen and his bitterness at being made a spectacle of would linger until the night of April 6th 1987. But by that time Leonard had already begun his psychological game play with the proud but often sullen champion. In the end Ray knew what he was doing. He was a master at manipulation and it worked for him. He got so far into Hagler's shaven head that by the time the fight was signed the champion had given away distinct advantages just to get Ray to sign the contract – a 12 round distance instead of 15, a twenty foot ring and 10-ounce attached-thumb gloves instead of 8-ounce gloves. Leonard would concede the greater monetary reward to Hagler – Marvin was guaranteed $12 million to Ray's $11 million. But the champion inexplicably agreed to every other demand Leonard threw on the negotiating table.

As the book builds to its climax Marantz effectively portrays Hagler as a man chasing after what he believes should have been his all along – superstardom. Once he achieves it however, by knocking out Hearns in 1985, some of Marvin's desire is sacrificed. And he also discovers that the limelight once owned by Leonard that he so coveted is not a place where he is comfortable. Leonard watched this abatement and bided his time until he was sure that Hagler had gone soft. It is then that he agrees to the fight.

Leonard's split decision victory over Hagler is still hotly debated. Did Ray win by stealing rounds with flurries before the bell or did Hagler lose the fight by fighting in a conventional stance in the first few rounds, intent on boxing the master boxer, subsequently giving away those opening stanzas? Or did he simply beat Ray only to be robbed of the decision? As the referee that night, Richard Steele said, "Every time I watch it, it gets closer."

Marantz also delves into Leonard's admitted cocaine abuse and Hagler's alleged use of the drug. Hagler's cocaine usage was a rumor that spread in the New England region after his victory over Hearns and was eventually reported by sportscaster and now radio host John Dennis. Hagler has consistently denied the accusations but Marantz seems to use the allegation as, perhaps, a reason for Hagler's diminishing returns in his fight with John Mugabi, which Hagler won by a tough 11th round knockout and his final bout with Sugar Ray.

In a 1987 interview with Ring Magazine's Jeff Ryan, Hagler insisted he had never used the drug. "No, no, no, no. I've been around it. You know what I mean? Once you become famous, you see it like anything. (Drugs?) No, never."

'Sorcery At Caesars', despite a few reservations on the portrayal of Ray Leonard's character and career is a must read for any boxing fan. Steve Marantz has written a compelling book about two of the most important figures in the sport of boxing of the last 25 years. With noted sports writer George Kimball's Four Kings: Leonard, Hagler, Hearns, Duran and the Last Great Era of Boxing coming out in October, boxing fans now have a wealth of material dedicated to a wonderfully exciting time in boxing that still seems so fresh in the mind despite happening nearly thirty years ago.



Subscribe to feed