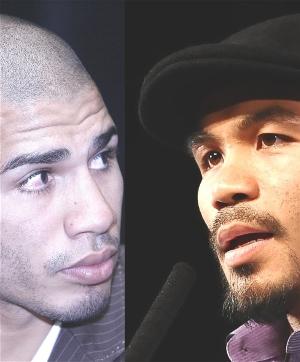 By Matthew Hurley: The upcoming bout between Miguel Cotto and Manny Pacquiao on November 14th at the MGM Grand in Las Vegas holds so many intangibles that boxing fans are champing at the bit for the opening bell to ring.

Every year there is one fight that defines the sport whether or not the match-up itself warrants such scrutiny. Cotto – Pacquiao is this year's high water mark. (Don't let Floyd Mayweather's diarrhea of the mouth concerning his comeback against Juan Manuel Marquez on September 19th fool you.) Whether Cotto – Pacquiao lives up to expectations remains to be seen but most insiders speculate that for however long it lasts this bout, because of the respective styles and temperaments of the fighters, will be fan friendly from first punch to last.

And then there are the questions surrounding both fighters.

Is Miguel Cotto damaged goods?

After his brutal loss to Antonio Margarito in 2008, in a fight of the year candidate, many wondered if the beating Cotto took over the second half of the bout robbed him of his prime. Fighters are so vulnerable, no matter how skilled and how courageous, that even one vicious encounter can take away bits and pieces of his physicality and his will. For Cotto, the Margarito fight was his foray into hell. We don't quite know if he's come all the way back.

Cotto fought masterfully for six rounds but Margarito's imperviousness to pain or fatigue overwhelmed him in the bout's final rounds. Cotto, his face battered and his will depleted, took a knee in the eleventh round and suddenly his future as an elite fighter was in question.

Can he come back from such a wicked beating, many wondered.

Cotto rebounded with an easy victory over the limited Michael Jennings in February to take the WBO welterweight title and then he took on the rugged Joshua Clottey in June. The razor thin victory over Clottey seemed to split opinion on Cotto right down the middle.

He suffered a hideous gash over his left eye early in the bout but his resolve remained firm and he battled through it. Some saw the close victory as an indicator of wear and tear on a body subjected to several taxing fights over the years. (To his great credit Cotto has sought out and taken on tough competition over his last several fights.) Others applauded his courage, fighting through injury and closing the show strongly. It seems with Cotto everything is open for debate.

Everything, including his loss to Margarito, which came into question when the Mexican fighter's hand wraps were discovered to have been padded with hardened bits of a plaster-like substance before he entered the ring to take on Sugar Shane Mosley. Had Margarito and his team done the same thing prior to his dismantling of Cotto and simply gotten away with it? It's a legitimate question, but the damage done in that fight is done. It can't be wiped away from Cotto's mind and body.

All questions regarding the past are actually moot now that the biggest fight of Cotto's career is on the horizon. His future, and perhaps his legacy, will be determined on the outcome of this one big fight.

As for Pacquiao, his legacy is already secure. Few, if any, will question the legitimacy of his greatness as a fighter. He is already a lock for the Hall of Fame. But a win over Cotto, particularly if it comes in dramatic fashion, will elevate him into the pantheon of the all time great fighters.

Pacquiao's star quality began to change when he broke apart David Diaz in June of 2008 for the WBC lightweight title. That perfect performance, against the perfect opponent, led him to a showdown with Oscar De La Hoya.

Going in, many assumed Oscar's size and strength would be too much for Pacquiao. But the Filipino used speed and angles to dominate a weight drained De La Hoya who, on that night, was more tin than gold.

With that signature win under his belt Pacquiao's popularity exploded. Even marginal fans of the sport, and non-fans as well, took notice of the diminutive fistic titan.



He then solidified his standing as boxing's most popular figure with his most emphatic performance yet – a second round stoppage of junior welterweight champion Ricky Hatton. The knockout of Hatton was so conclusive that it could actually serve as the only highlight reel necessary in years to come to define Pacquiao's career.

However, skeptics – and they are out there – point out that in these three key victories Diaz was a marginal foe at best, De La Hoya came in too light and was probably shot and the popular Hatton was a wide open target and arguably overrated to begin with.

There's a bit of truth in all of that, but hindsight justifies the brilliance in us all. Going into the fights with Hatton and particularly De La Hoya, many people picked Pacquiao to lose. Well, not only did he not lose he embraced his moment on center stage like all great performers do and simply killed. In fact Pacquiao hasn't lost a round since his 2008 rematch with Juan Manuel Marquez.

Cotto is a different animal altogether. He is either at or a little past his prime. And though not a one-punch knockout artist he has very heavy hands, good boxing skills and a tremendous will to win.

He's also a natural 147-pound fighter and at some point in Pacquiao's rise in weight classes size will make a difference. Will this be that fight?

Should Pacquiao win in impressive fashion his status as an all time great fighter will be fully realized. It will also mark the closing act of a brilliant career, as Manny has stated that he only intends to fight two or three more times.

Should Cotto win all the questions surrounding him since the loss to Margarito will be brushed aside and he will have also reestablished his lofty standing in the pound-for-pound rankings. He can then look forward to further big time match ups down the line. A rematch with Sugar Shane Mosley, whom he defeated by a close decision in 2007, to decide preeminence in the welterweight division is a natural.

Whatever the outcome, because these two fighters always come to do damage and never fail to entertain, Miguel Cotto vs. Manny Pacquiao is the most anticipated fight of 2009 and should the fight exceed expectations and the surrounding hype boxing fans are in for a treat on November 14th.

August 26, 2009