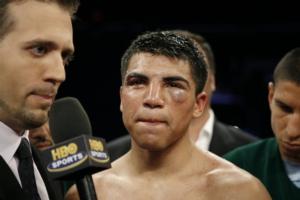 Ortiz post fight confession to Kellerman

By Matthew Hurley: For a little over five rounds Victor Ortiz and Marcos Maidana put on a fireworks display in front of a raucous crowd at the Staples Center in Los Angeles, California. After five knockdowns and concussive back and forth action the young rising star with the Dickensian back story told the ringside physician that he'd had enough and Maidana walked away with a sixth round technical knockout and the interim WBA super lightweight championship belt.

Meanwhile Ortiz left the ring to much applause for his valiant effort, but also to questions surrounding his surrender and his comments to HBO boxing analyst Max Kellerman inside the ring after his second defeat.

"I was hurt," he said, flashing that boyish grin. "I'm not going to lay down on my back for anyone. I'm young, but I don't think I deserve to be beat up like this. So, I have a lot of thinking to do."

His remarks belied the fighting spirit he showed in getting up from a knockdown in round one after he had put Maidana down just moments before. Ortiz had been badly hurt and his wobbly legs threatened to drag him down to the canvas yet again. But he held on and survived the round.

Neglecting to use his jab and superior boxing skills Ortiz decided to go for broke and nearly got away with his reckless attack when he decked Maidana twice more in round two.

But beginning in the third round Maidana found a home for his right hand. He simply couldn't miss with it. That looping shot seriously hurt Oritz in the fourth round. It opened a cut over his right eye in the fifth and suddenly the Pro-Ortiz crowd seemed slightly stunned by the turn of events.

Maidana charged out of his corner at the opening bell for the sixth round and he again clocked Ortiz with a right hand shot that produced immediate swelling under Victor's left eye. The fight was basically over at that point.

Ortiz's face had panic written all over it as he retreated to a neutral corner with Maidana in hot pursuit. A left hook to the body dropped Victor and he shook his head, conceding defeat. After a visit with the doctor the weary fighter said he'd had enough and that was it.

It was a slugfest that any who saw it won't soon forget but, depending on your point of view, will leave lingering doubts as to just how far Victor Ortiz will go in the future.

Ortiz is such a likable guy but his capitulation, and his attitude towards it, leads one to believe that this young, precocious kid might not have that intangible that only the truly great fighters have. And that intangible is a connection between the mind and the heart. Ortiz has all the heart in the world, as he proved in getting up from that first round knockdown and firing back at his tormenter, but his mind began questioning that courage when things started going against him. He listened to his head instead of his heart. Great fighters, or at least fighters who aspire to be great, reach that precarious moment and never hear any whispers of doubt. It's what made recent fighters like Diego Corrales, Israel Vazquez and Rafael Marquez such fan favorites.

Ortiz heard that voice, listened to it and quit. And rather than disavow his decision after having a few moments to think about what he'd done he smiled, shrugged his shoulders and waved it off. Max Kellerman, for once in his life, seemed almost speechless.

His surrender doesn't make him unworthy of respect, certainly after such a thrilling fight, but it brings his mental strength into question. That one decision may very well haunt him for the rest of his career. What will happen when he finds himself in that position again? When you quit once it becomes much easier to give into fear and pain when that adversity stares you in the face once more.

And Victor Ortiz isn't a battle-scarred veteran like Erik Morales shaking his head in dismay on the canvas after suffering a severe beating from Manny Pacquiao in their third bout. This is a twenty-two year old upstart who needed to prove himself in his first real test. He failed.

He still has that million-dollar smile and a gracious attitude, but he now has a label attached to him. And labels are like a Scarlet Letter in boxing – they don't go away. Victor Ortiz, at least in the aftermath of this loss, doesn't seem to get that. He will soon enough.


June 28, 2009