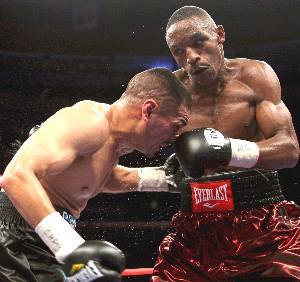 Alexander rumbles inside: David Martin/DKP

By Michael Norby: In what could be a precursor to a world title challenge later this year, unbeaten junior welterweight contender Devon Alexander scored a ninth round knockout victory over Jesus 'Chuy' Rodriguez on Friday night at The Scottsdale Center in St. Louis, Missouri, USA.

Alexander 18-0 (11) is the mandatory challenger for Timothy Bradley's WBC world title belt and, although Rodriguez 19-4 (5) was never going to cause him problems this evening, the Missourian left it late to send the kind of message he was surely looking to deliver. He sputtered along for six rounds before stepping up his offense in the seventh, dropping his man a round later and finally grasping the knockout in the ninth with a right uppercut.

Alexander caught a break in the opening round when referee Mike England ruled what looked like a flash knockdown a slip. Apart from that momentary lapse, however, the southpaw largely controlled the early portion of the fight with his right jab, stiff left hand and occasional but hurtful right hooks. Still, though, with a clearly inferior opponent in front of him, Alexander's foot merely hovered above the gas pedal; reluctant, for some reason, to press forward.

Rodriguez was tough and tried to push forward but, by the third round, his skilled opponent began connecting with solid, quick combinations. Alexander buckled his man after he rifled a straight left hand flush against the Californian's jaw and continued to pocket points with a series of combinations that forced Rodriguez into retreat.

Rodriguez doggedly pushed forward in the middle rounds and, although he was clearly losing every round, he made things difficult for the contender. He even managed to land a scattering of clean, sharp right hands in the fifth and sixth rounds and made Alexander miss by ducking and weaving under punches at close distance.

A refocused and finally energized Alexander dominated the seventh, however, and clattered both hands accurately against the head and body of his opponent. He was finding Rodriguez a lot easier now and he badly staggered the 29-year-old with a short left hook with only seconds remaining in the frame – the lack of time more than likely saving Rodriguez from a knockdown or worse.

A round later, though, Alexander dropped his man with a left hand to the top of the head and he thumped Rodriguez for the remainder of the frame with thudding power shots. Rodriguez did well to make it to the bell but, in the opening minute of the ninth, another short combination, ended with a left uppercut, forced the Californian to take a knee where he remained until England reached the count of ten.

Time of stoppage: 0:58 RD9