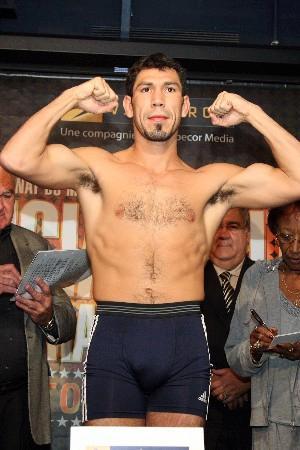 By Michael Norby: In an IBF super middleweight world title eliminator, Mexican pressure fighter Librado Andrade scored a clear but sometimes exciting unanimous decision victory over Ukrainian Vitali Tsypko at The Bell Center in Montreal, Quebec, Canada.

Fighting in the same ring where he controversially missed out on a final round stoppage victory over IBF world champion Lucian Bute last October, Andrade 28-2 (21) ensured another bite at the apple with a decisive victory over a resilient opponent. He sent Tsypko 22-3 (12) to the canvas in the second and seventh and dominated a majority of the contest until the final couple of frames that saw both men trade leather in an exciting finale.

Andrade was having problems with his technically solid opponent in the opening round as Tsypko flicked out his jab and used movement to stop the Mexican from closing distance. The Mexican punched his gloves together at the end of the frame in frustration but he enjoyed much more success a round later – scoring at range with straight punches and forcing his way inside to attack with thudding combinations. Andrade sent his man down with a straight right hand in the opening thirty seconds and dominated the remainder of the round with a busy, determined attack that Tsypko had little answer for.

Andrade continued to succeed with powerful and well placed punches to the body and head in the third round as a nervous expression washed over the face of the European. He staggered Tsypko with left hooks and straight right hands upstairs, made all the more effective off the back of some stunning body work early in the round. Tsypko responded in the fourth by landing a series of left hands but it wasn't long before Andrade stubbed out any flicker of momentum that the 32-year-old may have been building as he jumped on the front foot in the final two thirds of the frame and landed consistently with both hands.

To his credit, though, Tsypko bravely forced himself to mount offense in the fifth and sixth rounds in the face of unyielding harassment from Andrade. The Mexican was landing the cleaner and more meaningful punches but the European seemed to have settled slightly and he scored frequently from distance with straight punches to the head as he tried to battle his way back into the contest.

A piercing right uppercut in the opening minute of the seventh, however, halted Tsypko's resurgence by sending his stumbling to the canvas. He got up but was clearly shaken and Andrade swarmed over him with a steady flow of punches and, after soaking up two full minutes of this follow up assault, it was incredible that Tsypko managed to hear the bell upright.


Andrade eased off the throttle slightly in the eighth and ninth as Tsypko became almost exclusively defensive but he still seemed to do more than enough to pocket the rounds with a more deliberate but nonetheless successful strategy.

Clearly behind on the scorecards and with very little chance of finding something to seriously dent the granite-chinned Mexican, Tsypko continued to fight negatively in the ninth and tenth rounds. It looked like a dull ending was on the cards as the Ukrainian held on the inside and seemed to make avoiding another trip to the canvas priority – leaving Andrade to feed off sparse opportunities to fire punches.

Surprisingly, however, Tsypko came out aggressively in the eleventh and gave everything he could in an effort to damage his opponent. He cut Andrade above the left eye with a right hand and scored heavily with both combination and counter punching in an incredible pursuit to turn the contest. It was his best round of the fight and he tried to capitalize on that success in the 12th and final round.

Tsypko looked focused and emboldened as he met Andrade in the center of the ring but, with a little over a minute gone in the frame he walked into a huge right hand that wobbled him badly. Andrade pounced and creamed his opponent with a spectrum of punches upstairs but the brave Ukrainian stood his ground and returned fire in the center of the ring – leading to almost two minutes of exciting back and forth action until the final bell.

Even Bute, who had a front row vantage point this evening, offered a thumbs up to Andrade whom he will now meet in an eagerly anticipated rematch later in the year.

Scores: 117-109; 117-109; 120-106