Cotto-Margarito: Will it live up to the non-hype?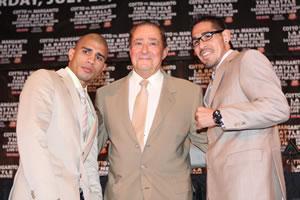 Cotto, Bob Arum, Margarito: HoganPhotos.com

By Mike Sloan in Las Vegas

When HBO senior vice president of sports operation and pay-per-view Mark Taffet said that the encroaching duel between unbeaten welterweight titlist Miguel Cotto and former belt holder Antonio Margarito reminds him of a classic boxing match from eight years ago, many agreed with him. But upon further review, maybe Taffet is just proclaiming what he wants the media and fans to hear.

Or maybe he truly believes that.

"This fight reminds me of the 2000 fight between Felix Trinidad and Fernando Vargas," Taffet said during Wednesday's final pre-fight press conference promoting the expected war between Cotto and Margarito. "We all remember how incredibly grueling that fight was and expect this one to be no different."

True, many boxing insiders and self-proclaimed experts believe the next installment of the classic Mexican-versus-Puerto Rican rivalry will be an absolute barn burner, a fight for the ages. Sifting through the various newspaper columns, websites and reading the multiple boxing/fightsports blogs, the typical cliché hyperbole has been spewing from fingertips for weeks, dating back to when the welterweight showdown was made official.

"Fight of the year candidate," "an instant classic," "guaranteed war," etc, etc. All that's missing from the countless piles of drivel are, "a gripping, edge of your seat thriller," "a laugh-out-loud comedy" and a three verb slogan.

However, though Cotto's impending contest against Margarito should elicit votes of excellence by year's end, it's hard to compare this fight to Trinidad/Vargas, or any other "mega fight" of years past. Vegas was alive and festering with intensity for both sides for weeks before Trinidad stopped Vargas in the 12th round. Sadly, as much as the boxing community salivates over the possibility of Cotto erasing Margarito's status as a legitimate contender or the potential of the Mexican stifling the notion that the Caguas native is one the of the greatest ever from Puerto Rico, there's just not much atmosphere around Vegas.

Sure, the valley is being pelted by torrents of fiery air thanks to the scorching summer sun, but the vibe around this fight isn't exactly hot. To say the least, Sin City just isn't abuzz about Cotto/Margarito and that's a shame and it's nearly impossible to finger the reason(s).

Top Rank founder Bob Arum was spot on when he said that he's "sick of fighters talking tough and then getting in the ring and acting like its Dancing with the Stars." Most boxing fans are sick of those scenarios and that's assuredly one of the leading reasons why the Sweet Science, save for Oscar De La Hoya's skirmish (and that phrase is used lightly) with Floyd Mayweather, has largely fallen off the radar in America.

American fight fans are a fickle bunch and they tend to have short memories for the great fights and elephant-like ones for the dreadful contests like anything featuring Hasim Rahman or Bernard Hopkins. Too often "legendary fight of the year" promises come up empty, leaving a bitter taste in the collective mouths of self-professed suckers like those who shelled out more than $50 for De La Hoya/Mayweather. Never again will many of those patrons purchase another pay-per-view extravaganza, they claim, but if only they would listen to the sales pitches of men like Arum for the real fights.

You know, like the one that's going to happen inside the famous MGM Grand Garden Arena this Saturday.

When Diego Corrales and Jose Luis Castillo waged their first inhuman war, the buzz surrounding what some argue was the greatest boxing match in the history of the sport was eerily similar to Cotto/Margarito. Corrales/Castillo sold just over half the seats in the arena even though virtually everybody involved with the sport knew the fight was going to be a classic. The public didn't buy into the hype no matter how hard Arum and Gary Shaw tried

Granted, Cotto vs. Margarito is expected to be a near sellout, but the two could have become innocent victims of the safe fighters' crimes. It's become commonplace over the years for boxers to do whatever they can not to lose instead of doing whatever they can to win. That formula leads to drool puddles forming onto the shirts of sleeping fight fans and eventually a lessening interest in the Sweet Science.

Thankfully, both Cotto and Margarito have throwback styles that even the most reluctant boxing cynic would appreciate. While Vegas as a whole is almost entirely bereft of that traditional big fight atmosphere in the final days leading up to their ballyhooed showdown, those who will make the trek down to the Strip to watch Cotto and Margarito try to remove each other's consciousnesses should be treated to one hell of a donnybrook.

"I want to knock Cotto out and I am ready to do it," Margarito exclaimed on the dais on Wednesday. "But I will say this: This fight will not go 12 rounds…There's not much to say. I worked hard during training and it's time to battle."

The typically stoic, statuesque Cotto iterated what his nemesis stated, but without the grandeur and sound bite the media so desperately covets.

"Everybody wants to see the best fighter go against the best fighter," the Puerto Rican said. "But I'm going to climb out of the ring on Saturday as a champion. I will leave the ring victorious. I've prepared for a very tough test, but I do not see Margarito winning.

One aspect of the fight in particular is the fact that though Margarito is a murderous puncher who unleashes more bombs in one fracas than Paulie Shore has in his entire career and Cotto is unbeaten, both men have visible weaknesses.

Cotto isn't too keen on exchanging flurries with his foes as that's when he's always been hurt and knocked down. Granted, he's always gotten back up and shrugged off the attrition to win his wars, but Margarito never stops punching and he loves to duke it out in close quarters. Ricardo Torres and DeMarcus Corley both had Cotto in a heap of trouble but failed to close out the show.

"I've seen him hurt by lighter fighters," Margarito pointed out. "Against Mosley, he showed great improvement, but me and Mosley are different fighters. We'll see if he can use that improvement against me."

On the other hand, Margarito throws very loopy, telegraphed punches and he tends to eat more punches than he should. The Mexican also cuts fairly easily. And with Cotto's deceptive handspeed and short, precise punches, he could pose a major hurdle for the taller Margarito to overcome.

Still, Margarito is not a believer in the Cotto hype.

"I didn't have the amateur fights he had, and the grooming," Margarito stated. "I started young and learned while fighting. But I'm happy where I'm at—and I'm far from finished. I know this is my great opportunity and I plan to take advantage of it…It's very important for me to give him his first defeat. Not just because it'll be his first defeat, but to show I'm the best in the division. I want that title for myself."

Margarito remains a fairly heavy betting underdog in the Vegas sportsbooks and he's determined to prove to the world that he belongs in the spotlight of the welterweight class. A win over someone like Cotto, especially an emphatic victory one way or another, would catapult him into the boxing stratosphere, a place that has escaped him his entire career. A win over Cotto could lead him into a lucrative encounter with De La Hoya or possibly an un-retiring Mayweather but he knows he can't look past his opponent.

Cotto is just as determined and said he only plans on fighting two, maybe three more years. Cotto has yet to reach the superstar status in America, the same upper echelon that housed such warriors as Leonard, Hagler, Ali, Tyson, Jones and to a slightly lesser degree, Trinidad. Obviously a win over the bigger, arguably harder punching Margarito could alter that.

Margarito and Cotto know what's at stake and they know how crucial it is to not only triumph on Saturday night but to also achieve victory via thrilling warfare. Maybe then, after they tear the MGM asunder when they attempt to skiver each other with their fists, the next time a fight of this magnitude hits town, the locals and tourists will pay attention. Maybe then a pairing of two elite fighters not named De la Hoya will create that magical atmosphere that is incarnated only from a classic Vegas super fight.

July 25, 2008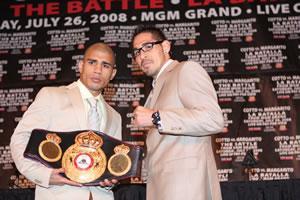 Cotto vs. Margarito: HoganPhotos.com