By Mike Sloan: One of the most intriguing matchups of the entire year is happening on Saturday night in Las Vegas, but it's a fight that is being overlooked by most. Obviously, the main attraction is the massive blockbuster showdown between undefeated pound-for-pound king Floyd Mayweather and fellow unbeaten Mexican star Saul Alvarez and with due right. That fight will nab somewhere around two million pay-per-view buys and has already eclipsed the $19 million live gate mark.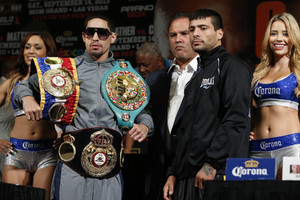 But the other featured bout of the Showtime PPV-televised broadcast is the alluring battle between undefeated Danny Garcia and virtually unblemished Argentinean bomber Lucas Matthysse. Granted, the boxing people are clamoring for this duel, but the overwhelming majority of those who will watch the mega event probably haven't even heard of one, if not both of the junior welterweights. And that's a shame, too, because this tussle is very capable of being the fight of the year when it's all said and done.
It's a fight that can go a litany of ways, but the most likely scenario is that it'll turn into an all-out war with both men's beards being tested repeatedly; it'll end via knockout. Luckily for you, SecondsOut.com already knows who will win the matchup and this column will explain why. Read on to see who will win between Garcia and Matthysse:

Punching power: Garcia can crack. Just ask Amir Khan, Mike Arnaoutis, Erik Morales and a handful of others who were stopped before the fifth round when they fought him. The problem for Garcia, though, is that Matthysse can also crack, but on an entirely different level. Matthysse hits so hard that only two of his victories have not come via stoppage. The last time he scored a win that wasn't a knockout was almost five years ago. Since then, he's laid out everybody he's faced like sod, save for a couple of dubious decision losses along the way. The bottom line is that if "La Maquina" hits you clean, your night is over. The same can't be definitively said about Garcia. Advantage: Matthysse.
Speed: Where Garcia lacks raw punching power, he more than makes up for with speed. He is aggressive and gives his opponents various angles at all times. He almost always throws straight punches, making them hit their targets quicker. Matthysse has very fast hands, too, but he tends to wind up a little too much and many of his bombs are arcing, loopy punches, which take longer to land. It's a close one, but Garcia is quicker. Advantage: Garcia
Age factor: Matthysse is 30 and smack dab in the middle of his prime. He's been on a tear lately, ripping apart everybody he's faced since losing to Devon Alexander. The way he's been fighting, he's never looked better. Luckily for those watching the brawl, the same can be said about Garcia. The Philadelphian has also been shredding his opposition, though he's only 25 and just about to enter his prime. Matthysse has more experience and has looked more dominant as of late. Advantage: Matthysse
Chin: No fighter is impervious to being hurt and Garcia showed a little weakness in the whiskers department in his war with Khan and his first fight with Morales. Matthysse isn't exactly the second coming of Pernell Whitaker on defense, but so far he hasn't needed to be because he's been walking threw everybody's firepower like he was the T-1000. Garcia certainly isn't chinny, but if it comes down to one guy taking the other one's best punch, there is only one answer. Advantage: Matthysse.
Experience: "Swift" has been stringing along a nice collection of names over the past few years. He's added the likes of Morales (twice), Khan, Kendall Holt, Nate Campbell and most recently Zab Judah to his resume. His fight with Khan was a massive one, a duel that was watched by millions of people the world over. The downside is that aside from Khan, all his biggest wins have come against faded former world champions. Matthysse just flattened Lamont Peterson and before that he toppled Mike Dallas Jr., Humberto Soto, Vivian Harris and had two hotly-disputed decision losses to Judah and Alexander. Garcia has tackled bigger names, but Matthysse's best fights have been against better opposition because Garcia's have mostly been against dinosaurs. Advantage: Matthysse
Intangibles: Matthysse still has not become a household name outside of Buenos Aires, but a win over Garcia will hopefully change that. Garcia isn't exactly a mega star by any stretch of the imagination, but he is much more well-known in America. Garcia, at least in the US, has been in bigger fights with much better promotions. Both men are eyeing a super fight with Mayweather should one emerge victorious, and that might add a little extra pressure on both. Danny's father Angel Garcia is also a master trash-talker but his antics don't seem to have really worked too well on Matthysse, something that can't be said of some of Garcia's previous opponents. One thing to look for, though, is the fact that Garcia is sometimes a slow starter and needs to get cracked a few times to really get going. If that trend continues on Saturday, he might be trying to catch the planets circling his head. Garcia also likes to brawl, which plays heavily into Matthysse's hands. And unless you can match or eclipse the Argentinean's power, that's a recipe for disaster. Advantage: Matthysse.
The bottom line: Without question, this will be a brawl for the ages, one that will probably be the fight of the year when all the dust and debris settles. Mayweather-Alvarez is getting all the headlines, but Garcia-Matthysse will steal the show. And what will make it steal all of the headliners' headlines? The fact that Garcia and Matthysse will tear into each other from the start. Garcia won't start as slowly as he has in the past and will instead gun for his foe immediately. Matthysse will oblige, which will create one hell of a back-and-forth brawl in the early rounds. Garcia will be more effective and will actually score a quasi-flash knockdown in the second round. Garcia will think he's hurt much worse than he really is and will pay the price by eating a vicious right hand late in the same frame, forever altering the fight. Garcia will still be a little shaky in the third and will be floored by another right hand. "Swift" will climb back to his feet but he'll be way too brave for his own good and refuse to clinch or back away. Instead, he'll opt to go to war with Matthysse and that'll be his downfall. Matthysse will end the fight with a ferocious flurry, prompting referee Tony Weeks to stop the fight midway through the third. Bank on it.
You can also follow Mike Sloan at www.twitter.com/mikesloan19 or check out his new fight blog www.theprizewriter.com