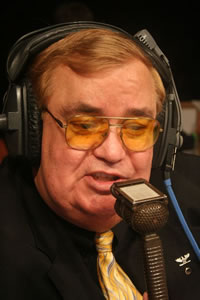 Colonel Bob Sheridan back behind the mike in Melbourne

By Paul Upham: After surviving his fourth heart attack only three weeks ago, international boxing commentator Colonel Bob Sheridan's doctor told him to take it easy for a while. After one week at home resting in Las Vegas, the 60 year-old took a fifteen hour flight to Melbourne, Australia to call last Sunday's Raymond Joval vs. Shannan Taylor IBO world title fight. You just can't keep the man who has been describing fights for radio and television for over forty years away from ringside.

The latest heart attack occurred on Halloween Night when Sheridan was at home in Las Vegas. The previous three weeks he had completed two trips to Germany to call fights with another flight to Africa in between.

"I was handing out candy to the kids in the neighbourhood and I started getting the symptoms and I know the symptoms now very well," he smiled. "The pain down the arm, the tightening in the throat and in the chest. Cold, clammy and sweaty. With all the travelling I do, I was very lucky that I was at home this time."

It has been a relatively healthy run for Sheridan over the last few years. His third heart attack having occurred the day before Evander Holyfield vs. Mike Tyson II in 1997.

"I think it is the weight creeping back up," said Sheridan. "My doctor tells me that he is amazed that I am even alive after four heart attacks. When you are feeling well, you don't follow the rules and I have put on some weight. I feel OK. But after it happens, you are walking on egg shells. As you get older, you say to yourself, 'is this it?"

Fans around the world flooded Sheridan's e-mail box during his one week stay in hospital and he received get well messages and telephone calls from around the world.

"It makes you feel great," he said. "To think that so many people would care enough to take time to send me an e-mail or go out of their way to find out how I am."

Well known for his passion and excitement at ringside whilst calling boxing, Sheridan does not believe that his exuberant style behind the microphone has contributed to his health problems.

"I think the excitement at ringside and my enthusiasm for the sport has nothing to do with my heart situation," he said. "To me, calling fights is like breathing. People told me how amazing it was for me to come out of the hospital to call Holyfield vs. Tyson II. It would have been more anxiety for me if I had of missed that fight. That was as big a fight as you could get at the time. Hopefully with a change of diet and some loss of weight, I have lost about 30lbs in the last three weeks, I will be OK. I need to lose around another 70lbs."

Joval vs. Taylor was Sheridan's 789th world title fight. He has been a regular visitor to Australia in recent years having made eleven trips for promoter Tony Caradonna. He has also called three other major fights in Melbourne with Kostya Tszyu vs. James Leija in 2003, Jeff Fenech vs. Azumah Nelson II in 1992 and Joe Frazier vs. Jimmy Ellis in 1975.

"Over the course of your career you take a liking to certain athletes and Shannan Taylor is one of them," said Sheridan. "I didn't want to miss this fight. I know the difficulties he has had in life with the drug problems. He is a real good kid and he has come back from adversity. But he is still a wild man and I love that about him too."

Sheridan calls a weekly show for Guilty Boxing in the USA and calls most of the international telecasts for the HBO and Showtime cards in the USA as well as working for a number of other promoters around the world. Having broadcast over 10,000 fights on radio and television since the 1960's, Sheridan's resume sparkles with some of the biggest fights in boxing history including "The Rumble in the Jungle" Muhammad Ali vs. George Foreman in Zaire in 1974 and "The Thrilla in Manilla" Muhammad Ali vs. Joe Frazier III in the Philippines in 1975.

"I consider myself as a boxing entertainer," he says. "I know the fights and I know the fighters. I prepare for every fight that I call. My job as a television broadcaster is to entertain the audience and try to make whatever we have, even if it is not the best fight, make something out of it and pick out some of the positives that are going on."

An inductee into the Los Angeles based World Boxing Hall of Fame, Sheridan is planning on calling fights from ringside for a quite a while yet.

"I told my cardiologist Dr. Ram Singh that I was going back to work and he told me to take it easy," smiled Sheridan. "He nearly choked when I told him I was flying to Australia. But I hope to be around for a while yet. I feel good and my mind is sharp. It has been a great run and I don't want it to end now. I'm anxious to see how this heavyweight picture shakes out. Some people say it is a terrible time for the heavyweights, but you can look at it another way. Something has got to give. Something is going to happen and this process of shaking out the division, there are going to be some great fights."

This weekend the Colonel will call his 791st world title fight when he puts on the headset for Jermain Taylor vs. Bernard Hopkins II at the Mandalay Bay Events Centre in Las Vegas.

"It is a difficult fight to predict," he said. "I had their first fight as a draw. I think Bernard gave too much of the first fight away and I don't think he will make that mistake again. He is very smart. He says he is the strongest 40 year-old fighter in the world, but he is still a 40 year-old fighter. You have to ask the question, how much longer can he go on? Taylor is this young, strong and certainly very good fighter. Is it enough to overtake the experience of Hopkins? Taylor sort of ran out of gas at the end of the first fight. It will be interesting to see what Hopkins' game plan is."


Paul Upham
Contributing Editor.