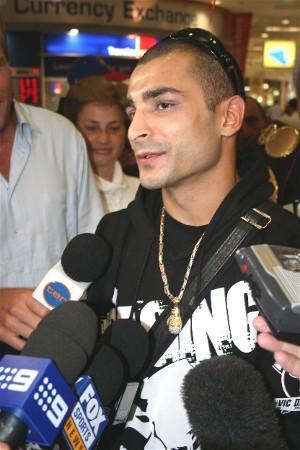 Vic Darchinyan

By Paul Upham in Sydney: It may be a short stay at super flyweight for WBC/WBA/IBF boxing champion Vic Darchinyan. The "Raging Bull" arrived home in Australia on Tuesday morning and was mobbed by a massive media contingent. He promptly told them he was ready to move up in weight again to win more world titles.

"I want to be a champion in three weight divisions, four, five, I don't want to go to bantamweight and stop," said Darchinyan, who previously held the IBF/IBO flyweight world titles. "I just know that I am the best fighter in my weight division in the world. I am the undisputed champion at super flyweight. If they want me to fight for the WBO title, I will stay. I want to have four belts."

With Fernando Montiel relinquishing his WBO super flyweight world title and also moving up to bantamweight, a future meeting between the two is possible. Montiel watched from ringside on Saturday night as Darchinyan demolished another Mexican Jorge Arce over eleven rounds on Saturday night at the Honda Center in Anaheim on Showtime Championship Boxing.

"I have been waiting for this fight with Arce for three years and I showed that I am better than him," said Darchinyan 32-1-1 (26). "For three years he and his manager didn't want the fight. Mentally, I was ready. I could play with him. I wanted to prove that I was stronger than him. I hurt him a couple of times. The ropes saved him. I wanted to punish him. It wasn't my goal to finish him in the 1st or 2nd round. I showed that I can play with him like a baby and I can stop him anytime."

Two potential fights for Darchinyan at bantamweight include Japan's WBC bantamweight world champion Hozumi Hasegawa 25-2 (9) and Ghana's IBF bantamweight king Joseph Agbeko 26-1 (22).

After winning a world title at 118lbs, the next big fight that Darchinyan really wants is a battle with Mexican Israel Vazquez 43-4 (31), rated by many experts in the top ten pound for pound, after his thrilling three fight series with Rafael Marquez.

"Vazquez said he is ready to fight me," reported Darchinyan. "I want to win a belt at bantamweight first and then I can move up two weight classes and challenge Vazquez who is moving up to featherweight."

33 year-old Darchinyan said the ultimate decision on his next opponent would be made by his promoter Gary Shaw and manager Elias Nasser.

Amidst the media throng, Darchinyan was overjoyed to see his young son Ruben and wife Olga for the first time in one month.

"I am happy to be back here with all of my family and my team," he smiled. "The media are here. I have my world titles and no one can take them from me."

Ask if he was still hungry for more world title belts, Darchinyan quickly replied, "For sure!"

The Armenian born power puncher had a message for all of his potential rivals around the world.

"If you think you are better than me," he said, "come and beat me and take my titles and I will retire peacefully. If I can punish my opponents who are four or five years younger than me and show them that I am stronger, why should I retire? If I feel there is someone stronger than me, I will retire the next day."


Paul Upham
Content Editor