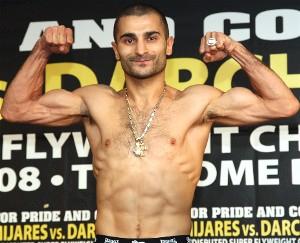 Vic "Raging Bull" Darchinyan

By Paul Upham: WBC/WBA/IBF junior bantamweight boxing world champion Vic "Raging Bull" Darchinyan is unhappy with comments from Mexican Fernando Beltran, who promotes his next opponent Jorge Arce on February 7.

33 year-old Darchinyan is furious with Beltran, who labelled him "a clown" and claimed that the Armenian born boxer "has no fan drawing power at all when it comes to ticket sales".

"Me and Arce can say things about each other before the fight," explained Darchinyan, "boxers are always doing this before the fight trying to scare each other. Why is Beltran getting involved? He is an idiot. It is nothing to do with him. When I see him at the press conference, I am going to tell him. Why is he saying bad things about me? He is a manager. Stay in your position. Let your boxer do the talking. Can't he talk himself? If Arce wants to talk about me, fine. I will show him in the ring. But Beltran, why are you talking about me? I am very upset with him. I do not need my manager, promoter or trainer talking for me. I do my own talking."

Fernando Beltran, who is the President of Zanfer Promotions, will be behind Arce when the Mexican challenges Darchinyan at the Honda Center in Anaheim, California on Showtime Championship Boxing.

Darchinyan says that Beltran previously tried to influence his decision on who to be promoted by.

"Before I signed a contract with my promoter Gary Shaw," he said, "Beltran told me that if I sign with Gary Shaw, I will never fight Arce. Look who wants to fight who now three years later. Now I have the three world title belts they want to fight me."


Paul Upham
Content Editor