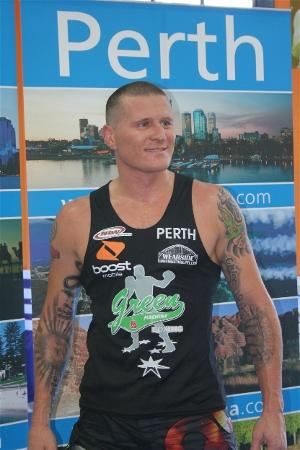 Danny Green in Perth tonight

By Paul Upham: Danny Green's IBO boxing world title defence against BJ Flores tonight, Wednesday 17 November in Perth, Western Australia poses some interesting questions to be answered inside the ring.

31 year-old Flores 24-0-1 (15) presents an interesting paradox for Green. Whereas the Green Machine's last three opponents in Roy Jones Jr, Manny Siaca and Paul Briggs were well-known to the local public in general from past exploits, Flores arrives as a relative mystery. However, the immediate physical presence of the American challenger and fleeting viewings of his undefeated career seemingly establish him as a dangerous contender.

At 37 years of age, Green 30-3 (27) may well have contemplated many times what his career exit plan is. The win over Jones Jr was a highlight. An attempt to secure a fight with Bernard Hopkins failed. The match with Flores possibly presents an immediate payback for his loyal fans in Perth after the Briggs one round fight farce.

Originally, when Green made a comeback to the sport after 18 months away in April 2009, his one and only goal was a rematch with arch nemesis Anthony Mundine. But with The Man continuing to shrink in size down to junior middleweight, it seems a remote possibility now that a rematch will ever occur.

Which brings us back to BJ Flores - the chosen one. Green promised his loyal fans in Perth a real fight after the one round shellacking of the broken down Paul Briggs. Green and his trusty lieutenant Justin Manolikos have delivered. The irony is that a win over Flores in a great battle, will go largely unrewarded with respect by the public, because of BJ's yet unproven track record at the highest level.

Expressing the feeling that he is the most ducked boxer of the cruiserweight division, which could have some merit. More likely is his former promotional contract with Jones Jr's Square Ring Promotions company keeping him grounded. Never seriously developed like Golden Boy Promotions as a vehicle for other boxers, Roy's fighters only fought when their boss did. Making trips to centre ring few and far between. Like Jones Jr's long time friend Derek 'Smoke' Gainer, Flores has sat idle for long periods of time. Keeping busy by collecting pay cheques as a sparring partner for others.

As Manny Pacquiao showed so brilliantly last weekend, it is not always the size of the boxer that counts, but technique, skills and the desire inside of him that stokes his combative fires. Physically, Green has never had a problem getting into boxing shape and still punishes himself in the gym striving for every extra ounce of conditioning. Though he is still really a light heavyweight competing at cruiserweight, Green can certainly compete with the bigger boxers and aims to prove it on Wednesday night. It is interesting to note however, that his five fights in eighteen months have only seen him in action in less than twelve rounds.

Flores has been saying all of the right things to the media during his two trips down under.

"I'm not like anyone Danny Green has ever fought. His usual song and dance routine - it ends with me," he said.

The key to the outcome of the match will be in the early rounds. At some stage Green will test Flores' chin and how the American reacts to that will be an indicator of the likely outcome. If he fires back and attempts to match Green's fire in kind, a very entertaining battle will likely unveil itself. If he attempts to cover up and box from the outside, Green will remain on the front foot and either knock him out or rack up enough points in front of his roaring home town crowd to win on the cards.

Does Green still have what it takes at 37? Can Flores back-up his lofty predictions?

These questions and more will be answered on Wednesday night at the Challenge Stadium.


Paul Upham
Content Editor