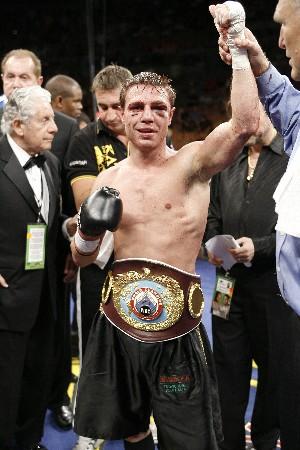 Michael Katsidis wins: HoganPhotos.com

By Paul Upham: The relentless pressure of Michael "The Great" Katsidis finally wore down former two-division boxing world champion Jesus Chavez, stopping him at the end of round 7 on Saturday night on the "Lightweight Lightning" promotion at the Frank Erwin Center in Austin, Texas, USA.

There was controlled action in round 1 from both boxers, resulting in a very close stanza. In round 2, a right hand from 36 year-old Chavez, dressed in red trunks with white trim, landed. Katsidis, in black trunks, tried to flurry with body shots.

Katsidis 25-2 (21) was working forward, but received some right hands in reply. It was a entertaining battle and boxing great Bernard Hopkins watching from ringside called it, "old time fighting".

In round 3, the shorter Chavez 44-5 (30) was trading willingly on the inside. Katsidis was working hard, but Chavez was landing more consistently. Chavez, fighting in front of his hometown card, landed a stinging left hook. There were some nice uppercuts from Chavez, but Katsidis kept coming forward and had Chavez' back on the ropes to end the round.

There was improved head movement from Katsidis in round 4. A cut high on Chavez' hairline came from an accidental head clash. The resulting blood saw Katsidis increase his pressure and pace. Chavez was caught with a right hand going straight back.

In round 5, Chavez landed his right hand. Chants of 'Chavez, Chavez' from the passionate local fans filled the arena. A right hand from Katsidis landed flush.
There was a furious pace to the round with Katsidis landing strongly. Chavez went back to the body again, but Katsidis was finishing strong.

Both men were trading right hands to start round 6. Chavez was caught by a right hand going back onto the ropes. The fight was stopped momentarily when the referee found that Chavez was fighting the round without his mouthpiece. Upon resumption, Katsidis was forcing Chavez to trade, as blood was streaming down the Mexican born fighters' face.

28 year-old Katsidis was taking the fight to Chavez in round 7. Chavez was still mounting a gallant resistance, but he was beginning to tire. He tried further body shots, but they had no effect on the relentless Australian. As he walked back to his corner at the bell, it was clear that Chavez had little left, aging as the rounds went on. Chavez was simply worn down by Katsidis' consistent offence.

After some immediate discussion in the corner at the end of the round, the blue corner informed the referee that Chavez was unable to continue, resulting in a 7th round TKO win for Katsidis.

27 year-old Vicente Escobedo 20-1 (12) won an entertaining unanimous ten round points decision over former IBF junior lightweight boxing world champion Carlos "El Famoso" Hernandez 43-8-1 (24)

38 year-old Hernandez of El Salvadorian descent was winning the 1st round, but was dropped at the end of it by a short straight right hand to the jaw. Replays showed he got caught after not bringing his hands back up to protect his head.

Hernandez was down in round 2 early and hurt throughout. But showing great heart, he was coming forward in round 3 and trying to get back into the fight.

An accidental elbow to Hernandez' left eye in round 3 cut him. Hernandez hurt Escobedo with a left hand midway through round 3 and the younger boxer was backing off. Escobedo returned fire with body shots in a crowd pleasing thriller with the action going both ways.

There were some sharp uppercuts from Hernandez landing in round 4. Both men were fighting hard in round 5 with the contest still up for grabs. At the end of round 6, Escobedo went down for an official knockdown when Hernandez' left foot stepped on his right foot.

Hernandez was hurt by a right hand in round 8, taking a number of hard punches and his right eye was badly swollen. A gutsy Hernandez tried to rally at the beginning of round 9, but Escobedo was winning most of the exchanges.

Both men came out swinging in round 10, punching to the final bell. Both boxers received a worthy standing ovation from the crowd for their efforts.

All three judges scored the fight for Escobedo 96-91, 94-93 and 95-91.

Also on the card, late replacement Rolando Reyes 31-4-2 (20) from Oxnard, California sprung an upset with a 5th round TKO win over former two-time IBF lightweight world champion Julio Diaz 36-5 (26).

29 year-old Diaz was working consistently to win the early rounds, but a straight right hand to the jaw changed the course of the fight in round 5. Mexican Diaz was hurt and went down to the canvas from a follow-up left uppercut. He beat the count on wobbly legs and Reyes attacked furiously, forcing a second knockdown. Referee Gregorio Alvarez waving off the contest at the 2:17 minute mark.

"I came ready to give it everything I got," said 30 year-old Reyes. "They told me, once I hurt him, kept on him."