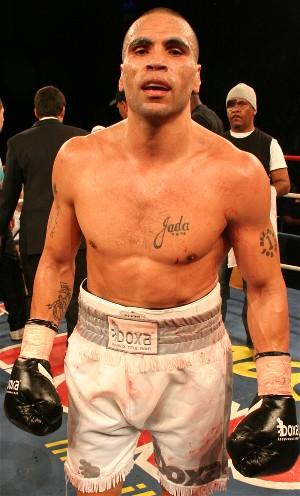 Mundine defeats Taylor

By Paul Upham: Shannan Taylor promised to give Anthony Mundine a real fight and while he didn't get the win, he was good to his word. "The Man" won a unanimous twelve round points decision on Wednesday night in Wollongong, Australia, but he had to work hard every single round in a rugged battle.

"Shannan obviously knew that he had to try and do some tactics that were maybe illegal a little bit," said Mundine, "but that's what he has to do to win, to try and upset me and upset my rhythm. I never really got hurt in the fight. He caught me mostly behind the head. I am happy with my victory. I fought a guy that is WBA No.10 in the world and won comprehensively."

The former two-time WBA super middleweight world champion was making his first appearance under 160lbs and fought well at a consistent if not outright fast pace. Mundine 35-3 (23), who is rated WBA No.1 at middleweight, will now look towards a fight with German WBA middleweight world champion Felix Sturm.

"I worked hard to get to middleweight," said Mundine. "I didn't know how I was going to hold up. But the longer I stay at middleweight, the stronger I will get. The better I will get. Shannan was a very tough and worthy opponent tonight."

36 year-old Shannan Taylor 48-7-3 (34), a former welterweight, junior middleweight and middleweight world title challenger, was in his best physical condition in many years. The "Blaster" had overcome out of the ring financial and health problems to give Mundine his toughest battle in two years.

"I want to thank God and Jesus Christ," he said. "People don't realise what I have been through the last few years. A man who I trusted with my life, has taken every cent I own."

The two experienced professionals showed restraint and respect in the early rounds. A head clash in round 6 infuriated Mundine, while Taylor was hurt by a Mundine right hand in round 7.

33 year-old Mundine hit the canvas in round 10 from a low blow from Taylor, but the Wollongong local was never penalised a point by the referee for his close to the rules infractions.

"I tried to win tonight. I tried to win. He was slick and he was strong," said Taylor, who was so proud that Mundine had given him the chance to prove himself again. "It is not the Mundine circus. It is the Mundine show and I am bloody glad that I got to be part of it."

The judges scored the fight for Mundine 120-108, 120-107 and 120-107.

In the end, while Taylor was competitive in every round, Mundine was just that little bit faster and stronger with a much better defence.


Paul Upham
Content Editor