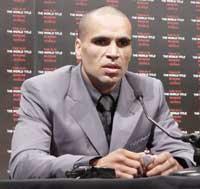 Anthony Mundine

By Paul Upham: If the fight is as entertaining as their press conference, Anthony Mundine and Shannan Taylor will be giving the fans great value for money in their Australian pay-per-view boxing match on February 11 at the Wollongong Entertainment Centre in Australia.

The two boxers traded verbal blows at their press conference on Monday morning.

"The mouth is the open grave...remember that," Mundine lectured Taylor.

"You're the one who mouths off all the time," replied a passionate Taylor, "that's why little old ladies hate you. That's why you are hated in the street. That's why 95% of the country don't like you."

Later, infuriated by Mundine's clever trash talk, Taylor offered to take their dispute into the car park then and there.

"You want to come to my home town and talk shit," asked Taylor.

"What are you going to do?" replied Mundine.

"You want to get paid for it or do you want to do it for free," threatened Taylor.

"Anytime baby," smiled Mundine. "You will be my baby on the night. No doubt about that."

A former welterweight, junior middleweight and middleweight world title challenger, 36 year-old Taylor 48-6-3 (34) is hoping for a final shot at big time boxing glory with an upset win over Mundine, who is coming down from super middleweight for the twelve round fight at 160lbs.

33 year-old Mundine 34-3 (23), who admitted today he will need to undergo a hip operation to repair a nagging injury after the fight, has signalled his intention to win a world title in a second weight class and has German WBA middleweight world champion Felix Sturm in his sights. The WBA have rated Mundine as the No.1 contender to Sturm and the fight against WBA No.10 Taylor will prove if the "Man" can really get down to middleweight.

Mundine was unruffled by Taylor's aggressive display in front of the media.

"It doesn't matter if he gets fired up," he said, "It doesn't matter what he comes with, man. The only thing that is going to help him on the night is a gun and he can't bring that to the ring."

Taylor is promising to turn this match into a real fight.

"What does he want, a kiss?" asked Taylor. "I'm going to give him a kiss with my right hand."

The Mundine-Taylor fight will be televised live in Australia on Main Event Television and Fox Sports Pub & Club Vision from 7:00pm AEST on Wednesday 11th February 2009.