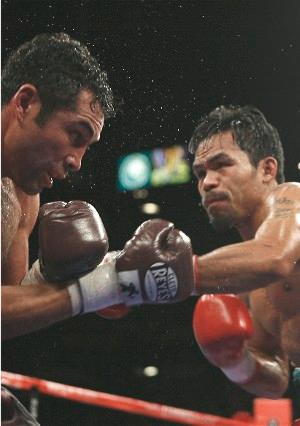 The Pacman - King of the World: HoganPhotos.com

Comment by Paul Upham: Experts and fans alike labelled it a mismatch as soon as the fight was made. Some boxing fans were so angered they vowed not to subscribe to the pay-per-view, labelling it a circus and a farce. Indeed the fight was one sided. It wasn't even close. But Many Pacquiao was the one who was left standing with his arms raised in triumph. For Oscar De La Hoya, the long time Golden Boy of the sport, the Dream Match turned into a nightmare.

29 year-old Pacquiao fought the almost perfect fight. He set a fast pace in the first two rounds and used constant foot movement to prevent De La Hoya setting to land his heavier punches. Pacquiao's own offence further nullified De La Hoya's attack to the point where it simply dried up completely. By round 6, the Pacman was in complete control and in rounds 7 and 8, De La Hoya was hit and hurt more consistently than he ever had before.

Going into the fight, the most amazing thing was the amount of knowledgeable boxing media around the world who had so confidently predicted that De La Hoya would not just win, but win easy and even by knockout. It was like they considered Pacquiao some sort of stationary target ready to fall and not the pound for pound best boxer in the world.

Some points to consider for those who had tipped De La Hoya to win so strongly.

* History has long proven that 35 is old at the highest level in boxing. Yes, Bernard Hopkins is a freak who can fight the best at the age of 43. For most boxers, it is not possible. Don't ever forget that George Foreman in his forties lost every round against Michael Moorer, before landing one right hand which won him the heavyweight world title.

* Moving down in weight is difficult for any boxer - even more so at the age of 35. Roy Jones Jr's troubles began when he tried to move from heavyweight back down to light heavyweight. De La Hoya was always going to be weaker getting below 147lbs for the first time since 2001 and Pacquiao was naturally stronger moving up.

* Facing a boxer who is trained by your former trainer is always dangerous. Not just in technical boxing tactics, but also from a mental aspect. The trainer knows how his former boxer thinks.

* Closer inspection of De La Hoya's career record reveals that he lost every genuine super fight he competed in against a boxer in their prime. He lost to Shane Mosley twice, Felix Trinidad, Bernard Hopkins, Floyd Mayweather Jr and now Manny Pacquiao. Yes, he beat Fernando Vargas, Julio Cesar Chavez and Pernell Whitaker, but who were all past their best. Not that De La Hoya wasn't a great Hall of Famer boxer - he just couldn't beat the very elite.

Those predicting De La Hoya would win comfortably were pointing to his advantages in size and weight. Oscar weighing in at 145lbs, 2 lbs below the welterweight limit and then only weighing 147lbs on fight night had to be a factor. De La Hoya looked weak and drawn at the opening bell and in any review of his defeat, those tactics must be scrutinised.

While the retired Floyd Mayweather Jr may have some interest in the Pacman, looking ahead to 2009, the biggest fight out there now is Manny Pacquiao versus Ricky Hatton at 140lbs. Both boxers in their prime and coming off impressive wins fighting in front of 100,000 people at Wembley Stadium in the UK.

For boxing, it wouldn't get much better than that.


Paul Upham
Content Editor