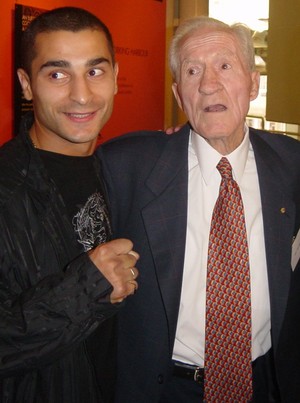 Vic Darchinyan & Vic Patrick

By Paul Upham: Boxing in Australia flourished in the 1930s and 1940s. A number of stars thrilled local crowds and experts of the day suggested that two of them could have become world champions if they had not become victims of unfortunate circumstances.

Born Victor Patrick Lucca on 2 June 1920, the southpaw lightweight was forever known as Vic Patrick. Debuting in January 1940, he won his first 21 fights with 20 wins by knockout.

Patrick lost his first fight to former American world champion Tod Morgan on 5 June 1941. He would go on to avenge that defeat three times, the final by eleventh-round knockout in March 1942.

Due to wartime politics during World War II, Patrick only fought at home in Australia, apart from two fights in New Zealand in April 1946, and never looked like going anywhere else because he was so successful at drawing the crowds in. His February 1946 clash with fellow star Tommy Burns for the Australian welterweight title, which Patrick won by ninth-round knockout, drew a sell-out crowd of 14,000 people to the Sydney Stadium. After the match, referee Joe Wallis declared the winner was, 'the best since (Les) Darcy'.

Many of his fights were against heavier men and Patrick never lost an Australian title defence at lightweight or welterweight. He even fought as a middleweight in 1943.
Patrick had raw ability and, arguably, was one of the best lightweight punchers ever. Spectators saw Patrick knock opponents across the ring.

One of Patrick's most famous fights was also his most famous defeat. Now rated the Number 5 lightweight in the world, Patrick faced American Freddie Dawson, then ranked Number 8 lightweight, on 1 September 1947 at Sydney Stadium.

Patrick knocked Dawson down and partially through the ropes in round 11 during a furious battle. The American miraculously recovered and completely turned the fight around in round 12.

During a wild exchange, Dawson landed a savage right hook sending Patrick down onto the canvas. As referee Joe Wallis counted, a dazed Patrick wobbled to his feet only to receive a final right hand flush on the chin, which knocked him unconscious between the bottom ropes. When Patrick finally recovered, trainer Ern McQuillan carried him from the ring over his left shoulder.

Fighting only three more times in 1948, Patrick retired on his birthday at the age of 28 after a 12-round points win over Tommy Stenhouse.

Patrick was inducted into the Australian National Boxing Hall of Fame in 2003. His final record was 52 wins, four losses, one draw and 45 wins by knockout.


Paul Upham
Content Editor