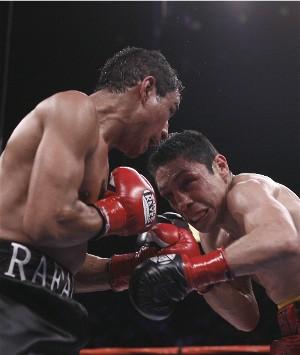 Marquez vs. Vazquez III - Fight of the Year

By Paul Upham: After two thrillers in 2007, WBC junior featherweight boxing world champion Israel Vazquez and Rafael Marquez repeated the dose with another exceptional high quality battle over twelve rounds on March 1, 2008 at the Home Depot Center in Carson, California, USA. Vazquez was awarded a twelve round split points decision, which was hotly disputed by Marquez. The overall winners were the fans who witnessed the Fight of the Year.

The first two Vazquez-Marquez battles had produced the most exciting, bloody, give-and-take slugfests of 2007. A third fight to settle the score was a must see for 2008 and the two fearless and steel hearted boxers certainly delivered.

32 year-old Marquez 37-5 (33), 121 ½lbs, seemed to have control of this fight heading into the later rounds. He had knocked down Vazquez in the 4th and punished his fellow Mexican native in the 7th round with precise jabs and powerful right hands.

30 year-old Vazquez 43-4 (31), 122lbs, however, would not be denied. Sensing he had to make a late push, Vazquez turned up the heat in the 11th. Vazquez stalked Marquez through most of the round, bouncing left hooks and stiff right hands off Marquez' head.

Marquez appeared to have coasted the last few rounds, which ultimately hurt him since Vazquez only grew stronger as the fight progressed.

The 11th and 12th rounds produced enough dynamite to blow through the thickest of heavy walls. Both of the rounds would belong to Vazquez.

In the 11th, Vazquez began to wear down the tiring Marquez. Vazquez' relentless pressure would set up a most exciting finish to this world championship fight. In the 12th and final round, Vazquez brought the sold-out crowd at the Home Depot Center to its feet by punishing Marquez with overhand rights and left hooks.

Vazquez never stopped throwing punches and Marquez, it seemed, couldn't wait for the round to end. Vazquez, who lives in the Los Angeles suburb of Huntington Park, came within seconds of winning by knockout. His barrage of punches sent Marquez slumping into the corner ropes in the waning seconds and referee Pat Russell looked as if he was ready to end it. But Marquez said he could continue, and by the time the two fighters were ready to re-engage, the final bell sounded.

The final result was a split decision win for Vazquez. Judge Max DeLuca 114-111 and Judge James Jen-Kin 113-112 scored the fight for Vazquez. Judge Tom Kaczmarek had Marquez winning the fight 114-111.

"Some of his shots stunned me, but they didn't slow me down," said Vazquez. "He hit me low from the beginning of the fight, but I shook that off. I had trouble seeing out of my right eye from the fourth round on. I was throwing punches with bad intentions. I never stopped competing. I never stopped believing in myself. I knew in my heart that I would remain the champion. I know how to win tough fights. That is what I do."

"I felt that I won," said a disappointed Marquez. "I finished the fight and I felt strong even when Vazquez became aggressive at the end. I thought I dominated the entire fight. In the tenth round, they deducted a point because of a low blow, but it wasn't a low blow, I hit the belt line."

It is unusual that the third fight of a classic boxing trilogy is on the same level as the previous two fights. While Vazquez may have prevailed in this match, in the greater scheme of how the fans view the fighters, both Vazquez and Marquez were winners.

Marquez won their first meeting, also in Carson, in March 2007 after he landed a right hand in the first round that broke Vazquez's nose. Despite having difficulty breathing, Vazquez continued to trade punches, but decided after the 7th round that he could not go on.

Vazquez reclaimed the WBC world title in the September 2007 rematch in Hidalgo, Texas. With gashes above both eyes, he still knocked Marquez down in the 6th round of that bout and stopped him at 1:16 of the 7th.

It would be no surprise if Vazquez and Marquez fought again for the fourth time in 2009.

There were of course many other contenders for the 2008 SecondsOut Fight of the Year Award.

On March 15, Manny Pacquiao and Juan Manuel Marquez waged war in a rematch at junior lightweight. It was almost as close as their first fight, which had ended in a thrilling draw. This time around, Pacquiao won a split points decision 115-112, 112-115 and 114-113. It was a classic battle that could have gone either way.

One week later on March 22, Cuban veteran Joel Casamayor outlasted Australia slugger Michael Katsidis in a knock' em down, drag' em out shoot out. Katsidis was sensationally knocked down twice in round 1. The challenger fought his way back and when Casamayor was knocked down and out through the ropes in round 6, the tide had turned completely. Casamayor was desperate to hang on in round 9 and was deducted one point for a low blow. Just when it seemed Katsidis would prevail, Casamayor rocked him with a hook and knocked him to the canvas, which lead to his eventual TKO stoppage win.

Other contenders were Antonio Margarito's knockout of the previously undefeated Miguel Cotto, Carl Froch's furious WBC super middleweight world title points win over Jean Pascal and Tomasz Adamek's IBF cruiserweight world title win on points over Steve Cunningham.

But ultimately, in a year with many quality contests, the SecondsOut Award for 2008 Fight of the Year could only be given to one outstanding match.

WINNER: Israel Vazquez vs. Rafael Marquez III

Previous SecondsOut.com Fight of the Year Awards

2007: Michael Katsidis vs. Graham Earl
2006: Jamie Moore vs. Matthew Macklin
2005: Diego Corrales vs. Jose Castillo
2004: Marco Antonio Barrera vs. Erik Morales III
2003: Lennox Lewis vs. Vitali Klitschko
2002: Micky Ward vs. Arturo Gatti I
2001: Julio Cesar Gonzalez vs. Julian Letterlough
2000: Erik Morales vs. Marco Antonio Barrera I


Paul Upham
Contributing Editor