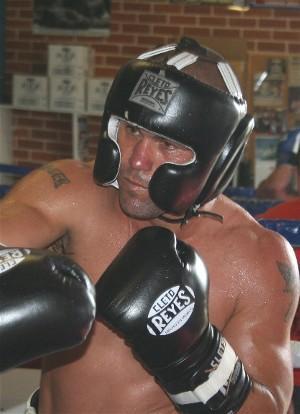 Shannan "Blaster" Taylor

By Paul Upham: 36 year-old Shannan Taylor continued his preparation for a challenge against Anthony Mundine with a sparring session against Ryan Waters on Friday at Waters' Southside Boxing Gymnasium in Caringbah, Sydney.

A former welterweight, junior middleweight and middleweight world title challenger, Taylor 48-6-3 (34) is hoping for a final shot at big time boxing glory with an upset win over Mundine on February 11, who is coming down from super middleweight for the twelve round fight at 160lbs.

Taylor sparred with 31 year-old Waters 13-2-1 (8), who holds the WBO Oriental junior middleweight title.

"I had fun sparring today," Taylor told SecondsOut. "My jab was good and I will pick my work rate up as the weeks go on. It was fun today. I controlled the action and the pace. I have had a very heavy training week and this was a nice eight rounds of sparring to finish it off."

"Shannan looked fit today," said Waters. "He is going well and he is very strong. He has got the experience and it is good sparring for me."

Taylor, who was stopped by Shane Mosley in Las Vegas in March 2001, admits that he is an underdog going in against Mundine at the Wollongong Entertainment Centre, but claims he has trained "like a monk" in preparation for this fight and has the ability to spring a major upset.