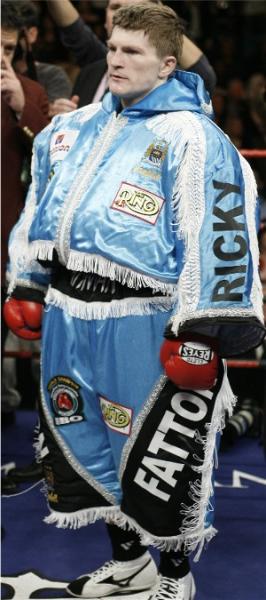 Ricky Fatton: HoganPhotos.com

Comment by Paul Upham: It seems those critics writing off Ricky Hatton at the age of 30 were a little premature, as evidenced by his dominant boxing victory over Paul Malignaggi on Saturday night in Las Vegas. If Malignaggi was the best opposition for Hatton at junior welterweight, and the New Yorker was considered to be the leading contender, then the Hitman in this form will reign supreme for as long as he cares to.

Hatton has never been one to be isolated from the common man and would no doubt have listened intently to all of those rushing to tell him how bad he looked in recent fights, particularly his unsteady win over Juan Lazcano on May 24.

With that criticism taken on board, the parting of ways with former trainer Billy Graham and the new partnership with Floyd Mayweather Sr, these events clearly spurred Hatton into getting back to his best.

For someone who was tipped by many to give Hatton all sorts of trouble, Malignaggi looked like a heavy bag at times as Hatton appeared unable to miss with his best punches.

Bouncing on his toes with energy and purpose, Hatton looked as good as he did the night he first became undisputed junior welterweight world champion against Kostya Tszyu back in June 2005. Having admired Hatton at his best from ringside that evening at the MEN Arena in Manchester, it was pleasing on Saturday night to see his feet and hands moving fluently as one again.

His left hooks and uppercuts took advantage of Malignaggi's lazy right hand. As much as Malignaggi despised the decision by trainer Buddy McGirt to stop the fight in round 11, the number of clean punches to the head that the former IBF world champion received was troubling. It was only Malignaggi's toughness which kept him upright.

Apart from his aggressive crowd pleasing style, one of the things that appeals to so many about Hatton is his man of the people demeanour. Hatton has never thought himself above others, even when superstars like footballer David Beckham and rock musicians Liam & Noel Gallagher seek him out.

Hatton waddled to the ring at the MGM Grand in a fat suit that made him look like a large blue donut. But that was the Hitman simply having a laugh at himself again. Ricky Fatton was coming to fight they say?

Actually, it was more likely a shot at his critics who have been scathing over his recent performances. There was no shame in losing to Floyd Mayweather Jr and Hatton has won every other fight. As he correctly pointed out after the win over Malignaggi, he has never been beaten in his best weight class of 140lbs. It is dangerous to knock a world champion so confidently.

While many are being very quick to select Oscar De La Hoya to defeat Manny Pacquiao on December 6, Hatton showed against Malignaggi that skills and ability on the night are what counts the most, a victory by the pound for pound No.1 Pacman will set up the super fight for 2009.

Ricky Hatton versus Manny Pacquiao for the undisputed junior welterweight championship of the world.


Paul Upham
Content Editor