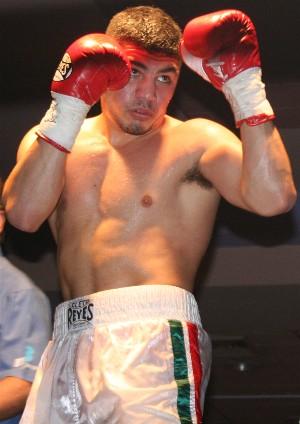 Zappavigna wins

By Paul Upham: Australian Lenny Zappavigna kept his undefeated record intact and won the vacant IBO lightweight boxing world title with a disputed unanimous points decision win over Fernando Angulo on Saturday night at the Agua Caliente Casino in Rancho Mirage, California on Showtime. The fight was the main support bout to Vic Darchinyan-Rodrigo Guerrero.

22-year-old Zappavigna from Liverpool, Sydney was a 2006 Commonwealth Games Bronze medallist and started strongly against 29 year-old Angulo 22-7 (14) was born in Sucumbíos, Ecuador and resides in Caracas, Venezuela.

Angulo, with bright coloured orange hair, came in over the weight at 138lbs at Friday's weigh-in and lost 20% of his pay cheque to the Californian commission, but it did not lessen his determination to win.

Zappavigna 23- 0 (15) was aggressive to start the fight, jabbing and working to the body. Angulo taunted and used footwork in attempt to stay out of range. Zappavigna's left hooks were powerful and eye-catching, but would desert him later in the match.

While he lost to WBA lightweight world champion Juan Diaz in November 2006, Angulo holds victories over names Damian Fuller and Ranee Ganoy and brought considerable experience into the fight. The flow of the fight began to change in round 4 and the experience showing, with Angelo more willing to stand and trade. His corner told him at the bell to work harder and take the fight to his younger opponent.

Round 5 was a struggle on the inside and for the fist time, Angulo gave the impression that he could win the fight. There was exchanges of left hooks with both men trading on the inside.

Angulo started fast in round 6, Zappavigna tried to fire back, but Angulo remained busy. There was swelling and then a cut to Zappavigna's right eye. It was the best round of the fight so far for Angulo and he gave the impression that he was now in control.

In round 7, Zappavigna was trying to stay composed and work forward. Angulo was leading consistently and in round 8, he slugged willingly on the inside.

Referee Pat Russell had Zappavigna's right eye cut checked. The fight continued and there was a wild exchange. Zappavigna's face was now covered in blood.

Angulo lost one point for punching on the break in round 8. Zappavigna fired to the body, but it had little effect.

Zappavigna was trying to work forward in round 10. Angulo appeared in control and a combination rocked Zappavigna.

Round 11 saw some combinations from Zappavigna landing, but he was now cut in the corner of his left eye.

Zappavigna was boxing to the final bell as requested by his corner. Angulo was aggressive and still outworking him. There was a wild exchange with 30 seconds to go. Zappavigna clipped Angulo on the chin and both men stood and traded to the end.

Both boxers and their support teams believed that had clearly won the fight.

The three judges scored the fight unanimously for Zappavigna, 114-113, 116-111 and 116-111.

Respected boxing writer Steve Farhood and former world champion Antonio Tarver, calling the fight for Showtime, both scored the fight easily for Angulo.


Paul Upham
Content Editor