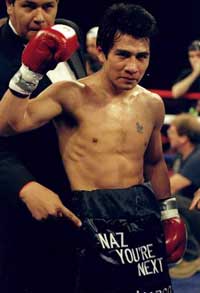 By Sean Waisglass: Fans aplenty will be watching with bated breath as two long-serving warriors issue their State of The Union address tonight during 12 or less rounds to be contested at featherweight at the Home Depot Centre in Los Angeles, California.

Former 122 and 126 pound champ Marco Antonio Barrera and former 118 and 122 titleholder Paulie Ayala will meet inside the ropes to set the record straight regarding where they stand on the sweet science landscape.

They'll also be fighting not only for victory in a televised bout against a respected opponent, but for another chance at glory and another payday to ease into retirement with:

This year's frontrunner for Fight of the Year is the magnificent war at featherweight between Manny Paquiao and Juan Manuel Marquez. The HBO-televised fight reinvigorated the division and ushered in the two men as the successors to Barrera and Morales as evenly matched contenders for the top spot at 126, and as dual additions to the Pound for Pound rankings. So when Barrera, 57-4 (40), of Mexico City, and Ayala, 35-2 (12), of Fort Worth, Texas meet tonight, there are high-stakes, high-profile, high-income possibilities for the winner - the start of one last good run, or at least one last nice payday.

The State of the Union in their case is the Holy Trinity of Boxing - the will, the skill, and the body.

Both men suffered crushing losses in their last significant bouts. They've also both been in more than their share of 12 round distance wars, and would seem to be facing the time-clock on their careers: Ayala is a well-travelled 34, and although only 30, Barrera has been a pro since 1989.

In the court where the truth is always told - the ring - they'll be trying to convince the boxing jury at large that they still have the hunger and heart, the analytical acuity, and the physical housing still able to keep them sturdy, work muscles into top shape, utilize sharp reflexes, and absorb what is sure-to-come punishment from their opponent.

And they have similar previous case histories to draw from that have allowed them to retain their credibility.

Both bucked the naysayers who called them shot or over-rated. Both grabbed titles of some sort in two weight classes. They have both participated in Fight of The Year battles and have logged in other bouts that were close contenders, justly earning their high profile prime cable headlining slots via hard knocks and amazing heart.

Starting with his June '99 thrilling upset over Johnny Tapia, the scrappy southpaw Ayala made a habit of fighting two tough distance bouts a year for four years straight; matching up with the tough Thai Saohin Condo, current WBA bantam champ Johnny Bredahl, Tapia again, Mexican fringe contender Hugo Dianzo, Bones Adams twice, and finally modern legend Erik Morales in November 2002.

Although he fought gamely and bravely, the noticeably smaller Ayala was soundly pounded over 12 rounds by the ruthless Morales, ending a near perfect (albeit often controversial) run only officially marred by a technical decision loss in a six rounder where he had points deducted. Ayala, who lacks the power to turn things decisively his way, had won his share of razor close and often hotly disputed wins, but the Morales bout was nothing of the sort - it was thorough and definite.

Ayala took well-deserved time off and fought a year later, winning a 10 rounder over journeyman Edel Ruiz in November of last year. So now, with another half year off, the issue is whether the 'single fight in a year and a half' schedule has given him a chance to recharge and repair for another signature gallant Ayala effort, or whether his mind and body have been maxed out, making this his cash-out.

Barrera is coming off a bout staged last November as well - his shocking and devastating loss to Pacqiuao on HBO. Although the whirlwind Filipino was well thought of before their match, no one expected the dominating effort he put in against a Pound for Pound favourite still thought to be in his prime. Barrera was outfought every step of the way. Pacquiao threw non-stop rock-hard shots from his southpaw stance from first bell, knocking down the 'Baby Faced Assassin' in the third, and again in the 11th, pounding on Barrera until a cornerman stepped in to mercifully stop the bludgeoning.

There were reasons given for the upset: Barrera had underestimated his foe (who has since turned out to be something special). Or maybe his two dominant wins over Tapia and Kevin Kelly had not prepared him for the kind of heat Pacqiuao brought - heat that was the same temperature as Barrera's legendary first match with Morales. Or maybe his style change adopted after the first Morales fight - from aggressive pressure fighter to tactical sharp-shooting - wasn't able to cope, and he couldn't return at such a late stage to the earlier version. Or maybe he had just reached the end of a great, but gruelling line.

But Barrera has been here before, even though as a younger, fresher man - he was stopped by Junior Jones in late '96, when also was also thought to be at his peak, and then decisioned in a rematch in '97. He was written off before resurrecting himself against Morales in 2000. Can he do it again?

All questions will be answered tonight when the two men, sharing the same agenda of redemption, mix it up in what could be a crossroads type fight, or a wild and fiery double-phoenix display.

Barrera will be facing another volume punching lefty akin to Pacquiao, but with more mileage and less power. He might be able to weather the storm this time and use the stiff jab and hard counters that broke down so many men.

Ayala will be facing the man who was in a perpetual three-legged race with his conqueror Morales, but Barrera is smaller and more calculating than his rival, stalking or waiting rather than raining blows upon opponents.

It's entirely believable that either man just won't have the reserves to make a last stand or a fresh start. But Ayala and Barrera are both known for digging down deep and willing their way to a win. And if they ever had a night where they had good reason to do so, it would be tonight: both will have a chance to exorcise their ghosts and move onward and upward.

June 19, 2004.