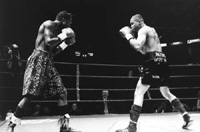 By Sean Waisglass: Joachim Alcine (in black shorts, photo by author) is getting pushed into the deep end tonight. The 19-0, (12), junior middleweight prospect will step into the ring against former NABF champ and world title challenger J.C. Candelo at the Pechanga Resort and Casino in Temecula, California. The ten round bout will be the televised main event on ESPN2's Friday Night Fights.

Alcine, 28, is Hatian-born, but moved to Montreal, Canada as a young boy. He took up boxing in his mid-teens, and eventually turned pro in the stable of local promoters Interbox, who also produced titleholders Eric Lucas and Leonard Dorin. Alcine's been busting up the usual suspects by and large since, including a solid ten round win over the game Darrel Woods in December of last year.

He took his first major step up against the then 11-1-1 Marcos Primera on Showtime's Shobox series in May 2002. In addition to Primera being a solid and full-sized junior middle, it was the first time the then 12-0 Alcine had been scheduled to go twelve rounds, having gone only eight to date. He took the task at hand in stride, and smoothly boxed his way to a strong lead over the first half of the fight. But then, his inexperience over distance started to show, and so did his will and grit. After keeping a steady pace, Alcine started to loose steam, and elected to jab and move, but because he was declining to toss in the occasional right hand behind his jab, the still strong Primera started to press. Primera started landing more in the late rounds, and eventually caught up to the weary Alcine and put him down in the twelfth. The dead-tired and stunned Alcine bravely held on and lasted the round, winning a deserved comfortable decision win.

Alcine's team wisely steadied his pace and worked out the kinks, and now feel ready for the next dive into the deep waters. The closest he's come to Candelo's calibre of fighter is when he sparred with title holder Fernando Vargas to ready him for his showdown with Oscar De La Hoya. Candelo, a Colombian native fighting out of Denver, is an experienced vet who's got split wins with Angel Hernandez, and Micheal Lerma, and also lost a close one to Alex Bunema.

Candelo, 27-6-3 (19 ), most notably put in an admirable scrappy performance against IBF champ Winky Wright in March 2003. Using his near-six-foot height and long arms to his advantage to press the slick boxing Wright, he forced the future Pound for Pounder to work his ass off in order to keep his title. Seeming spurred on by his losing effort, Candelo, 30, again put in an impressive performance when pounding Julio Garcia into submission on ESPN2 in his next fight. That win netted him a shot at Kassim Ouma for another shot at Wright's IBF title. But the whirlwind southpaw Ouma outworked Candelo in their January bout, flooring Candelo twice en route to a 10th round TKO.

Both Alcine and Candelo are quick fisted and a good height for the weight, topping off around 5ft 10inch -5ft 11inch. But although Alcine is a sharp and solid puncher, he'll have to contend with Candelo's freakishly long reach in order to get close enough to rip off some of his well-mixed combos. Candelo's also got some pop in his gloves, but his wider and sometimes downright wild swings could allow the crisp throwing Alcine to sneak some shots up the middle. Both men throw a lot of leather, with Candelo keeping a steady pace, while Alcine tends to poke with his jab then open up with a blistering flurry.

They both are working with excellent trainers as well. Candelo's been workshopping with the hot Buddy McGirt, who just trained Gatti to the best win of his career over Leonard Dorin. But Alicne's been working with Montrealer Howard Grant, who along with Interbox's Stephane Larouche, is one of the underrated cornermen of the Great White North. Grant is the brother and trainer of super middleweight Otis Grant, who after a devastating car accident, has made a miraculous comeback under the tutelage of his sibling, and has been looking better than ever.

Like with brother Otis, Howard has Alcine sitting down on his punches more, and utilizing body work from the get-go amongst quick and sharp flurries. Seemingly growing into the weight over the last while, his legs look sturdier, and he looks like he's been hitting harder, as evidenced by his dominant fourth round stoppage of journeyman Jose Santo in April. Alcine worked Santos over with fast and furious punches, knocking him down with a left hook (his best punch) to the chin, then ending things with another to the body in the mist of a combo.

Alcine's taste for televised success in a solid division is probably on par with Candelo's hunger to regain his lofty rankings (he's still #5 in the IBF, and #12 in the WBC), and they've got bigger bouts to work for: Although Vargas and De La Hoya have left, and Ricardo Mayorga pretty much skipped over it to get to Trinidad, 154 still has the semi-unifed Wright, Ouma, Mosely, Verno Phillips, and newcomer Margarito, who's facing WBO title holder Daniel Santos soon.

It's a competitive weight class that still has enough talent and cache to land most of its major match-ups on one of the networks. The winner of tonight's televised bout will have to show they've got talent of their own in order to glean some of that cache, and their next shot in the spotlight.