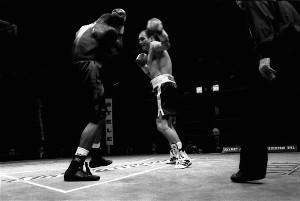 Adrian Diaconu hooking - photo: Sean Waisglass


By Sean Waisglass: Montreal based Cameroonian Herman Ngoudjo is stepping back into the ring and onto the airwaves today in his first bout since his split decision loss on HBO to Jose Luis Castillo in January. The junior welterweight contender will look to climb his way back up the rankings by taking on hard-hitting former title-holder Randall Bailey on ESPN2's Friday Night Fights in Montreal's Uniprix Stadium.

The feisty "Black Panther" got a chance to show he could hang with the upper tier when he met up with the seasoned and savvy Castillo, battling with the long-time lightweight champ/challenger impressively enough to win on one scorecard despite having less than half as many fights under his belt.

Promoter Groupe Yvon Michel (GYM) are smartly capitalizing on that momentum by putting the former Olympian in a televised match with Bailey 35-5 (32), a known guy who's got solid skills, but who's nonetheless faltered in his biggest bouts (he's on a seven fight win streak since a TKO6 loss to Miguel Cotto in late '04).

It'll be a nice gauge to see how well Ngoudjo 15-1 (9) has processed his first loss. The 27-year old displayed a lot of confidence and grit when in only his twelfth bout, he faced off with journeyman spoiler Emmanuel Augustus - more so considering he rose from a harsh knockdown in the final seconds and weathered a follow up barrage to hear the final bell. Considering the poise he showed then and again against Castillo, it's likely the close loss to a guy of Castillo's calibre will only bolster his spirits, and he'll be ready to showcase trainer Howard Grant's well-rounded offence/tight-glove defence trademarks to try and outwork and outmuscle Bailey.

The undercard features Canadian Olympian Jean Pascal 16-0 (12) against Christian Cruz 12-7-1 (10). Pascal, a very intriguing super middleweight prospect with impressive natural athleticism and a lot of in-ring charisma, was supposed to prove his stuff against solid fringe contender Rubin Williams, but Williams pulled out this earlier week.

Shark put the bite on Hoye on FNF, Romanians invade ESPN

Adrian "The Shark" Diaconu 24-0 (15) busted up contender Rico Hoye, now 20-2 (15) on Wednesday Night Fights on May 9, showing off the fierce but focused aggression that, in tandem with his stocky stature for a light heavyweight, remind of former lightweight champ and countryman Leonard Dorin.

Dorin's Montreal tenure, which included high profile TV matches en route to a title, spurred a mini-exodus of fellow Romanians to the French Canadian boxing hotbed, one of whom was Diaconu. 28 year-old Diaconu signed with Dorin's promoter Interbox, which houses Dorin's former trainer Stephane Larouche as head trainer, and who've taken their time with "The Shark", but look ready to put the contender into deep waters.

The 5'8 Diaconu dominated the lanky Hoye, who'd only previously lost to title-holder Clinton Woods via TKO5. Despite a serious height disadvantage, the brawling Diaconu overwhelmed Hoye from the first bell, using two-fisted assaults to the head and body to open up spots for crushing power shots that put the Detroit boxer down, cut him up, and eventually forced a submission on one knee at 0:42 of the third round when the ref waived off the fight.

Diaconu looks ready for a title shot, and is technically in line for one against American up and comer Chad Dawson, who fights Saturday on Showtime.

ESPN fight fans also got a look at another Romanian transplant in Jo Jo Dan that night. Dan 17-0 (8) started off his pro career in Toronto under the guidance of Adrian Teodorescu, who worked with Lennox Lewis while an amateur, and got contenders such as Steve Molitor and Kingsley Ikeke off to their pro starts, but made the move to the bustling scene in Montreal to sign with Interbox.

Dan, 25, a sharp-boxing southpaw welterweight, displayed some smart defence and good solid shot selection in out-pointing tough Richard Cano 12-6-1 over eight rounds, and looked ripe for a significant step up.

Another Romanian based in Montreal will headline next week's Friday Night Fights when 168 pound contender Lucian Bute meets the rugged title challenger Sakio Bika. Bute, 19-0 (16), a fast, lean, aggressive southpaw who's possibly the most underrated guy in the super middle division, will get a chance to follow up on stablemate Diaconu's breakout performance against the tough Australian-based Bika, 22-2-2, who's only losses are to Sam Soliman and current division leader Calzaghe.

Demers gets crushed in Germany

After watching the overmatched Sebastian Demers get pummelled to the canvas in the third round, it probably didn't seem like a such a great idea to send the undefeated Montreal prospect over to Germany to fight Arthur Abraham for the WBO middleweight title last month (May 26) after all. Demers, now 20-1 (9), was simply overpowered by the heavily muscled champ, and never got a chance to show off his swift and cutting shots or stiff rangy jab.

Demers has skills and grit, but promoter GYM's gamble that Abraham - coming off a traumatic and controversial win over Edwin Miranda in which he fought much of the match with a horrifically broken jaw - might be ripe for an upset didn't pay off.

Abraham was just too strong for the lean Demers, who'd only fought his two previous bouts at middleweight, and all before at 154lbs. Abraham pounded Demers to the head and body while the brief bout lasted, and the French-Canadian just didn't have enough pop to keep the Armenian off him.

Wire reports stated that Demers wasn't discouraged, and wants to stay at 160lbs, which considering how poorly his step up in the division went, doesn't seem like a great idea. If he can squeeze back down to 154 and shake off the loss, he still has enough going for him to give a lot of top guys in the junior division trouble.

It wasn't a good night for Canucks that night in Germany: on the undercard, the rugged but limited former Canadian Heavyweight Champion Patrice L'Heureux got blitzed by Alexander Povetkin in the second round of their bout. L'Heureux, 20-4-1 (12), a likable guy who always tries to make the most of what he has, just didn't have anywhere near enough skill-wise or power-wise to fend off the thrilling charges of the now 11-0 prospect, who looks to be the best rising heavyweight in the sport these days.

Cadieux loses in exciting scrap with Blocus

Slipping under the radar was the fact that current Canadian Heavyweight Champ David Cadieux, 16-2 (11), lost to the unheralded Jose Blocus in Montreal on the 12th of May. Fighting for a stepping stone international belt, the two low profile heavies surprisingly did something many of their better known and more successful peers haven't been able to do much of lately: put on a very exciting, sustained skilful exhibition of boxing in the heaviest division.

Neither guy may win a world title (although in light of the 'who the hell knows' state of the division, that's not a given), but they both showed enough in this twelve round bang-up to make one think either has the chops to give many of the top guys in a weak division a tough night should they not bring their best to the ring.

The crafty former French Olympian Blocus 15-2 (13) didn't look like he was going to amount to much as a pro after losing a split decision then getting stopped in the fifth round in back to back bouts against a pair of journeymen in late 2002/early 2004, but after a near 3-year layoff, the revived and refocused French-born California-based boxer came into Cadieux's backyard after a couple of tune-ups and showed both desire and promise despite his 37 years of age.

The bout featured non-stop intense boxing with both men trading well-thrown shots: the taller and more ripped Cadieux, 6'6 and 246, used his very respectable jab to set up crisp, swift hooks to the body and head, while the shorter Blocus, 6'2 and also 246, used his jab to open up spots for his overhand right. Compared to a lot of recent heavyweight tilts, this tussle served up a cornucopia of combinations, with both men ripping three-punch riffs on a regular basis: Cadieux focused on body/head hook combos, while Blocus displayed a very effective double body shot/uppercut combo that worked well for him all night.

It was a close one, but Blocus did enough to outwork Cadieux for a split decision 118-110, 117-111, and 113-115. That one card may reek of home cooking, but the split scores decently reflect that it was a hotly contested bout that cries for a rematch. Cadieux, 32, who's been getting better bout by bout, has nothing to be ashamed up in losing to Blocus, and still has room and time to improve, and may still be able to make a mark in the division.