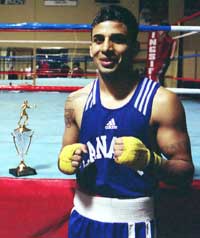 By Sean Waisglass: It turned out to be a useful warm-up for the 2004 Games when Canadian bantamweight boxer Andrew Kooner took a tune-up bout last month.

Kooner, (photo by author) who fights in the 54kg division, headlined a club show in Toronto, Ontario in mid-July put on by Atlas Boxing Gym. The Olympian battled the division's provincial champion, who was also ranked 2nd nationally.

Kooner, 25, of Tecumseh, Ontario, used sharp shots and brisk hand-speed to dominate the bout, knocking down his opponent en route to a unanimous decision win. "It felt great," said Kooner afterwards of his last fight before the Olympics. "It was what I needed."

The extra in-ring work so close to the Games would indeed prove valuable.

Kooner received a first round bye in the opening draw last week, and will enter the ring for his first match of the Games on Friday, when he meets Alexander Hernandez of Venezuela in the Round of 16.

The club bout last month was a far cry from the bright lights of Greece's Olympic spotlight. The small gym, with its rows of metal folding chairs and walls plastered with pro boxing posters, was crammed with gym regulars, parents and friends of the various boxers, and curious locals. Kooner topped a card that featured fresh-faced novices as well as regional champions.

It was a poignant return to his roots before heading to the opposite end of the spectrum.

"That's how I started out - in club shows," said Kooner. "You get that camaraderie getting ready for the fights. You get reacquainted and reminisce about how you came up."

Atlas is run by trainer Adrian Teodorescu, who coached Lennox Lewis to Olympic gold and presently trains pro bantam prospect Steve Molitor. "I've know Adrian for a long time," said Kooner on his ties with the gym. "I was helping Molitor prepare (for his last fight)."

Kooner, who is of Indian descent, also attracted an enthusiastic group from the Ontario Sikh community to the event. "Its great to have support like that," said Kooner of his fans, who boisterously chanted his name throughout his bout. For Kooner, a proud Sikh himself who keeps a small picture of the god Guru in his sock when he fights, it's important that he represent his ethnic background as well as his home country when he enters the ring. "I think I've opened the gate for a lot of aspiring (Sikh) athletes and given them something to look up to," said Kooner.

The bout was a rare treat for the crowd, and one for the Canadian boxing history books as well. Due to his steady participation in international competitions, it was Kooner's first club fight in around eight years, and since he plans on turning pro after the Olympics, it will also be his last.

Kooner was born in England and holds dual citizenship, much like his Ontarian Olympic predecessor Lewis. Lewis was also born in England and cut his teeth as an amateur in Canada. He won gold in Seoul in 1988, and then chose to return to the land of his birth to turn pro, using the stronger British boxing scene as a launch pad for his successful career in the paying ranks.

Kooner said he plans to do the same.

That will be a tall order to fill since the feisty Canadian bantamweight is in the same division as Cuban Guillermo Rigondeaux Ortiz. Rigondeaux is one of CBC boxing analyst Russ Anber's picks to win the Val Barker Trophy - the award for best boxer of the Games.

Even if he doesn't come out of Greece with the gold, a silver or bronze would greatly increase Kooner's worth when he turns pro.

This is Kooner's second trip to the Olympics. He was eliminated in the second round at the Sydney games by the eventual gold medal-winner. This is his last chance to grab an Olympic medal and it's instant international credibility, so when Kooner steps into the ring on Friday, the Canadian won't just be fighting for his country and his community, he'll be fighting for his future.