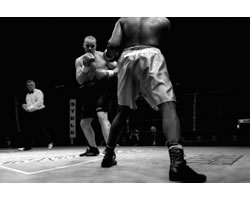 By Sean Waisglass: "Cowboy" Dale Brown (pictured photo by Sean Waisglass) smartly boxed his way to a win over veteran Robert "Preacherman" Daniels in Hollywood, Florida last night (June 8) at the Seminole Casino. Despite Brown's dominance, the match was a split decision on the cards.

The 12 round cruiserweight (200 lbs) bout was the headliner for ESPN2's first Tuesday Night Fight show of the summer.

Brown, now 31-3-1 (20), of Calgary, Alberta in Canada, picked up a couple of straps in the form of the NABF and NABO titles, which should help boost his rankings in the associated sanctioning bodies of the WBC and WBO respectively. He has twice challenged for a world title, and previously held the NABF title from 1996-1999, defending five times before relinquishing it to fight for the IBF title.

Daniels, 35, of Miami, falls to 45-7-1 (31). The long-serving veteran boxer who once held the WBA title back in 1989 announced his retirement after the fight, according to Associated Press.

(Correction in regards to my preview article yesterday in which I stated that Daniels is a southpaw: Daniels is in fact an orthodox boxer. I had not seen footage of Daniels in years, and consulted a couple of established on-line record sites, both of which had apparently mislabelled Daniels as a lefty.)

Brown, 32, displayed crafty moves in out-boxing Daniels throughout the night, and used solid ring generalship to keep Daniels out of the fight as much as possible. Using lateral movement to prevent Daniels from getting momentum, or backing around the ring to lure the Florida native into counters, Brown controlled most of the action. The only times Daniels was able to get some good work done was when Brown elected to stay in close and trade, allowing Daniels to land some hard left hooks.

Both fighters kept busy, each putting out close to a thousand punches over 12 rounds, but it was Brown who was landing with regularity. He pumped out a stiff jab at Daniels, and mixed up his power shots nicely in quick and crisp combinations. Although he favours a sharp right cross, Brown also effectively snuck in a tight right uppercut when in close. The Calgary fighter also did his usual consistent body work to try and wear down Daniels, mixing in his right hand to the midsection with regularity during exchanges.

In fact, Brown's consistency on a whole could prove to be the edge that pushes him over the top this time as he makes his last run at a world title/major payday.

Well conditioned, sportsmen-like, and cool-headed in the ring, Brown has shown in his last two bouts that he can apply his skills and smarts from first bell to last. It was his tendency to mix it up with opponents despite his average power that lead to his downfall in his three loses, which were to current or former world title holders Vassiliy Jirov, Wayne Braithwaite, and Jean Marc Mormeck.

Daniels, despite his 20 years practicing the sweet science, looked solid and game in what would appear to be his final fight. But the former champion didn't quite have the extra boost in energy or ability to mount a serious challenge, although he did impressively press the action in the last two rounds, winning them both on ESPN ringside analyst Teddy Atlas' scorecard.

Atlas, former trainer of heavyweight champ Michael Moorer, scored the bout 117-112 for Brown (one even round, three for Daniels). Official judges Julie Lederman and Chrystal White scored for Brown 117-111 and 116-112 respectively. Shamefully, the incompetent John Rupper scored the bout in favour of the home state fighter Daniels 116-112, ridiculously giving Brown only four rounds on his card.

According to Compubox stats, Brown threw 947 punches, landing 343 for a 37% connect percentage. Daniels threw 922, and landed 207 at 22%.

Brown now has a couple of belts around his waist, and a couple of good wins on TV, all of which should make him more marketable. And now that he's signed with a new promoter in Florida-based Warriors Boxing, hooked up with a new trainer in Kevin McDermott - who seems to be able to keep him boxing rather than slugging, and moved home after a long stretch in Montreal with Interbox, the time is ripe for Brown to make good on his obvious potential in a division that's been heating up over the last year or so.

RELEFORD UPSETS GARBEY ON UNDERCARD

Heavyweight Kendrick Releford of Fort Worth, Texas scored an upset 10 round unanimous decision over former amateur standout Ramon Garbey, a Cuban now living in Miami.

Releford, now 10-4-1 (5), took the bout on six days notice, but was in lean and muscular shape at 225 pounds, and ready to rumble against his favoured opponent. Garbey, whose last loss was to Fres Oquendo in 2000, falls to 17-4 (13).

Garbey had amateur wins over current IBF heavyweight title holder Chris Byrd, current light heavy champ Antonio Tarver, and former super middle title holder Sven Ottke, but has been a perpetual underachiever as a pro. Starting as a cruiserweight, but lacking the conditioning to stay in the division despite it being recently raised to 200 pounds, Garbey weighed in at a career high 226 lbs for last night's bout.

The underdog Releford started fast and kept on going, constantly out-working his more experienced foe save for a few aggressive bursts by Garbey here and there. The Texan kept his jab in Garbey's face, and let his punches go in bunches whenever the Cuban defector got lazy and left openings.

Despite Releford's comfortable edge, the bout still had some nice action, especially when Releford would pressure Garbey into the ropes and the two would trade in close. Garbey showed traces of his long neglected skills and experience, but never mounted enough offence to swing things his way, and wasn't helped by his poor conditioning - as evidenced by his paunchy belly. Releford punctuated his professional and spunky effort with a hard flurry to end the last round before the final bell rang

The scores were 98-92 twice, and 97-93.

Releford, who lost via ninth-round TKO to fringe contender DaVarryl Williamson in January, and has a late 2003 draw with recently NBC-televised Terry Smith, was an easy guy to root for.

The scrappy journeyman took the bout on short notice, but clearly wasn't just in the ring for a payday. Releford showed improving skills and an obvious healthy work ethic that should see him garner a few more paydays and maybe even a future reputation as a spoiler to be taken seriously amongst the smaller men of the division. A young man of 22 years, Releford's corner was curiously and charmingly worked by both his parents: his father as trainer and his mother as chief second.

Garbey, 33, needs to reassess his career trajectory, possibly looking towards the once similarly floundering James Toney, whom Garbey lost a decision to in late 1999. After years of being written off as a fighter wasting his natural gifts, Toney tuned up, trimmed down, and turned his career around, becoming a Fighter of the Year winner in many polls in 2004.

June 8, 2004.