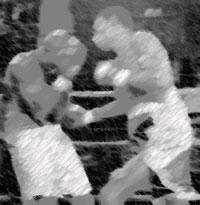 By Sean Waisglass: Otis "Magic" Grant continued his inspiring rise out of the abyss and towards a world title by snagging the Canadian Super Middleweight title from Mark Woolnaugh Saturday night at the Montreal Casino in Montreal, Quebec. The bout was televised on the French Canadian network TVA.

Grant, now 34-2-1, was too experienced and crafty for the game champ Woolnaugh, now 14-5-1, and controlled the action throughout their ten round bout. Ten rounds is the new championship round limit set by the Canadian Professional Boxing Federation - a more realistic ruling made to accommodate the frequency of younger fighters that end challenging for national belts.

Grant, of Montreal, was seriously injured over five years ago in a horrific car accident in Quebec. He swerved his vehicle into an oncoming drunk driver in order to save his daughter, who was riding along with him. In a coma for over a week, the southpaw survived, but his left arm was torn to shreds and his career seemingly ended. Less than a couple of months earlier, the WBO middleweight champ had gamely jumped up two divisions to challenge the larger Roy Jones Jr. in November '98 (loss TKO 10).

But after five years of rehab, the gutsy Grant amazingly returned to the ring under the tutelage of his brother Howard, and like magic indeed, he looked even better than before.

When faced with the past-prime but well-schooled former champ Dingaan Thobela in his return fight last November, he took advantage of Thobela's unwillingness to throw when faced with Grant's tricky defensive style, and let his hands go with punches of all varieties. The shocking display of four and five-punch combos Grant dished out after five years of inactivity showed his comeback was no gimmick - he was there to fight. His power arm and shoulder were a mass of scars, he was closer to 40 than 30, but he was ready to rock.

In April, against the larger Prince Badi Ajamu, a usual light heavyweight, the former middleweight Grant smartly stood his ground and slugged as well as boxed to get, and keep, his rough opponent's respect, winning a ten round decision.

And against Woolnaugh last night, Grant, a ripe 36, showed his seasoned ring smarts once more against another style of opponent - a fellow southpaw boxer.

Canadian 168lb champ Woolnaugh, 23,of Qualicum Beach, British Columbia, is a feisty, hard-working pro who comes to the ring in fighting shape, throws sharp shots and puts his punches together nicely. But the champion's solid skills and willing attitude weren't enough against the more experienced Grant, who used slick foot movement at long range, nice bob and weave defense at mid-range, and either covered up or clinched in close to take Woolnaugh off his planned path to a successful defense of his title. Grant's well-rounded defensive abilities nullified most of the Woolnaugh's aggressiveness, although the two southpaws still traded some nice flurries throughout the bout.

Woolnaugh tried to control Grant with a good stiff right jab, often following up with a quick left cross, but was rarely able to cleanly land multiple punches. Grant used the openings his defense created to launch hard lead right hooks or overhand lefts out of a crouched stance, and threw good solid combos to the head and body in spurts.

The judges awarded Grant the national belt with scores of 98-92 twice, and 97-93.

The win showed the reborn Grant is a thinking fighter as well as a skilled one - adaptable to different styles, sizes, and experience levels. All three comeback opponents have brought something different to the ring, and Grant has morphed his moves to find a way to win each time out. And at 36 years of age, Grant knows his time-frame to gain a world title is short. He's hungry and it shows - he's come to the ring ripped and ready for all three matches.

Grant has stated that he want to keep busy, but the troubles of his soon to be defunct former promotional company, Interbox, kept his ring return at a slower pace than desired. But like Grant, former Interbox GM and in-house trainer Yvon Michel has risen from the ashes of misfortune (Interbox declared bankruptcy this year after it's champions Leonard Dorin and Eric Lucas both suffered career setbacks) and formed a new Montreal-based organization called GYM (Group Yvon Michel). This card was the first of what is planned to be regular GYM events throughout the Quebec region, and the frequent cards GYM hopes to put on should see Grant getting the action he desires in order to get back in the rankings and make a run at a world title.

This bodes well for the Montrealer, since the 168lb division is in flux these days, with belts open for taking as many of the established champs and challengers of the past years are retired or in limbos of some sort or another. Grant joins the under-appreciated Ontario fighter Syd Vanderpool as a southpaw sleeper from Canada in the super middle division.

Also televised: Quebec heavy (and I mean heavy) Patrice L'Heureux tipped the scales at 275lb, for his eight round win over US journeyman Garring Lane - a mighty weight for even his 6'5 frame. L'Heureux has good hand speed and a spunky in-ring attitude, but his consistent girth doesn't allow him to get good leverage, sustain his punch flow, or use mobility to effectively walk down his opponents. Should he muscle up and trim down to around 240lbs, he might prove to be a handful for some of the more skilled but smaller heavies milling about these days. L'Heureux pushed his record to 13-0-1 (6 KO), while Lane fell to 22-38-2.

Also on the card off-TV:

Fellow Quebecois heavy David Cadieux's debut went sour quick as a head butt in the second round resulted in a technical draw with Daryl Smith.

Montreal-based Cameroon transplants Paul Mbongo and Herman Ngoudju kept their burgeoning careers moving along nicely with a pair of stoppage wins. Mbongo, a smallish heavyweight with a nice solid jab stopped Jason Gethers in the first to raise his record to 2-0, while sharp-boxing super lightweight Ngoudju stopped the decent and usually durable Leonardo Rojas, now 6-3-3 in the third round.

Cedric Kushner's heavyweight hope Tony Thompson, whose only loss is a four-rounder early on to fellow prospect Erik Kirkland, won a ten rounder against former Don King-crowned former perennial contender Vaughn Bean. Thompson is now 24-1 (14KO), while Bean falls to 44-4.