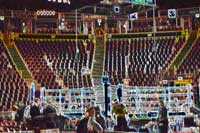 By Sean Waisglass: One of the curiosities of the heaviest division will try and convince the boxing faithful that he's the real deal when contender Juan Carlos Gomez returns to the ring tonight after nearly one-year of inactivity. The bout, which is scheduled for 10 rounds against the little-known Yamplier Azcuy, will take place in Laredo, Texas at the Entertainment Center and will be televised on Telefutura.

Gomez, 37-0 (31 ), is a former Cuban amateur standout who defected to Germany and into the hands of Universum Promotions in 1995. The southpaw technician racked up an impressive run as a cruiserweight, winning the WBC title against Marcello Dominguez in 1998 and defending it ten times. He first dipped into the heavyweights and into the US boxing scene in August 2001 when he beat up the normally durable fellow ex-cruiserweight Al Cole in five rounds in Las Vegas. He defected from Universum in 2003 and moved to Miami, where most of the transplanted Cuban boxing have set up shop in the US.

Gomez, 30, has been in limbo ever since due to a dispute with promoter Sugar Ray Leonard Boxing. An Associated Press article last month stated that Gomez is suing SRL Boxing for $2 million US in damages. According to the AP article, Gomez's camp claimed their contract with SRL Boxing had been voided, but the company, as well as Freedom Promotions, a company that deals with Cuban defectors, are still claiming rights to the boxer and have prevented other promoters from using him on their cards. Gomez's only fight under the SLR banner was his last one, an impressive ten round decision in September 2003 over Sinan Samil Sam.

The Sam fight was the first time most North Americans got a chance to see the respected ex-cruiser champ, and Gomez opened a lot of eyes in his first dance in the spotlight. The bout was one of three on an HBO card showcasing some of the new crop of heavyweights in the fledgling post-Lewis era. Sam was undefeated, and coming off a couple of demolition jobs of British stock. He had beaten up Julius Francis in seven rounds, and beaten down recent Tyson conqueror Danny Williams in six, knocking him down three times along the way.

Sam was a solid puncher, a pressure fighter, and a good-sized heavy at 6ft 3inch, 236lbs pounds. But Gomez, who is also 6ft 3inch but weighed in at only 214lbs, showed not only that he could take Sam's heat in round one, but displayed a bit of his own when he knocked the Turk down with a swift left uppercut.

Gomez spent the rest of the fight befuddling the pressing Sam with ring movement, a steady right jab, and punches dealt out in bunches. The constant flow of fists from Gomez befuddled Sam and delighted fans of the sweet science who understand that the sport's ultimately about boxing, not knock outs. Gomez was enthusiastically ripping off three and four punch combos with relish, including steady shoe-shiners to Sam's belly. He also showed real grit the handful of times Sam was able to get close enough to land some hard power shots, often smiling and shaking his head in defiance of the Turk's heavy leather.

Gomez appeared to be the flipside of the Chris Byrd coin: both men are crafty and skilled southpaws with little power, and who tip the scales in the shallow end of heavyweight. Whereas prime Byrd has awe inspiring defensive skills, Gomez has jaw-dropping offensive arsenal, throwing every punch in the book at a furious pace. And where Byrd has solid but under-whelming offence, Gomez has serviceable but effective defence, using foot movement and his jab to keep away from opponents.

After a near year off, he's facing fellow Cuban defector Azcuy, 10-1 (6), who now fights out of Vegas. Azcuy is a full sized 6'4 230ish orthodox fighter who's largely untested, and has only been fighting for two years. But he gets credit for working hard and fast - he's fought four bouts already this year, going 3-1, and his opponents had a combined record of 71-16-3. His sole loss is to US prospect Tony Thompson over eight rounds in March of this year.

Gomez will need to be impressive and shake off the rust quickly against his game countryman. Considering his 30 years of age and the opportunities available, Gomez is in a prime and much-needed position to get his name back in the mix and make some significant moves. Despite his inactivity, the 'big three' have curiously kept him in the rankings, and those rankings are hot commodities that will make Gomez a wanted man, even if his southpaw skills might dissuade opponents otherwise. Gomez is ranked ninth by the WBA and IBF, and confusingly, second by the WBC.

Gomez fits nicely into the 'open for the taking' heavyweight puzzle, which is not as bad a situation as some compulsive gripers are making it out to be. Any given match between the top ten or fifteen boxers is a likely 'pick 'em' fight, and there are a multitude of interesting and unique boxers populating the heavies. As far as title bouts go, we may have suffered the butt-ugly Ruiz/Oquendo (WBA), but there was also Byrd/Golota (IBF), Brewster/Wlad Klitschko (WBO), and Vitali Klitschko/Sanders (WBC), all of which were entertaining - that's three out four, folks. Assuming things go well tonight in Texas, Gomez, the slick-boxing southpaw who's barely a heavyweight on the scales, will be a welcome odd character in the already diverse make-up of the competitive division.