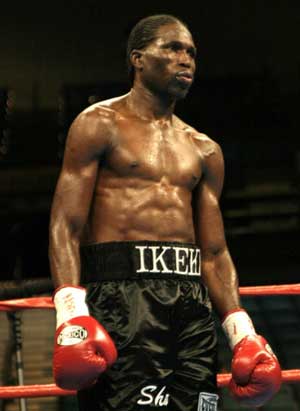 Pic courtesy Rich Samuels/Top Rank

By Sean Waisglass: Middleweight contender Kingsley Ikeke must be taking some measure of solace in fellow 160 pounder Winky Wright's fight Saturday.

While the California-based Ikeke is travelling to Germany to battle locally-based contender Arthur Abraham on the same night in order to finally get in the ring with someone in the division's top tier, Wright is facing off against Sam Soliman in a showcase bout on HBO that's attempting to set up a PPV match against current champ Jermain Taylor down the road.

Wright's current success could be a glimpse of Ikeke's future if he can get past the well-regarded Abraham, 18-0 (16 KO) in Arena Leipzig, and bring back the IBF belt that was stripped from/vacated by Taylor and is now up for grabs.

Like Wright before finally getting marquee matches against the likes of Fernando Vargas and Shane Mosely, Ikeke, 23-1 (13 KO), is a man who's long been avoided by the best in his division, and has had a 'large risk/small purse value' anchor to pull around behind him, slowing down his career while he cried out for big fights.

Which is actually understandable, considering the guy's a freakish 6'4 middleweight, built like a praying mantis, and can fight. Who'd want to put their guy in against someone like that?

A quick internet search of the bug's hunting habits reveals that Ikeke kind of fights like a praying mantis too: he keeps his hands up in a semi-hunched near-praying position, lures his prey in by staying on the outside, then strikes with his long, strong arms and paralyses them (although instead of biting their neck - insert Tyson joke here - Ikeke uses a stiff jab and steady body work).

That's pretty much what he did in his most significant bout so far, against the hard-hitting perennial contender Antwun Echols this past April. Echols, who's been in slugfests with Bernard Hopkins twice, Anthony Mundine and Charles Brewer, finally gave Ikeke a chance to showcase himself against a legitimate middleweight when the two met on ESPN's Friday Night Fights. The lanky Ikeke circled around the charging Echols, chopping away at him by mixing in body shots with his combos and constantly pummelling him with a hard jab. That jab eventually swelled up Echols' right eye, leading to a 10th round stoppage of a demoralized version of the normally durable and scrappy banger.

Ikeke's dominant victory was in part due to his work with high profile trainer Freddie Roach, whom the Benin City, Nigeria native has been working with in L.A's Wild Card Gym, says Nelson Oliveira, who manages Ikeke along with Gary Gittelsohn. "Freddie is so calm in the corner," Oliveira enthused, "and he has the experience that a fighter needs." Ikeke's past experience with Echols didn't hurt either. "Kingsley had sparred with Echols before his rematch with Hopkins. He broke Echols' rib," claimed Oliveira. "He owned Antwun Echols. He had no fear of Echols."

It was a moral victory of sorts for Ikeke to score his first impressive win against a known foe on ESPN, since his first appearance on the network was a bitter experience that was likely the genesis of his long wait for a name opponent.

Ikeke first came on the scene in July 2001, when he was brought in for undefeated prospect Anthony Hanshaw in Hanshaw's home state of Ohio for a Friday Night Fights opener bout. It was a hotly contested scrap, but Ikeke's long jab looked to have secured him a close win (including on respected analyst Teddy Atlas's card). Instead the local kid got a questionable unanimous decision, and Ikeke got his first and only loss and the bad reputation of being a dangerous guy with little payoff.

Ikeke had been living and training in California for nearly two years at that point after having moved there from Canada where Oliveira had met him. Ikeke had defected along with 13 other Nigerians while in Victoria, British Columbia, for the Commonwealth Games. He then made his way to Toronto, the multicultural hub of the country, which he still considers his home despite spending most of his time in California. "He just loves living here," explains Oliveira, who also lives in Toronto. "The crime is a lot lower (than the oft-troubled Benin), it's peaceful, and it's quiet. He has a lot of friends here. His Nigerian friends from back home, a lot of them are here."

While working nights in a bakery, Ikeke trained at Atlas, a local gym run by Adrian Teodorescu, who had trained Lennox Lewis for the Olympics as well as other notable pro prospects. It was there, while witnessing how Oliveira was working with another boxer as an advisor, that Ikeke asked Oliveira to help out when his contract with Teodorescu was up in '98. "He was hungry," said Oliveira when asked what convinced him to dedicate himself to Ikeke. "He's got one goal: To work and to train. He doesn't do anything else, he just trains."

Things in Canada were slow going at the time - Ikeke had just 4 bouts since turning pro in mid '95 - so Oliveira sent his fighter down to California to manager Jimmy Montoya in mid '99. Disappointed with the amount and quality of opponents Montoya was producing, Oliveira took over official management duties in 2003 and brought in Gittelsohn - who had managed Junior Jones and Tony Tucker back in the day, and works with Brian Viloria and Fernando Montiel currently - as a co-manager.

Ironically, things finally started coming together for Team Ikeke after a much-desired big fight fell through.

Scheduled to meet then WBO champ Felix Sturm, Ikeke was paid to step aside so Oscar De la Hoya could challenge for the belt in mid 2004. A by-product of the negations was an eventual 2-year 5-fight deal with Oscar's burgeoning Golden Boy Promotions, a deal which has already fulfilled its promise, said Oliveira. "It's been unbelievable. He's been very active - he's had 5 fights in 13 months."

But one thing the currently hot promotional outfit hasn't been able to do is get their man in with one of the stars of the division, including Wright. "We tried," explained Oliveira regarding how they tried to get Ikeke in with the slick southpaw instead of Soliman for this weekend's bout. "HBO came to us, and we said in one second, 'yes, we will take the fight'. (Wright's camp) didn't like the fight."

"Winky Wright and Gary Shaw won't even mention Kingsley's name. Jermain Tayor, the same thing: for three years he's been running from Kingsley. Three times HBO and ESPN tried to fight Taylor and Kingsley," claimed Oliveira. "But Lou DiBella and Tayolor refused." It was more of the same when negotiations with the camp of Felix Sturm fell apart last month and Sturm opted to meet the lesser Maselino Masoe for the sub-WBA belt.

So instead, Ikeke gets Abraham, who's also looking to make a name for himself and force a fight with one of the main men at 160lbs. It's not a well-hyped shot against Wright for a fat cheque, but it'll do says Oliveira. "We don't care about the money, we want the opportunity. (Ikeke) loves it, he can't wait."

The bout is for the IBF belt, which was either stripped or abandoned by Taylor, according to who you ask. "Before Hopkins fought Taylor," explained Oliveira, "he got a 90 day extension - a one fight extension. He would have to fight Sam Soliman next. Because Talyor (who won the belt from Hopkins) refused to fight Soliman, (his inherited mandatory), the IBF came down and stripped him."

The IBF went down their list of ranked boxers after their #1, Soliman, declined to fight #2 Ikeke so he could fight Wright instead, and Abraham was the next ranked man wiling to take the fight. And what about taking the match in Germany, a notorious hotbed of suspect decisions? "We don't care if it's in Germany ," says Oliveira. "No problem. We were going to go to Germany already. We planned to go to Germany to fight Sturm for the WBO title. It's unfinished business."

If Ikeke can indeed take care of business against the hard-hitting Abraham, he'll finally be poised to become a major player at middleweight. He'd be joining Taylor, Wright, and Felix Sturm as one of a new crop of premier middleweights who mix and match very well, and whom the premier networks will have a keen interest in showcasing.

And it will help Ikeke to have a win over Abraham that claims him the IBF strap as a bargaining chip, regardless of the belt's actual merit. Even if the boxing public at large doesn't grant the title value, Ikeke will: he'll consider it a ticket home.

Ikeke hasn't been back to see his family in 11 years, although he talks to them regularly on the phone. He's got nine sisters and five brothers in Nigeria. He's been waiting for the right time to return, and has told Oliveira that winning a belt in his first major bout would be an achievement worth going home to celebrate. "Every day," explains Oliveira, "he says he wants to return home with a title."

In light of the inconclusiveness of Taylor and Hopkins' two meetings, and with both Wright and Sturm yet to defeat a full-sized top-5 middleweight in his prime, the division is still undefined and open for the taking. Should he defeat Abraham Saturday night, Ikeke will at last, be a key part of the 160lb puzzle, no matter how much others in the division try to avoid him. You can be sure of one thing, proclaims Oliveira, Ikeke won't be trying to avoid any of them. "Kingsley doesn't fear anyone at 160 - not even 168 - he'll fight anybody."