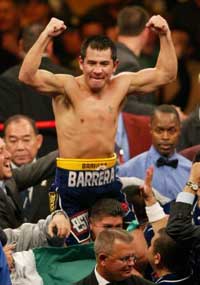 HoganPhotos.com

By Sean Waisglass: There's no arguing that the Barrera/Juarez rematch was somewhat of a letdown considering the intensity and drama of their first bout, when it looked like the aging superstar's career might finally be winding down as he worked to fend off the charges of the next generation.

But maybe last Saturday's bout should be viewed more like the later efforts of a lot of artists and sportsmen: it doesn't thrill like some of the Greatest Hits from his prime, but when understood as part of the complete body of work, you come to appreciate it's subtle charms.

Although the general consensus was that it was a boring fight, there were a lot of folks that admitted it was still an admirable boxing display considering how hard the close the first fight was. Maybe not much fun to watch, but admirable nonetheless.

Despite all the complaining about Barrera, now 63-4 (42 KO), stinking out the joint (attendees were apparently starting to leave by the 10th round), we have to remember that the mighty Mexican did in fact, win that first fight. It may have been erroneously announced that the bout was a draw, but the post-broadcast final tally awarded Barrera the match via split decision. It was a tough one. A much debated one too. But he came out on top.

Why should that temper our disappointment in Barrera's impressively competent but also yawn-inducing performance in the rematch?

Because Barrera has enough clout in the boxing community that if he had decided to move on from Juarez and take a tune-up while waiting out a genuine Super Fight with November's winner of Pacquiao/Morales III, he could have done so without people saying that he was ducking the feisty Huston, Texas native. He's paid his dues.

Yet Barrera, a boxer's boxer and a true people's champ, chose to settle the matter once and for all instead.

There have been a lot of closer and more controversial bouts that were never conclusively resolved, yet the 32-year old 16-year pro still chose to take a monumental risk considering both what was at stake and the stage of his career that he's in, and decided to give the seemingly dangerous former U.S. Olympian a rematch.

That should be commended.

Another gruelling twelve rounds like their first match, much less a loss, could have spoiled Barrera's chances to compete in what is now one of the most anticipated fights of next year. Even so, the Sweet Scientist went ahead and brought the prodigious understudy back into the lab and let Jaurez's attempt to replicate the results of the 'Ending Barrera's Career' experiment blow up in his face like a bad formula held over a Bunsen burner.

Maybe Barrera could have engaged in more exchanges with Juarez, or put together more sharp combos to add some spice to the performance, but the expertly jabbing, moving, and clinching multi-division champ was no fool; he knew what could happen if Juarez got inside or was given openings, and decided not to let the guy who'd given him one of his hardest nights in the ring five months earlier a chance to do it again.

It may not have been exciting, but Barrera got the job done, and got the job done well: despite two debatably close scorecards of 113-115 (the third was 111-117), Juarez wasn't competitive enough this time to earn a mistaken draw again, much less a win.

As Barrera stated after the match, he wasn't playing it safe as much as he was teaching a boxing lesson. It may not have been as stern as the one he doled out to the uppity Naseem Hamed back in 2001, but it was a lesson all the same.

And maybe this lesson wasn't just teaching Juarez not to underestimate Barrera's skill or overestimate his ring age - it was teaching the rest of us as well.

This performance was reminiscent of Barreras' mid-'04 taking apart of Paulie Ayala, when he was coming back after the Pacquiao KO loss; a fight that like the Juarez original, was no doubt physically taxing, and sapped some of the boxing public's confidence in Barrera, and maybe some of his own as well. Barrera, just trying to get back on track and looking a little less sharp than usual, used a similar 'jab and move' style against Ayala, only electing to engage when necessary before breaking down his opponent and stopping him late.

Barrera did this past Saturday against Juarez what he had to do to that night against Ayala: 1) get his confidence level back up and let everyone know he's not ready to be counted out just yet, and 2), win and keep the much larger matches on the horizon alive.

That's a pretty impressive feat to pull off, especially for a guy who's had to do it numerous times already in his long and hard-fought career.

And as for those of us wondering if his less-than-scintillating display in the Juarez rematch following one that looked like he was entering "over the hill" territory are evidence that Barrera's best days or willingness to use his much-loved skilful brawling abilities are in the past?

Maybe we should recall that fans and analysts alike were saying the same thing after the Pacquiao and Ayala bouts, then take a look on Boxrec.com and see what fight came next.