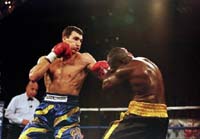 By Sean Waisglass: When Wladimir Klitschko, 42-2 (39), steps back into the HBO spotlight this Saturday against Lamon Brewster, 29-2 (26), for the vacant WBO heavyweight title, he'll be taking his first step towards repairing a reputation that lays in shambles, much like the former WBO champ was himself was when crushed in two rounds by Corrie Sanders in March 2003.

Well-travelled and multi-lingual, the Ukrainian product of the Soviet amateur system, who's been based out of Germany for most his career, has made moves to reconstruct what was a streaking career: he is now living in Los Angeles and working with vaunted trainer Emanuel Steward in tandem with regular trainer Fritz Sdunek.

The move to the "City Of Angels" will provide him with prime US sparring experience, and most significantly, he'll be under the partial tutelage of one of the world's great trainers in Steward.

Steward, who founded the legendary Kronk boxing program in Detroit in the early 70's and made his name with local multi-division champ Thomas Hearns, has co-trained Oscar De La Hoya and Naseem Hamed in recent years.

And of course, Steward's most notable charge of late was World Heavyweight Champion Lennox Lewis, whom Klitschko was being heralded as successor to before being harshly derailed. So now, Steward, who joined up with Lewis after the British-Canadian-Jamaican was himself upset and knocked out, is once again in the position to rebuild and mold a boxer into a legitimate force in the heaviest division.

MIRROR, MIRROR ON THE WALL...

The similarities, although not perfectly parallel, are striking (although Lewis is retired, he'll be referred to in present tense):

Both Lewis and Klitschko are 6'5ish prime physical specimens with remarkable hand co-ordination, speed, balance, and movement for such large builds. Both have ramrod jabs that serve as the foundation for impressive offensive arsenals, and back them up with plowing right hands. Each also has a heavy-duty back-up: Lewis has a destructive uppercut, Klitschko an excellent left hook.

Both heavyweights are avid chess fans, and often fight with strategy in mind; going for a quick end if it presents itself, but using a measured, calculated offence if otherwise - despite their overwhelming size and power advantages. Both had extensive amateur backgrounds and won Super Heavyweight Olympic Gold. Both are presently in the record books as a pro with 44 bouts on their leger.

Both of these big men have had difficulty when pressed, forced to back up or fight inside. Both men, when hit clean by a heavy puncher (Lewis vs. McCall and Rachman, Klitschko against Sanders), seem biologically disposed to short circuit (as many a man hit by someone over 220 pounds is want to be). But both showed tremendous heart in trying to go on after being short-circuited, although they were not ultimately able to continue.

Although Lennox's second KO loss came while under Steward's watch, and Klitschko had his two losses before joining up with the Detroit trainer, both fighters suffered their setbacks at strikingly similar career-tally points.

Both lost their cherries to journeymen-types at mid-twenty: Lewis lost to McCall in his 26th fight, Klitschko to Ross Puritty in his 25th in '98. Both were brutally KO'd by under-rated but under-achieving fringe contenders in their early forties: Lewis to Rachman in his 41st fight, Klitschko to Sanders in his 42nd. (Interestingly, Rachman and Sanders, the two most recent KO conquerors of our comparisons, battled each other, and although Rachman came out on top, they were very evenly matched in all departments.)

Both boxers had Steward join them when they were on the cusp of 30 years old, and after a crushing KO loss: Lewis immediately after McCall, Klitschko two fights after Sanders. When Steward joined them, both were poised, respectful, confident non-American fighters looking to not only break back into the top tier, but into the hearts of US fight fans as well.

When the Detroit legend switched allegiances from his charge McCall, to the man McCall decimated, it was the beginning of a new era in boxing, for better or for worse.
And now, eerily, after Lewis' controversial battle with Vitali Klitschko, and subsequent retirement, Steward has once again, in signing up to train the Klitschko brothers, has switched teams to the 'loser' in hopes of creating a winner.

The parallels are quite amazing in body, style, character, and career.

And looking back with the keen eye of hindsight, it's easy to see what the implications were for Lewis, the heavyweight division, and thus, boxing itself, when Steward entered the picture.

Which begs the question: Is Wladimir Klitschko the next Lennox Lewis?

This is not to say is he might be the next dominant heavyweight: it looks like his less stylish but more stable brother Vitali, who battled Lewis into retirement (although losing via cuts) last year, is the one with the chance to prove he's top dog in times ahead. Vitali faces his younger brother's defeater in two weeks for what will be considered the new consensus crown by most.

But remember that it was Wladimir who was considered the blue chip prospect of the two. And while many in the boxing world are looking to Wlad's glass jaw as proof-positive he'll never be worthy of 'all-time' consideration, or even 'his-time' dominance, the same was said about Lewis when he was crumbled on the canvas and hungry to return to the top.

As I'm sure his co-trainers are telling him to, Klitschko is probably taking it one fight at a time. But no doubt somewhere in his mind, as well as the minds of many others with stake in his stock, he's aware what this return to the spotlight against Brewster 'means'.

This is a must-win. They all are, but this one has got to be a statement: I'm back, and I'm still dangerous. There's no margin for tough stretches or sloppy moments - it's a crucial time for an impressive win for the sake of the Collective Klitschko Consciousness.

IS BREWSTER THE NEW MORRISON?

And again (this really is wild stuff), like Lewis, Klitschko is facing a solid fighter who had some hype early on, but wilted in his major tests. Brewster is Klitschko's Tommy Morrison. Like Klitschko/Brewster, Lewis took on Morrison, a young gun who had fallen short of expectations in his two major steps up, after two tune-ups. (Both Lennox and Wlad faced their solid comeback opponent after a TKO 4, too)

Admittedly, Morrison had a points win over an aged Foreman and a KO 6 over Razor Ruddock, which puts him ahead of Brewster, who has no wins of significance. But Morrison's knockout losses to Micheal Bentt (KO 1) and Ray Mercer (TKO 5) temper that status, since Brewter's two losses are ten round decisions to a pre-Oquendo-ruined and very good Cliff Etienne, and solid jabber Charles Shufford.

Brewster, who like Klitschko, is an LA resident, seems to be indicating in interviews that he's aware this is his big chance to make good while he's still young and able. He's also shown that he can take punishment and still come on strong after being rocked in his face-paced brawl with Etienne in mid-2000. Brewster has good hand speed, a solid variety of punches, and puts combinations together. He's got respectable power and a muscled, compact, and thus notably small frame: coming in at 6'1 and around 230 to Klitcko's 6'6, 240ish.

The question regarding Brewster is whether he learned from the Shufford loss. In that fight, Brewster, seemingly flattened psychologically after suffering his first loss, looked to be sleepwalking for most the fight. This was in no small part due to the taller, longer-armed Shufford keeping a constant jab in Brewster's face, establishing a range that the shorter fighter couldn't get inside of.

Brewster, who's signed with Don King, will need to have been training to get inside on the towering Klitschko Saturday night, who still fought in an erect Euro style the last time we saw him.

A good blueprint for success in Brewster's camp would have been Evander Holyfield's second bout with Lewis, a fight many thought could've leaned narrowly in the smaller boxer's favour. Holyfield got inside Lewis' long reach, and worked him over when he wasn't been clinched - looping upwards shots, and body punches to rough the taller opponent up in close. The key to his success inside was avoiding or smothering Lewis' uppercut, a punch that Wlad didn't use much previously, but might have adopted with Steward in his corner.

Although Wlad destroyed Shufford, that's only a quality indicator - Brewster is a whole different kind of fighter. The key for Klitschko will be his stiff long jab - sometimes thrown with such force it could be a low-level power punch. He throws it often, as a range-keeper and to set up hooks, and more specifically, his powerful right. Even if Brewster is as fired-up as he says he his, and he makes a habit of leaping in at Klitschko, he could be in for a long night. Steward got Lewis to use his jab well while manoeuvring and backing up, and made it the former champs key punch - a steady distraction from a distance that created openings at range and blinded charging opponents to walk them into counters.

If Steward has taught Klitschko to fight backwards to better effect, and to clinch and cover when an opponent gets too close, and most importantly in the offence department; added an effective and strategic uppercut to Wladimir's arsenal, it should only be a matter of rounds before Brewster is the next Morrison, and we all wait with baited breath to see how Klitschko fares with his 'Mercer'.

(Note: Klitschko already beat up the well-worn 40-plus Ray Mercer in mid-2002, so he'll have to find a new one).