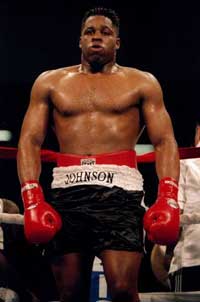 Guess who's back from dinner?

By Sean Waisglass: Shamed Canadian heavyweight contender Kirk Johnson, 35-2-1 (26), returns to the ring tonight to try once more to erase the memory of an HBO televised high profile failure by appearing on FOX Sports Net's "Best Damn" broadcast. He'll be facing the tough but limited Cuban export Yanqui Diaz, 13-2 (8) at the Pechanga Casino in Temecula, California in a 10-rounder.

The first time the North Preston, Nova Scotia boxer went through this routine was after getting disqualified against John Ruiz three years ago for numerous low blows in a WBA title fight he was favoured to win. Johnson admittedly had to contend with Ruiz's Brando-like performances for the ref anytime a blow landed anywhere below the neck, but nonetheless couldn't keep his punches up despite repeated warnings. He looked as mentally flawed as he did athletically gifted in that ugly and widely-seen HBO bout, and his stock dipped.

He returned to the tv screen eight months and one fight later, and skilfully broke down the usually durable Lou Savarese in four rounds on an under-the-radar FOX broadcast. Using deft ring movement, a long javelin of a jab, and a great left hook to the body and head, the focused Johnson looked like he had learned from the Ruiz opportunity squandered and revitalized his career with a crushing uppercut/hook left hand that collapsed Big Lou into a heap.

He then took on Vitali Klitschko nine months later in a WBC eliminator in December '03, in what would be a chance to redeem himself after his last top tier appearance. Instead, Johnson stunningly ripped any credibility he had left to shreds when he came in grossly overweight at 260lbs - 17 lbs heavier than his last two fights, which themselves were still nearly 20 lbs over the prime weight of his first 28 fights under the tutelage of taskmaster Teddy Atlas. Johnson swung wildly at the fit and ready Klitschko, but the extra belly jelly put him easily off balance, and he was busted up in two rounds.

Again, he returned to FOX from the bright spotlight of HBO, and again he looked like a different man altogether in the ring (weighing in 18 lbs lighter helped...) He faced the rugged journeyman Gilbert Martinez in July of last year. Johnson stabbed with his top-shelf jab, launched rocket right hands, and put in solid body work on his way to an eighth round cut stoppage TKO win. He displayed his natural gifts: good ring movement, great hand speed for a big man, and notable power in both gloves. But the question was still hung around his neck like an anvil on a chain: busting up journeymen and fringe contenders was great and all, but could he ever put those gifts in action against the best of the division without nullifying them with his erratic behaviour?

Johnson damaged his right hand in the Martinez bout, and tonight, after a year layoff, will again use a FOX-televised match to audition for yet another shot at the big time on one of the premier networks. In Diaz, Johnson will be facing off against a human measuring stick of sorts: the Vegas-based Cuban was able to stop highly-regarded former-cruiser champ and then undefeated heavy contender Juan Carlos Gomez in the first round just under a year ago, but was dropped five times en route to a fifth round stoppage loss against current prospect Sam Peter in January of this year. If Johnson is going to repair his rep with the boxing crowd, he's going to have to impress against Diaz, making a case that he's more "promising" like Peter, than "questionable" like Gomez.

Despite seemingly throwing away two chances already, an eyebrow-raising win could put the 32-year old in position to make another run for a title in the wide-open heaviest division where the four known belts are held by a flotsam of fighters. Although a legion of sceptics doubt his will to win after low-blowing and over-eating himself to two losses, few will admit to doubts that Johnson's got the skills to win.

The last guy who fit that description was infamous head-case Andrew Golota, who stumped critics and naysayers last year by engaging in hotly contested bouts with IBF champ Chris Byrd and WBA champ Ruiz. Although he ended up with a disputed draw and a controversial loss, many observers thought both fights should have gone his way, making him a popular-opinion uncrowned double-belt champ (before his KO loss to Lamon Brewster last month, of course.)

After all, as most of the top tier big man of today can attest (see: Rahman, Klitschko, Byrd, Brewster, Ruiz, etc.): in heavyweight boxing these days, crashing and burning is common, and second and third chances for redemption are the norm...