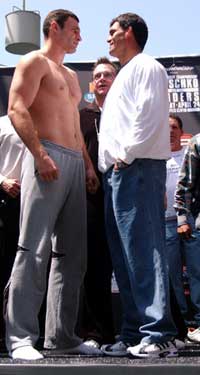 By Sean Waisglass: 480 combined pounds of boxer-puncher are meeting in a grudge match tonight at the Staples Center in Los Angeles.

They are both top five fighters in the heavyweight division by most accounts - maybe even representing two of the top three... Regardless, at the very least, they are fighting for the unofficial title of "The Man To Beat At Heavyweight".

One guy never quite lived up to his potential, and is taking what will probably be his last shot at making a name for himself and putting the stamp of authenticity on his career. The other guy is being tagged as the heir apparent of the division, gave hell to the departed retired champ, and above all else is facing off with the man that beat up his little brother.

They both have skills, they both have crushing power, they both have damn good motivations stirring them on, and they both have grit and heart. The only prediction I feel comfortable standing behind is that the first six rounds of this scrap is going to kick ass. Seriously.

This is what the boxing faithful should call an "ambassador fight". The closest thing to a sure thing we've got, ambassador fights are the potent mix of build-up drama, competitive match-ups, skill and/or toughness, and high stakes. And when those ingredients are packaged in heavyweights, you've got the kind of boxing event worth convincing, cajoling, and harassing your friends into watching.

Whether they fall into categories such as 'casual-boxing fan', 'curious-about-boxing fan', 'jaded-ex-boxing fan', or 'sports-but-not-boxing fan', this is one worth getting them out for. Do your troubled sport a favour: recruit a new believer.

Vitali Klitschko, 33-2 (32 KO), a Ukrainian living in Los Angeles via Germany, meets Corrie Sanders, 39-2 (29 KO), of Pretoria, South Africa for the vacant WBC heavyweight title (vacated by Lennox Lewis). The match will take place at The Stapes Center in LA tonight, and will be broadcast on HBO.

When these two face off during the ref's instructions, you're going to see a real stare-down - the kind where you know it's not a psychological ploy. It's going to have the same thrill as watching the two toughest kids in school mix it up after class on a Friday.

Tell your friends, gather round - there's going to be a fight.

LAST CHANCES AND HARD GRUDGES

Klitschko, 32, is coming off a high-profile two round destruction of Canadian Kirk Johnson in December of last year. The reason that fight was high-profile was because the Soviet amateur system-standout boosted his public image that previous June when he gave former king of the heavy mountain Lennox Lewis all kinds of hell before their fight was stopped due to gory cuts above and below his right eye.

The Lewis bout restored what was then an ambivalent reputation. After making a name for himself by ploughing through a string of C-level opponents, Vitali met his first real test in Chris Byrd. The brave southpaw slickster stepped into their April 2000 match after Donovan Ruddock pulled out the week of. Klitschko impressively dominated Byrd for most of their nine rounds, intelligently pounding on the smaller man with relentless mid-power blows designed to land more than KO the elusive defensive master. But Klitschko infamously told his corner he couldn't continue while on his stool after the ninth, complaining of what turned out to be a surgery-requiring torn rotator cuff.

Folks saw his obvious talent and formidable 6'7 frame as serious material for title contention, but his throwing in of the towel against a small, light-hitting heavyweight made him the target of years of taunts stating he had no heart and the teasing nickname of "Quit-schko"

But his rock 'em-sock 'em war with Lewis, in which the giants traded monster blow after monster blow, erased that memory. Klitschko was ahead on the cards in a fight that ironically, like his defeater Byrd, he took on short notice after the original opponent (Kirk Johnson) pulled out of with an injury. He also yelled and stomped around the ring when the doctor stopped the fight after examining the two huge cuts above and below his eye, even getting right in a relieved Lewis' face and demanding an immediate rematch.

But Lewis retired, denying Vitali Klitschko his chance to definitely prove he's the best big man. So instead, he gets Sanders - who was next on his list anyway...

Sanders, 38, is coming off his biggest win, when in March of last year, he shocked the boxing world and chopped down what was believed to be the healthiest young tree on the heavyweight landscape: Wladimir Klitschko - who is, of course, Vitali's younger brother.

In ringside footage of the HBO broadcast of the fight -- which took place on the German then-home turf of the Klitschko's -- viewers saw a distraught Vitali looking on in horror as his 'little' bro was beaten from pillar to post by the dangerous southpaw underdog. Four knockdowns and a merciful stoppage later, an ecstatic Sanders' parade was rained upon: Vitali confronted the South African in the ring, warning that he would be coming to avenge the family honour and reclaim the WBO strap Sanders now had draped over his shoulder,.

Instead of being angered or intimidated by the intense large man pointing a finger in his face, a condescendingly smiling Sanders looked to be saying something to the effect of "Take it easy, buddy. You'll get your turn", then patted Vitali on the cheek and walked away.

Now Vitali's turn has come.

Sanders was stripped of the belt after the WBO and his new promoter Universum (who had options on him after beating their man Wlad) made demands for defences he didn't like. He wanted David Tua, they wanted to give him less money for the then-unproven Lamon Brewster. So between his belt and promotion hassles, the sudden player in the marquee division of the sport ended up sitting idle while his momentum dwindled.

Sanders already had an image problem due to his inactivity and an early seconds round ko loss blemish to a future journeyman, Nate Tubbs, in 1997. His only other claim to fame other than his Klitschko KO was his 'knock down and drag out' fight with Hasim Rahman on HBO in May of 2000.

Rahman is the division's Yin/Yang enigma: some nights he seems a worthy top ten heavyweight, such as when he clocked Lewis for the undisputed title, but other nights, like when he sleep-walked against John Ruiz last year, he seems like a mediocre journeyman. But on the night he fought Sanders, he was as good as he gets. And he nearly met his match in the South African.

The two went to work fast, trading hard and frequent jabs to set up their well-thrown power shots. Sanders blasted Rahman with a left uppercut that collapsed him on the ropes for a knockdown count. Rahman replied with a long straight right off the ropes as soon as the action resumed, knocking down Sanders. Both fighters courageously kept at it as the fight approached the halfway point. At one point, the two traded power shots again, and almost created a thrilling double knockdown, but Rahman grabbed onto the ropes and Sanders took the count. Sanders was winded in the 6th and 7th, possibly due to only going four rounds in the previous 2 ½ years. Rahman stunned him in the seventh, then barraged Sanders with what seemed like endless punches while the South African bravely covered up but didn't reply. The action-packed bout was stopped by TKO.

Sanders remained inactive despite his new popularity after the Rahman war, fighting only once a year for the next two years in a combined three rounds. After slipping out of boxing's collective memory, he was resurrected as cannon fodder for Wlad. Unfortunately for the Klitschko camp, the same heavy-handed bomber showed up as in his many other fights that produced in early knockdowns or KO's, and their destinies were traded.

So now here Sanders is again, after only five rounds since the Rahman fight, up against another live body. In Vitali, like Rahman, he's facing a big right hand puncher with a steady jab who's proven his ability to take punishment and keep coming.

That makes for a potential rough night for Sanders, and a potential great night for fight fans.

And at 38, Sanders needs to win. He's already stated that he's retiring this year, so this is most likely going to be the only 'big three' sanctioning body shot he's ever going to get. A victory would fortify what has been seen as a career unrealized. To beat both Klitschko's and win the WBC belt would put him in the books as a significant heavyweight, and open up the possibility for one more huge payday.

But standing in his way is Vitali, seen as the heir apparent after his close brush with greatness against Lewis. Klitschko will win a title should he come out on top, but more importantly, he'll be seen as the man to beat in the division. But more importantly to him, one might guess, is that he'll be fighting the man that crushed his beloved younger brother. And that's not to be underestimated...

THE MATCH UP

Both men came out with guns blazing in their last fight, and with the stakes as high as they are for Sanders, and the emotions running as hot as they are for Klitshcko, it's pretty likely that an explosive battle will break out at first bell.

Klitscko has a good long poker of a jab that he uses often to set up right hands and keep foes at range. Sanders has a spear of a jab that comes in close from his southpaw stance. The both have serious power in their back hands, but Sanders probably has the edge in single-shot explosiveness. Vitali has a great right that he can throw long or mid-range, but works best when thrown in during a combo. Vitali is busier, but Sanders is faster.

They are both big men, and Klitschko's extra couple inches of height and reach are balanced in advantage by Sanders' lefty stance.

Both have shown they can take serious heavy leather and keep going for the most part, although it would seem Klitschko has the edge in the punishment-taking department. But although Sanders showed he can be knocked down against Rahman, the sturdier-chinned Klitschko showed he can be carved up and stopped on cuts. Cuts which are less than a year old, yes, but notably also on the wrong side for Sander's left hand. The one punch that hurt Vitali against Lewis was the uppercut, and Sanders has a brutal left version. The one punch that hurt Sanders against Rachman was the long straight right, which is Vitali's haymaker.

Come up with an advantage for one guy, the other will have an equalizer...

The one factor tipping things in Klitschko's favour is endurance. Sanders has barely even had a chance to test his: he's only gone ten rounds five times - the last time was nine years ago - and he's never been to twelve. Klitschko has only one better, going ten or more six times, but five of those occurred since '99, and four of them were late TKO wins. Sanders has gone a scarce 13 rounds since 2000, a shocking stat compared to Klitschko's 63.

But Vitali has to drag Sanders into the deep waters if he's going to drown him, and the first six rounds is when the fast-starting Sanders will try and sink the Klitshcko ship. And there's always the swift left hand of Sanders and the soft skin of Klitschko looming overhead as a turn-around factor even if the fight should last into the second half.

But both men have stated that they have no intention of letting the fight get that far.

April 24, 2004.