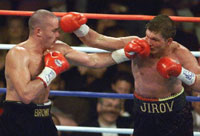 By Sean Waisglass: Saturday's HBO opener of "Baby" Joe Mesi vs Vassiliy "The Tiger" Jirov is the seemingly lesser bout compared to the 154lbs unification headliner of Shane Mosley vs Ronald 'Winky' Wright, but might have some sleeper dramatic potential...

Mesi, 28-0 (25), of Buffalo, NY, is the hard-hitting heavyweight golden boy of the North-East who turned pro in late '97. Known as the 'third franchise' of Buffalo behind their football and hockey teams, HBO bought into the hype after his one round demolition of dark horse fringe contender DaVarryl Williamson on their 'up-and-coming heavyweight' showcase card, and signed up the Italian-American Marciano-worshiper. His only previous bouts of note were against badly faded trial horses like David Izon, Bert Cooper and Robert Davis.

In the 30 year old Mesi's first HBO-sanctioned showcase, he squeezed by the crafty and hard-working Monte Barrett (whose only losses were to giants Lance Whitaker and Wlad Klitschko) with a 10 round majority decision after tasting the canvas for the first time in his pro career in the seventh round. His own knockdown of Barrett in the fifth session helped sway things his way in the end, but analysts were quick to note his fast and steady fade in the second half of what turned out to be his first real test as a pro. Barrett boxed or fought depending on Mesi's own ebb and flows, and puffed up the undefeated fighter's left eye. But Barrett also allowed Mesi to show that he possessed that most valued of commodities - heart. Despite the swollen eye, the knockdown, and obvious fading stamina down the stretch, Mesi never stopped coming forward and plugging away.

Jirov, 33-1 (29 KO), is a former Olympic gold medallist from Kazakhstan now fighting out of Scottsdale, AZ. The 29 year old amateur stand-out southpaw has had a successful run as a pro cruiserweight that began in early '97, and got up and running with his winning of the IBF title by brutal body-shot induced TKO of Arthur Williams in mid- '99. He made six defences and threw in four non-title bouts as well, blasting through a mix-bag of cruisers (including a few who weren't even natural 190 pounders) such as Dale Brown, Saul Montana, Terry McGroom, Adolpho Washington, Julian Letterlough, and Jorge Castro.

After a year long layoff due to contract disputes, Jirov jumped right back into the deep end with a defence against former middle and super-middleweight champ James Toney in April of last year. The fight was a brilliant display of everything you could want in a boxing match: peak-era champ vs grizzled vet, attacker vs counter puncher, boxing and slugging, momentum shifts, broken punch-stat records, and a dramatic-as-hell knockdown in the last seconds of the bout.

The only problem was that it was Jirov on the receiving end of the knockdown from the last landed blow of a 12 round war of attrition. He amazingly got up despite looking like exhaustion was a vital element of hitting the canvas in addition to Toney's fists, and stood for the final bell only to hear the announcement shortly after that he was no longer champion or undefeated. But he had shown he could hang with the best, a fact further established when Toney went on to decimate Evander Holyfield in his next fight. Jirov has since logged in two solid TKO's against Ernest Matteen (TKO 7) and Joseph Kiwanuka (TKO 6), but hasn't looked quite as sharp as in the Toney battle, raising questions as to whether the epic war might have taken too much out of the Tiger.



Jirov was a natural-sized cruiser, and although he bobbed up in weight here and there, seemed well suited to the 190-200 area of poundage. Mesi on the other hand, is a solid and steady 230-235 pound heavyweight, and although he's of similar height and reach as Jirov, will probably outweigh him by 20-odd lbs come fight night.

Thus the real match-factor here: can Jirov, the smaller man, hold up against the heavy (literally) artillery of Mesi? No matter how perfect a mix of skilled amateur-forged boxing and well-timed aggression Jirov dishes out to Mesi over the scheduled 10 rounds, it's hard to imagine him surviving a sustained flurry when, in addition to the Toney knockdown, he was rocked by former middleweight Castro and vacationing light heavy Letterlough. And although he's tough as nails, determined, and a better boxer than some give credit for, Jirov is a warrior-and-a-half by nature, and can be caught coming in or while in prolonged exchanges. Mesi will have 10 rounds to find an opening and let fly...

But in Jirov's favour: the man can box. He can brawl, yes. He can mount meat-grinder runs of sustained aggression, oh yeah. But he can jab steady and stiff, works the body like a well-rounded pro, has a varied arsenal of punches - most intriguingly, a clubbing straight left to the body. A valuable punch indeed, but more so considering that Mesi, still polishing the rough edges, has a strange jab: Although quick and hard, it's thrown by lunging forward and keeping his right up high, thus leaving an opening for Jirov's sweet-spot target.

So now people know that Mesi can be hurt by a head-shot (Barrett short left hook), and can recuperate - but how does Mesi take it to the body? Considering Jirov's superior activity-rate and speed, odds are good he'll be able to sneak that left in low with regularity. Can Jirov capitalize on his jab, lateral movement, and a brisk pace to keep Mesi off balance and thus open him up for the body shot and wear the larger man down? Jirov's proven his endurance over and over again, especially by throwing record numbers down the stretch in his Toney bout. Plus, Mesi is inexperienced against southpaws, and will have to get used to reaching to land his trusty right hand. If Jirov suppresses his love of mixing it up in close quarters, and uses effective aggression in a perfectly executed game-plan, he might just be able to send Baby Joe back to Buffalo with his first loss. At the very least, we know Jirov will make it fun watching him try...

THE PAYOFF

As far as payoff goes, this is a strange one: Mesi seems to be in a lose/lose credibility situation. If he struggles or loses, it's to a natural cruiserweight, and would follow another less-than-impressive performance against Barrett. If he wins, again, it's over a very good, but smaller man. It won't raise his stock, but what it might be doing is preparing him for other significant matches with smaller southpaws in the suddenly wide-open division, such as fellow contender and well-filled-out former cruiser Juan Carlos Gomez, streaking NABF title holder Eliecer Castillo, or respected but recently vulnerable-looking IBF title holder Chris Byrd.

If Jirov should pull off the upset win, he might be in line for another good payday, but it's hard to see him handling any full sized heavies who don't have as many flaws to exploit as Mesi. And as far as his coveted Toney rematch goes, it's hard to image the hungry and rejuvenated 35 year old "Lights Out" taking a step back after his vicious high-profile win over Holyfield when there are big game in his sights like a heavyweight title or a Roy Jones rematch. But Jirov would have new acclamations, and could drop back down to cruiser to participate in what would be a great round-robin that's underway with Braithwaite/Azile II, Mormeck/Hill II, and Sellers/Davis in the under-rated 190/200 pound division.

March 12, 2004.