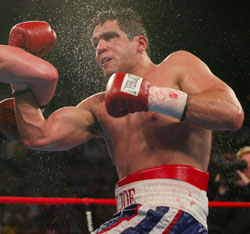 Mesi takes a right hook from Jirov (pic by Tom Hogan)

Exclusive interview by Sean Waisglass: Heavyweight contender Joe Mesi will go in front of the Nevada State Athletic Commission today (Monday 18 April) and plead the case that he should be allowed to continue boxing despite suffering bleeding on the brain in his last fight.

On March 13, 2004, Mesi, 29-0 (25), dominated Vassiliy Jirov for the first eight rounds of the scheduled 10 at the Mandalay Bay in Las Vegas. Living up to his hype, he was using solid footwork and a stiff jab to set up good hard combos to the head and body of his respected southpaw opponent. Many of the kinks in Mesi's style that had spurred criticism in the past seemed to have been worked out, and HBO's commentators were calling for the increasingly battered Jirov's corner to stop the fight.

Then a punch thrown by Jirov landed high and near the back of the head of a crouching Mesi, and everything changed.

Mesi was knocked down, and although he was able to get up and continue, he was obviously hurt by the blow. Jirov jumped on Mesi in the next round, bludgeoning the Buffalo, New York, native around ring for the last three minutes of the fight and knocking him down twice more before the final bell.

Mesi's work over the course of the eight previous rounds allowed him to retain his unbeaten record via unanimous decision, but as it would turn out, there would be a grave cost to keep that perfect ledger.

Last April, SecondsOut's chief columnist Tom Hauser broke on this site that MRIs taken after the bout revealed that Mesi had sustained brain damage - subdural haematomas to be exact, also known as bleeding on the brain.

There was confusion as to the specifics. As reported by Hauser, one finding said that Mesi had suffered one hematoma, another said that the original scan was misread, and there wasn't a significant injury, then another that said that two more haematomas had gone undetected in the original scan. After a late April scan showed the two later diagnosed haematomas were still there, another scan done in late May, two months after the fight, showed that all problems had cleared up.

But what wasn't cleared up was the foggy details regarding which scans were correct, and what the final diagnosis was, exactly. This lack of clarity and the lack of official medical reports on hand resulted in the Nevada Commission revoking Mesi's licence to fight until the issue was resolved.

According to Hauser's article, the early word out of the Mesi camp - via the mouth of Mesi's father and manager Jack - was that Joe had merely suffered a concussion against Jirov. But as more word about the MRIs leaked out to the media, and the details of Hauser's story were parroted, the story began to pick up steam, and the denials were less impassioned.

The 31-year old formerly world-ranked undefeated heavyweight's career has been in limbo ever since.

Today, all the evidence will be weighed, and a verdict on the future of the promising contender will be rendered. Mesi may never fight again.

Two months ago, I was covering a pro boxing card in my hometown of Toronto, which is a half day's drive north of Mesi's hometown of Buffalo, across the US border into Canada. The fights took place in a nightclub, and the venue was equipped with a couple of large-screen televisions that the promoters used to show footage of contemporary knockouts and knockdowns, including heavy-handed highlights of such bouts as Gatti vs Millet, Tszyu vs Judah, and Derrick Jefferson's war with Maurice Harris.

The clips were shown before, in between, and after the live bouts, as fans walked out at the end of the event. One of the clip series that ran as spectators left the venue was from the Mesi vs Jirov bout. Three men seated at a ringside table animatedly discussed the action on the screen, saying that Mesi had shown a lot of grit and guts surviving those last two rounds, and that the punch that did the original damage was a blatant rabbit punch (an illegal blow behind the head).

Two of the men were the promoters of the card's main event boxer. The third was Jack Mesi, the father and manager of the man getting pounded up on the screen.

You can see how genetics played a key role in Joe becoming a heavyweight: Jack is a bear of a man. Beefy and broad, the moustached Mesi has large hands, one of which he elected to use to shake mine even after I explained I was a writer for Secondsout.com, the home site of Hauser, who broke the story of Mesi's medical problems, and who has been open about his feelings that if Joe has indeed suffered brain damage, he should not be allowed to fight. ("That's unfortunate," joked Mesi good-naturedly when I declared my association.)

Mesi discussed the footage of Joe's knockdowns that we had seen on the screen earlier.

"(The HBO commentators) had just got done saying in that round (the 9th) that Joe had thrown 88 punches (in the last round)," said Mesi in his Western New York accent. "His conditioning was superb. They had just finished saying that Jirov was going to (get stopped) late in this round or the next round."

"Then the back-of-the-head punch came, and it changed life - it changed the world. It was an illegal blow," said Mesi of the fateful punch that changed the momentum of both the fight and Joe Mesi's career. "If you watch that punch from any angle, you see it's to the back of the head and totally illegal...Instead of taking a point away from Jirov, it cost Joe the three point swing and tightened the fight up, and kind of threw the corner into a bit of a panic. Those things happen in boxing."

What also happens in boxing is that its practitioners sustain repeated blows to the head, and can suffer neurological damage as a result.

This was evidenced in plain view when Joe Mesi appeared on Friday Night Fights last month to grant an interview regarding the upcoming hearing on whether he'd be re-licensed. Whether by amazing co-incidence or crafty design, there was a theme running through the evening's show: the guest co-host of the broadcast that night was Riddick Bowe, the former heavyweight champion of the world, now making a comeback despite that fact that the key point in his defence while on trial for kidnapping years back was that he was brain damaged as a result of his in-ring activities. Also being noted in a segment by host Brian Kenny, was that it was the 10 year anniversary of the Nigel Benn vs Gerald McClellan bout, in which McClellan, after getting stopped in the tenth round of a brutal war, was permanently brain-damaged - losing his eyesight, most of his hearing, and his mobility. He is now confined to a wheelchair and the modern poster boy for the potential hazards of boxing.

When discussing the hearing, Jack Mesi stated that his team had no intention of overriding Nevada's policies ensuring the safety of boxers, but felt that each case should be taken on it's own merits and detriments, instead of being smothered under a blanket policy.

"The Nevada Commission needs to know that their position that they're protecting the fighters is secure. That's our goal too, to make sure that the fighters are going to be looked after."

Mesi Senior is confident the Commission won't find anything that would cause them to prevent Mesi from fighting again in Nevada - a suspension that would likely be honoured in all other American States.

"He's been well - a 100% well - for months and months and months," says Mesi emphatically. "Totally, 100%, beyond any argument and doubt - fine."

But when he says "for months and months", that insinuates that there was an early time where Joe was not, in fact, well.

Although Mesi put up a front against media inquiry when the news first broke, he now admitted that things were more severe than the concussion he claimed in the beginning, but wouldn't elaborate on the specifics.

"Well, he had an early problem with the first (MRI) that we did," admitted Mesi. "Which we've discussed with the Nevada Commission. And (we) showed them the MRIs right after the fight, and they all cleared up. And our doctor - the finest doctor I could find in the state and maybe the world - has given him a clear bill of health."

That doctor is neurologist Robert Cantu, who practices in Boston, and will testify on behalf of Mesi's case at the hearing.

Part of the hold up that contributed to the year-long delay between the fight and the hearing was that the Commission required the Mesi's to send additional copies of Joe's medical records for the hearing's UCLA-based mediator medical professional.

The fact that Team Mesi was taking their time getting their medical records and reports over to Nevada served as a large dry log thrown into the media fire. It was a move that raised eyebrows, and was thought to be a stonewall until they could get test results that suited their needs.

"The media does what the media does, " said a resigned Mesi. "I have no control over that. Early on, I did not immediately send to medical records to Nevada, because we had a New York State ongoing case that required confidentiality until we filed the papers." (The Mesi's are in the process of suing the New York State Athletic Commission for releasing Joe's MRI results to media.) "So I had no control over what the media got and what the Nevada Commission got until we filed our case in New York State, and then they became a matter of public record."

"There was a reason for the delay," stated Mesi. "There was in no way shape or form an attempt to hide anything from Nevada - it was a requirement by law in New York State."

But by that point, the various facets of boxing media had got a whiff of a hot story cooking: A promising undefeated heavyweight boxing in a high-profile but presently murky division as a result of Lennox Lewis' retirement, was trying to fight on despite the possibility of damage or death in the ring. The fact that Joe Mesi was also articulate, clean-living, and as many detractors liked to point out, both Caucasian and being noticeably hyped by taste-makers at HBO as a potential saviour of the division, juiced up the story even more.

And along the way, Jack Mesi, the father, the manager, started taking heat of his own.

Pundits starting chastising him for allowing Joe - his own flesh and blood - to jeopardize his health, and possibly even his life, for the sake of greater sporting glory. Joe Mesi had become known as "The Third Franchise" in Buffalo, bringing up the rear behind the city's beloved hockey and football teams. Some felt that Jack (who notably joined his son in medical jeopardy late last year while successfully battling prostate cancer) was letting the high stakes and big dollars cloud his judgement.

"It's not an easy thing," said Mesi of hearing such criticism. "And I would just say this: Anybody, any man, any father, who suggests that I'm risking my son's life... It only leads me to think, 'what kind of relationship does that man have with his father?' And about what kinda dirty tricks he had played on him by his father. Because that's not what fatherhood's all about. My son is first - my first love of my life, and more important to me than my own life. I would never risk my son's health."

But Jack Mesi also feels that things have been blown out of proportion in terms of his sway with his full-grown son Joe, whom Jack said was in good spirits while training in Houston, Texas last month in accordance to the 'no-sparring' guidelines provided by Nevada's Commission.

The chuckling Mesi poked fun at his supposedly dominant role in decision-making regarding his son's boxing career. "One of our big jokes is that he answers that question by saying (in a mock child's voice) 'My daddy can't make me fight if I don't wanna.'"

"He's man," explains Mesi. "He ultimately makes his own decisions."

And today, the Nevada Comission will make theirs.