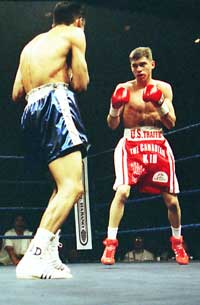 By Sean Waisglass at ringside in Toronto: Undefeated bantamweight Steve Molitor scored a unanimous 12 round decision win over former world title challenger Hugo Dianzo at the annual Shaw Festival Gentlemen's Boxing Night at the Royal York Hotel in Toronto, Canada.

Lightweight Chad Brisson (pictured below) was also victorious. He scored a ninth round stoppage win over Argentine Sergio Gonzalez.

"Every year I come to the Shaw, I want a pick 'em fight. I want a fight that I might lose," said Canadian lightweight Chad Brisson at the press conference earlier this week for his fight on Wednesday in Toronto. "It really brings the fire burning within me to be in there with a guy that just might take me out."

Seek and ye shall find...

After getting knocked down in the first round, cut in the early going, and being out-boxed and out-slugged for much of the first seven rounds, Brisson staged a late comeback that climaxed with a 'saviour-in-a-glove' punch in the ninth that badly cut the eye of opponent Sergio Eduardo Gonzalez, resulting in a TKO win.

Their bout was a scheduled ten rounder as the support bout of the 19th Annual Shaw Festival Boxing Evening. The event is an exclusive black-tie fundraiser for the world-famous Southern Ontario theatre festival, and held in the Royal York's ballroom. The card has a tradition of displaying the country's promising young fighters in tough bouts, courtesy of Hall of Fame matchmaker Vince Bagnato. Every year pugs slug it out while the tuxedo set drink to their hearts content and puff on cigars, creating a classic-era atmosphere harkening back to the days of A.J Liebling.

Brisson, 24, of Winnipeg, Manitoba, raises his record to 17-2 (9 KO), while Gonzalez, 26, of Buenos Aires, Argentina, falls to 14-3-4 (6 KO).

Brisson's only losses are by decision in his sixth fight, to fellow undefeated prospect Anthony Washington of Philadelphia on Philly turf, and to lightweight world challenger Billy Irwin of Niagara Falls two years ago at the Shaw Boxing Evening. The Irwin fight was a razor thin majority 10 round loss.

His win of note is against tough Michael Davis at the Shaw last year. Davis gave 140lb fringe contender Michael Stewart a rugged fight six months earlier, and gave current WBO 130 champ Diego Corrales a solid challenge before being KO'd his fight previous to Brisson. Brisson, a versatile boxer/puncher, completely out-foxed Davis for six rounds, before dramatically KO'ing him in the seventh with a rocket right hand to the temple that laid his opponent flat on his face.

Brisson's opponent Wednesday, Sergio Gonzalez, was a strong southpaw whose only two loses were in close fights to countryman Ricardo Silva - a veteran with 90-plus fights to his credit.

The Argentine came out in the first round and confidently started pumping his jab and looking to nail Brisson with hard shots -- a strategy which paid off in the last minute of the round when he put Brisson on the canvas with a hard left. Brisson, a versatile switch hitter, came out in the next two rounds and tried to show the solid-chinned Gonzalez that he was able to hit with authority as well, mixing it up with the visitor.

The two would often get tangled when the southpaw and orthodox stances collided, and somewhere amongst the bursts of hard shots and bump-ups, Brisson sustained a cut on his left eye around the third round. Brisson impressively and comfortably switched to southpaw, seemingly figuring he could better protect his eye. But the quickest pay-off of the stance change was his effective right hook at mid and close range, which he had his best success with during the fight.

The two intensely circled and duelled, each waiting to counter or leading with a quick attack, but the natural lefty Gonzalez was consistently beating a game Brisson to the punch.

The young Canadian, bleeding from his eye by the mid-rounds, appeared gun-shy and frustrated. Although he was getting in some good shots, every move was met with retaliation by Gonzalez, who was regularly firing off stiff single jabs from a low slung right hand, and countering with brisk lefts and brief combos - all the while leaning back at range to avoid Brisson's shots.

Normally a bouncing boxer who uses lateral movement to create openings, Brisson seemed to have the wind taken out of his sails.

But aware the fight was slipping away from him, the eighth saw Brisson surprisingly boosted and on a mission, looking to make up for lost time and lost points. He started utilizing side-to-side stepping to establish better angles, picked up the pace, and started spearing with his right hand jab to set up hard straight lefts.

With his second wind in full blow, Brisson appeared stronger than he had at any point in the fight, and used feints to lure in Gonzalez for solid counters. The two started to mix it up on even terms as Brisson slammed Gonzalez with right hooks while he took some left-hand heat from the Argentine fighter for his efforts.

The ninth began after the doctor took a serious look at Brisson's bloodied eye. Still fighting desperately yet confidently at the halfway point of the ninth, Brisson blasted Gonzalez with a straight left in the middle of an exchange while backed in the corner. When Gonzalez stepped back, the ref saw a fresh and deep cut over Gonzalez's right eye, and took him over to the doctor, who rather surprisingly called the fight off to Gonzalez's obvious disgust, after looking over what he determined to be a more severe cut than Brisson's.

Saved from a likely decision loss by a true 'Hail Mary' punch, Brisson elatedly raised his arms and struck victory poses, thrilled by his narrow escape from the jaws of defeat. Gonzalez, who had at least won a moral victory, also raised his arms and circled the ring, receiving boisterous applause from the appreciative crowd.

"I was in trouble from the first round 'till I finished," stated a bluntly honest Brisson.

"This is my toughest fight ever," the young fighter admitted while dabbing a towel on the large cuts above and below his swollen left eye, which was joined by a bruised and bloated nose.

"And you know what I really thought about?" said Brisson. "I thought about Bryon Mackie."

(Mackie, of Orangeville, Canada, fought last Saturday just outside Toronto, and lost a split decision to crafty spoiler southpaw Manning Galloway. Mackie was down on the cards in their eight round bout, but turned up the heat in the final three rounds, knocking Galloway down in the seventh.)

"I watched what he did Saturday night, and that was something that passed through my mind in this fight: watching Bryon Mackie push himself in there in those last couple of rounds" said Brisson. "I'd like to give a special thanks to Bryon Mackie for teaching me something about will."

"I had to try and do something," said Brisson of his own late rally. "I had to do whatever it took in there. I had to f---ing fight, man."

But Brisson explained that he was proud of what he accomplished despite not having the opportunities and resources fighters in more lucrative cities or countries possess.

"I'm doin' it, and I'm from Canada," stated Brisson. "I don't got the sparring, I don't got the resources. I don't got the 100,000 dollar house. I don't got the salary, y'know what I mean? I gotta worry about where I get my money every month to pay my rent."

But he admitted that in order to fulfill his potential, he's going to need better backing, and he's going to need to head south.

"I'm willing to go in there and sacrifice my health," said Brisson. "But y'know, I'm getting to the point in my career where a few thousand dollars isn't worth the beating I'm taking for going in there and entertaining the crowd."

"I'm going to need more financing so I can go down and get world class sparring," he said, frustrated. "I'm sparring with amateurs, and with limited professional fighters. I got nobody back where I'm training."

"But I gotta do what I gotta do to persevere - to become a world champion. And that's my goal."

MOLITOR BEATS DIANZO IN MAIN EVENT

In the headliner, smart-boxing bantamweight southpaw Steve Molitor of Toronto picked up the vacant NABA belt with a dominant win over rugged Hugo Dianzo of Mexico City.

Molitor, now 18-0 (6 KO), was just too slick and crafty for Dianzo, who's now 29-11-1 (14). Dianzo has been in with some of the best at 118lbs, including WBA title holder Paulie Ayala, to whom he lost a controversial decision, and Cruz Carbahal, to whom he lost a split decision.

Dianzo started strong, pressuring Molitor and chasing the fleet-footed local fighter around the ring, but he just couldn't mount a consistent offensive against the elusive boxer.

Molitor used a strategy of setting his feet or leaping in to let his hands go, then shifting position to be gone for Dianzo's counters. He also used constant lateral movement to keep Dianzo spinning, and utilized feints to lure Dianzo in for quick, sharp combos, or swift left uppercuts. If Dianzo made it past Molitor's shots, he'd find himself in a clinch.

Visibly frustrated by Molitor's tricky style, Dianzo's output slowed down as the fight wore on, allowing Molitor to let his hands go more often. The Canadian prospect spent the last few rounds picking apart Dianzo with lead left uppercuts, straight lefts and right hooks.

Dianzo started the fight by staring down Molitor during the instructions, but he started the last round by extending his gloves in a show of respect. Although the game Mexican gave it his best, Molitor's usual bursts of action and still-fresh legs had more of the same in store for the last three minutes of the bout.

Scores were 114/109, 120/108, and 118/110.

In the opening bout, scheduled for four rounds, Toronto's Jo Jo Dan pummelled Saskatoon, Canada's Jeff Hill in two rounds at junior welterweight. Dan, a Romanian transplant training with Adrian Teodorescu of Atlas Gym (Molitor's trainer), used his superior southpaw firepower to garner his first win as a pro against the now 3-5 Hill. Dan floored Hill with a left in the first, then stunned him again in the second and pounded him on the ropes until the ref stepped in to stop it.

April 22, 2004.