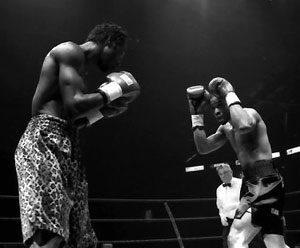 Pic by author

ALCINE KNOCKING ON JR MIDDLE'S TOP TEN DOOR
By Sean Waisglass: While the rest of the upper tier of the 154 pounders have been getting their fistic talents showcased on high profile U.S.-based broadcasts by the likes of HBO, Showtime and ESPN over the past couple of years, dark horse candidate Joachim Alcine has been quietly galloping along on the outside, plying his trade on French Canadian television.

His shot against J.C. Candelo on Friday Night Fights in August '04 was called off at the last minute when he apparently failed his medical (a result not repeated when he was retested later on), so the last time most fight fans saw the Haitian-born Alcine - who moved to Montreal, Quebec as young boy - was on a SHOBOX show against the rugged Marcos Primera in May 2002.

Alcine boxed smartly for much of the twelve round bout, but faded in the last quarter - understandable, since it was only his thirteenth bout, and the farthest he had gone previous was eight rounds. His fatigue contributed to a last round knockdown, but he won the decision nonetheless.

His handlers - then Montreal's Interbox, now that organization's splinter group GYM - realized that they might be moving their kid along too fast, and decided to pull back on the reigns for a while. Although he's been off the radar of most fans and analysts since, it's looking like that was the right move.

Alcine, 29, and now ranked in the top ten of both the WBC and WBA, has grown into his frame, looking much more solid and sure physically even though the scale number is the same, and has blossomed under the tutelage of Howard Grant, GYM's lead trainer. The fruits of this long-term labour were on display last Saturday at the Montreal Casino, when Alcine, now 25-0 (18 KO), scored an explosive TKO win against the tough Venezuelan Marco Antonio Avendano, now 24-5-1(13 KO).

The bout was for the most part a tense jab duel with both men looking for openings and letting loose with quick bursts of power shots. Avendano, a solid boxer, was looking to repeat his Canadian success from earlier this summer when he destroyed former contender Fitz Vanderpool in the first round in Toronto. But Alcine foiled that plan by one-upping the game Avendano, using a stiffer jab more often, and landing the faster, harder shots when they would open up.

It looked like Alcine would be cruising to a comfortable, solid victory on the cards, when all of the sudden with fifteen seconds left to go in the eighth, he backed Avendano into a corner and clocked him with a crushing tight left hook that stunned the Venezuelan, then let rip with a blistering three punch combo that caused ref Michael Griffin to step in and stop the bout as a dazed Avendano leaned against the ropes, out on his feet.

It's been an impressive year so far for Alcine, who now nearing 30 has been moved back onto the fast track, and has shown he's game with four KO's in as many fights against solid opposition: He scored a TKO stoppage (something only Kassim Ouma and Verno Phillips have been able to pull off in recent history) in a thrilling February slugout with fringe contender Carlos Bojorquez when a cut and punches absorbed convinced officials to call the bout off after the seventh round. Then in April he forced former champ Carl Daniels to call it quits after six rounds using a brisk pace and sharp counters. A mere month later against fringe welterweight contender Elio Ortiz, Alcine got up after an early flash knockdown and dominated, returning the favour with a body attack that halted the proceedings in the tenth.

The scouting report on Alcine goes like this: he's near six feet tall, lean and long-armed, and a serious competitor for 'fastest hands in the division' honours. He doesn't have one punch power, but has enough pop to stop, and makes a habit of combos to the head and body - a trademark of trainer Grant (who also trains brother Otis, a world-ranked super middleweight). Although he's suffered a couple of flash knockdowns along the way, Alcine fights on solid legs, uses the cover-up style of defence taught by Grant well, and is very comfortable fighting off the ropes when pressed (another Grant trademark). This guy will be a handful for anybody in the top ten...

He's got another tussle scheduled on home turf in December, but knowing GYM's head honcho Yvon Michel - who adeptly moved Eric Lucas, Leo Dorin, and Dale Brown into title bouts in recent years - Alcine will be crashing the wide-open jr. middle party in early 2006.

DEMERS AVENGES AMATEUR KO

Also on last week's card was jr. middle prospect Sebastian Demers, 11-0 (4 KO) of Hyacinthe, Quebec. The French-Canadian stablemate of Alcine defended his Canadian Junior Middleweight title against amateur rival Ian MacKillop, 20-6-1 (11 KO), who also fights under GYM's banner and is trained by Alcine's coach Howard Grant.

The ten round bout (a recently established distance for Canadian titles) got started off with a bang as MacKillop - who was coming off a summer KO loss against ESPN alumni Bryon Mackie in a bout dubbed "Canada's Gatti/Ward" in these parts - came out slamming gloves into the taller Demers, trying to recreate the KO win he came away with in their amateur meeting.

The two went at it with a constant flow of leads and counters as MacKillop tried to force his way inside the lanky Demer's reach to land his left hooks. MacKillop's pressure seemed to be working as Demers started backing off as rounds passed, trying to lead the hard-charging MacKillop into counters. MacKillop's hard work paid off nicely when a pair of hooks late in the fourth had Demers reeling. Both men looked tired during the middle rounds, but the fresher 25-year old Demers was the one who breathed in a second wind as the bout wore on, while the well-worn 27-year old MacKillop started to fade. Demers found his range and started strafing his opponent with rights of a crisp jab as the things progressed, and late in the tenth and final round, stunned the still game MacKillop with two straight rights that had the challenger clinching before a brave but sloppy last rally to close the bout.

Demers showed grit in weathering the attack of the veteran MacKillop (who's shown noticeable improvement while working with trainer Grant) to retain his Canadian title, and ultimately used fast, sharp punching ability to carry him to the best win of his career.

Less impressive were judges Richard Carfuel and Pasquale Procopio, who had the well-matched bout a questionable 98-93 and 98-92 for the hometown kid Demers (MacKillop is based in Montreal, but from Fredericton, New Brunswick), and judge Claude Paquette, who should never be allowed to work a fight again as evidenced by his disgusting insult to MacKillop's gallant efforts in the form of a 100-90 shutout tally for the Francophone Demers. Get lost you turkey...

September 16, 2005.