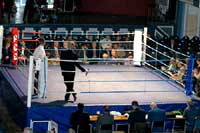 By Sean Waisglass: On the undercard of former lightweight title holder Leonard Dorin's return last Saturday, a handful of prospects also under the banner of beleaguered Montreal, Canada-based Interbox Promotions helped boost the morale of their overseers, despite the company being badly wobbled and on the verge of a TKO with creditors due to a dismal 2003.

Last year saw Dorin fail to make weight for his October WBA lightweight title defence against Miguel Callist in his home country of Romania, then suffer a breakdown that caused him to pull out of the fight, resulting in a reported $2 million loss of revenue for the company. Then in December, Interbox's staple hometown favourite, former super middleweight title holder Eric Lucas lost for the second time in a row when he was decisively stopped in six by Australian slugger Danny Green, thus losing his opportunity to reclaim the WBC title in a rematch of his highly controversial April loss to Marcus Beyer in Germany.

Every card put on by Interbox has the weight of the possible collapse of the company hanging overhead, but Dorin's fourth round knockout of Chucky T in the main event was a huge boost since it set up a superbout with fellow Montreal-connected warrior Arturo Gatti on HBO. The undercard was also no doubt a sigh of relief as the new generation of Interbox fighters all got some work under their belt, and helped sell the company's case for future investors. The card was held at the Montreal Casino in the Canadian province of Quebec

The Romanian flag got a lot of shoulder-play as Dorin and prospects Adrian Diaconu and Lucien Bute, all Romanian transplants to Montreal scored wins. Also, Quebecois heavyweight hope Jean-Francois Bergeron was back in action after a long injury-caused layoff. The bouts were televised by French Canadian channel TVA.

BUTE VS SERVICE

Fellow Larouche-trained Romanian light heavyweight Lucien Bute, now 3-0, all by knockout, made quick work of debuting Jean-Pascal Service of South Africa. The lean 6'1 southpaw Bute came out ramming at the 5'11 Service with a hard jab shot out from a low slug right hand for the first half of the round. By keeping Service at a perfect distance with his stance he disallowed the South African any chance to get started. Bute opened up mid-way with crisp four punch combos, then found an opening for a slamming straight left to the body that hurt Service and put him on the ropes. Bute relentlessly stood and fired two fast hard shots to the head to disorient, another left to the body to weaken, then a six punch combo ending with a solidly landed left that clobbered Service and sent him to one knee on the canvas, where the ref waived off the fight.

BERGERON VS LOBO

In a significant return, heavyweight Jean-Francois Bergeron of St. Jerome, Quebec, returned to the ring after a neck injury put him out of action for a full year. His last bout was against the shop-worn but still heavy-handed trial-horse Darroll Wilson, whom he won a 10 round decision over. Bergeron, 19-0 (14), is a lanky southpaw prospect with quick hands in a wide-open division that will be looking towards new blood for its resurrection.

The Canadian stopped natural cruiserweight Rogerio Lobo of Sao Paulo, Brazil, 32-10 (27) in the second round. Although fellow southpaw heavyweight Michael Moorer was able to do it in one round, as did cruiserweight contenders Kelvin Davis and Vincenzo Cantatore, Bergeron was nonetheless able to get back between the ropes and get his career back on track. He is also trained by Larouche.

The first saw the larger 220 pound Bergeron, who's got a lean basketball-player-like physique, following the back-pedalling 210 pound Brazilian, who was almost a head shorter than the 6'5 French Canadian. Bergeron tried to track down Lobo with his long right jab, and Lobo tried to leap in with lead rights. Bergeron then tried slowing Lobo down by mixing right and left body shots in with quick four punch combos meant to land more than do any serious damage.

Lobo seemed to figure he had no choice (or chance) against a larger southpaw, and came out in the second and stood closer and attacked with quick nervous combos or lead rights. Bergeron obliged by letting go with his straight left more often.

Lobo bravely turned Bergeron and cornered him mid-round, and let loose with lefts and rights that were blocked by Bergeron, then paid the price as a brutal left uppercut inside shocked Lobo and sent him reeling back. Bergeron followed and fired another left uppercut and quickly turned a left hook follow-up to force Lobo back. Lobo waved out his arms as if to say he wasn't hurt, then used some head movement to avoid a Bergeron combo. Lobo tried to keep out of range, but Bergeron cut off the ring, then came in and threw a quick left uppercut in close that landed right on Lobo's chin and put him down. Lobo got up, but obviously had no interest in continuing and the ref stopped the contest with just under a minute left in the round.

The win was not significant, but allowed the returning Bergeron to reacquaint himself with the ring. Despite the layoff, Bergeron didn't seem too rusty, and showed the quick hands and utilization of his southpaw stance that could make him a future factor at heavyweight. He also showed impressive comfort fighting inside, especially using his uppercut - an under-utilized punch in most heavyweight arsenals.

Unfortunately, he also suffered a cut on the inside left eyebrow that might spoil plans to join Vitali Klitschko in camp and get in some valuable work as a sparring partner as a substitute for southpaw Corrie Sanders.

DIACONU VS COELHO

In the chief support bout, Adrian "The Shark" Diaconu (pictured), a 2000 Romanian Olympian who followed his countryman Dorin to Montreal to work with trainer Stephane Larouche, moved his record up to 15-0 (8) and went the ten round distance for the first time in a scrappy bout with Roberto Coehlo of Sao Paulo, Brazil.

Coelho, now 30-12 (22), a skilled and respectable journeymen who went the eight round distance with both current WBO light heavy champ Zsolt Erdei and Danish supermiddle contender Mads Larsen in 2002, provided a worthy learning experience for the Montreal prospect. Although Diaconu is a light heavyweight, this match was an over-weight bout and both the compact 5'9 Diaconu and the 5'11 Coelho weighed in at 183 lbs.

The 25 year old Diaconu went straight to work in the first, walking down Coelho with jab/rights and throwing crisp hard shots to the body with both hands. The Romanian clipped Coelho with a right set up by a jab mid-way that got the Brazilian's attention, but Coelho shook his head in defiance. Diaconu showed his nickname "The Shark" is no misnomer and with the slight smell of trouble cornered his opponent and let a flurry of blows go, but was a little wide and wild which allowed Coelho to sneak in a good right counter. Diaconu tagged Ceolho with a powerful right lead to the side of he head near the end of the round that made his stunned opponent back up out of range. Diaconu showed his ring-smarts when he saw he had hurt Coelho - he immediately came back down with a hard right to the body to soften him up instead of trying to head-hunt. But Coelho showed he can take a punch and quickly settled down to finish the round with a clear head.

Diaconu's trainer Larouche urged his charge to commit to the jab more, and by the middle of the second, Diaconu was pumping his jab with more consistency and trying to land his lead right again, while Coelho kept his hands up and tried to find openings with his jab and counters. Diaconu ripped a four punch right/left combo to Coelho's glove-covered head that was still strong enough to rock the Brazilian back on his heels at the end of the round.

Diaconu seemed to forget his trainers advice and abandoned the jab in the third, electing to stand and trade in close with Coelho. Both fighters gave and took for most of the solid-action round until Diaconu caught Coelho with a left hook high on the head to put him down as the Brazilian was coming near the end of the round. Coelho recovered well and stood tough and proved he wasn't just there for a payday as the two boxers continued to stand in and trade a variety of shots in close throughout the fourth round.

Before the fifth, Larouche again asked Diaconu to use his jab more and focus less on overpowering Coelho. The Romanian didn't listen to his trainer and stood in with Coelho. Coelho was more active this round and able to land some nice lead rights. The Brazilian, having tasted Diaconu's best and survived, looked more comfortable and moved around the ring and traded with his foe. The sixth was a jab duel for the first half, then the second half and following round were more exchanges of double jabs, hooks and crosses, body shots and uppercuts at a steady pace. Coelho, despite the double digits in his loss column, showed he was a well-rounded gritty pro and fought on even terms with the prospect, even egging Diaconu on to come at him near the end of the seventh round.

Diaconu seemed to realize that he had let Coelho back in the fight and re-asserted himself in the eighth by charging out and beating on the Brazilian with doubled and tripled power combos, left hooks to the body, and landed a handful of hard right hands throughout the round. Coelho was able to get some work done when Diaconu came in close by throwing quick uppercut-laden combos, but was ultimately over-powered by the pressure of Diaconu that round. The ninth saw both fighters worn down from the brisk pace of the bout, and the slower round was fought on even terms of traded jabs with some lead rights near the end of the round. Larouche asked Diaconu to box more in the final round, using his legs to position and rip off multi-punch combinations to close the show. Both fighters stayed at punching range and fired off lead rights, two and three punch combos punctuated with body hooks, and hard hooks to the head for what turned out to be a very close tenth round.

Diaconu's domination of the early rounds, in tandem with the knockdown, seemed to be enough to get him a comfortable decision as the final bell rang. However, home hooking over-baked the win since the judges scored the fight 100-89 twice and 99-90 for Diaconu, electing to give him practically all the close rounds, possibly for his harder shots and slightly busier rate, but more likely due to his home town advantage.

Diaconu accounted himself well in his first ten rounder, having only gone eight twice before in his fifteen fight career. He showed a granite chin, solid stamina, and a nice variety of punches, although the second half of the fight saw some wilting. Coelho was much better than his record led on, and this match will be a great seasoning experience for the Romanian-Canadian prospect. As Larouche sculpts Diaconu; getting him to keep his weight on track for better stamina, making him commit to his solid jab, and increasing his body work, the respected trainer will likely have a title-worthy pro at light heavyweight as the new generation starts to integrate itself into a division full of veterans. Diaconu can best be described as a larger version of Dorin, as they share both a good amateur background, pro training by Larouche, a similar stocky build and aggressive but technically solid style.

March 24, 2004.