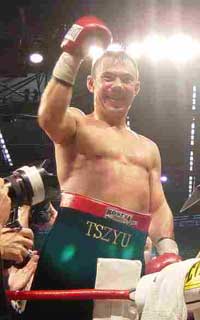 By Sean Waisglass: When Kostya Tszyu and Sharma Mitchell meet Saturday night at the Glendale Arena in Phoenix, Arizona they'll be battling for what could be viewed as either an enviable or unenviable position - that of top dog at 140 pounds.

Depending on your take, the winner is either in for the sweet spoils of some nice paydays, a popular Pound for Pound ranking, and a chance to boost their profile to the next level, or the a brutal uphill struggle to close out their career a winner. Because when you consider the depth of what may well be the best division in boxing these days, the newly crowned leader of the 140lb pack will have some serious competition nipping at his heels. Hell, it's going to be like the new champ is wearing shoes made of raw beef come Sunday morning.

Although the Big Three alphabet boys have seen fit to slice and dice Tszyu's formerly unified championship hardware during his injury-plagued near-two-year absence, the general consensus is that this rematch bout is for the undisputed title.

For the record, it's for the IBF belt, which Mitchell, 55-3 (30), now holds an interim claim to, although Tszyu picked the real thing up from Zab Judah three years ago. The Australian-based Russian, 30-1 (24), also held the WBC title, which he won by beating Diosbelys Hurtado and Miguel Angel Gonzales in late '98 and early '99, and the WBA belt, which he took from Mitchell in Feb. 2001 after the Washington D.C boxer retired after seven competitive rounds with a knee injury.

Tszyu's long-time state of injury after his Jan. 2003 bout with Jesse James Leija led to him being stripped almost bare, and Mitchell picked up the interim IBF belt, Arturo Gatti the WBC, and Vivian Harris the WBA.

So if Saturday's winner wants to go around gathering the straps back together, he's going to have to enter the ring against the thrill-a-minute and notably revived Gatti, and the under-appreciated Harris, who's come back from a loss to vet Ray Olivera by beating a string of good foes in impressive fashion. And if the winner wants to complete his collection, he'll have to face WBO champ Miguel Cotto, a seemingly safe bet for future Sweet Science Star who's possesses impressive all-round skills.

And then of course there's the supremely talented Floyd Mayweather Jr., a recent joiner of the 140 Club, who holds no belt, but does have the cache of being the sole member of this line-up to hold a top spot on most lists as the either the best damn boxer on the planet or next best behind Bernard Hopkins. Also slowly making his way into the mainstream is undefeated Brit Ricky Hatton, who has yet to take a major step up, but has shown some promising and exciting stuff inside the ropes, and could make a case for himself as a necessary opponent with a couple of good wins.

But whether the Tszyu vs. Mitchell victor is considered undisputed or not - by fans, organizations, networks, and other boxers - the fact is, these jr. welter guys gotta fight each other; either to get a shot at the consensus champ, or to defend or try and pick up one of the fractured title splinters.

When you get past network loyalties (or maybe that should be IF you get past network loyalties), it's easy to dream up and drool over all the potential match-ups between these scappers. No matter how you mix and match, you're looking at a potential Fight of the Year, and a significant bout in a significant division that possesses some of boxing's best and/or most exciting practitioners. Just think about it for a minute: three of the guys looking to get in on the action are Mayweather, arguably the best boxer in the world, Cotto, arguably the best up-and-coming boxer in the world, and Gatti, who's not-often-argued-against as the most entertaining boxer in the world. And if things go well, we may be privy to legacy-building chapters in what could be a Modern Classic era, where a bunch of guys doing their business in and around one weight class create a body of work that revives the sport and provides material to brag about to a younger generation of boxing fans. At the very least, they might make 2005 a boxing one hell of a year to remember.

That is, of course, if the promoters and networks (who often seem to be one and the same) can get it together and get together to hook up and hype up what could be a brilliant and thrilling unofficial tournament with mainstream sports media crossover potential.

Belts and network allegiances be damned: Imagine Mayweather, one of the sport's greatest inside fighters, but who's also jumped up ten pounds now, against the pressure-fighting natural 140 pound windmill Hatton, who's looking to prove his worth. Imagine the HBO-dubbed "Human Highlight Reel" Gatti, all will and now with more skill, against the hard-hitting long-time champ Tszyu. Imagine the ripening Cotto, with his compact and measured style, against the amazingly experienced and fiery Mitchell, the southpaw swinger. Imagine Harris, the lean and mean boxer/puncher who's had to fight his way back to the top, still trying to prove himself by taking on the criminally under-rated Lovemore N'Dou, a gutsy and skilled boxer who gave both Mitchell and Cotto tons of trouble in fights taken on short-notice.

Now shuffle that deck - you get more of the same.

And those are just the upper level guys: consider all the rough and ready dudes or up-and-coming young bloods who might serve as opponents in between: prospects like Francisco Bojado and Mohammad Abdulaev, both of whom have obvious talent, but have suffered setbacks they need to push themselves beyond. Or rugged vets like former champ Leija, who out-worked and upset Bojado, and gets Gatti next. And there's always that pair of crafty and enthusiastic spoilers, Emmanuel Burton and Omar Weis, who lurk around, waiting to work their voodoo on unsuspecting favourites. And this isn't even taking into account all the great lightweights in the simmering division below that could move up in lucrative weight-jumps if things come to a boil at 140.

Hopefully, the weekend's settling of this current "Who's the Boss?" account will free up the jr. welterweight backlog blockage. Both Tszyu and Mitchell have indicated that they're planning on sticking around after Saturday despite being in their mid-30's and having many years of tough fights under their belts. So if the playmakers and puppet masters of boxing put all the pieces together, we might just be on the cusp of an era that establishes the Gatti/Ward trilogy of battles in the history books as "The beginning of the great Junior Welter Era of the early 00's."