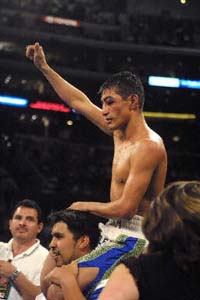 Will Erik be the winner after the Pac-Attack

By Sean Waisglass: Fight fan fantasy turns into reality Saturday night, when Filipino whirlwind Manny Pacquiao meets Mexican gladiator Eric Morales in the ring at the MGM Grand in glittery Las Vegas.

Truly something special, this hair-raising junior lightweight match-up not only features two boxers who reside in the popular-consensus top ten 'Pound for Pound' skill rankings, but a pair of scrappers whom also happen to be Pound for Pound in the excitement department too.

Each man made up one-half of the two best fights of last year; Pacquiao against Juan Manuel Marquez in a thrilling featherweight showdown in May that ended in a draw after Marquez fought his way back from three knockdowns in the first round, and Morales against Marco Antonio Barrera in their third meeting, a high-class November brawl that saw Morales lose a close majority decision after coming back from a slow start to charge down the stretch.

Both boxers came up just short of a win in their bouts, but sure as hell didn't lose any standing by not leaving with a 'W' on their legers considering the way they fought - fast, hard, and with the kind of moves only a high-level pro busts out when the going gets tough.

And both men still have a score to settle with their nemesis. Pacquiao tried to get Marquez back in the ring, but the Mexican two-titler priced himself out of the rematch, leaving the door open for Morales, whom after his heartbreaking loss to his hated rival, was looking to rebound a soon as possible to set up another Barrera tussle. So instead of settling scores, they settled for each other, which can hardly be considered settling at all, considering the calibre of both men.

But make no mistake, as much as this is their show, and a grand one at that, Marco Antonio Barrera is looming overhead.

Barrera's narrow win over Morales snagged him a title in another weight division, recharging his status as a top-shelf fighter. The win and the belts and reputation it reaped put Barrera back in the sport's main mix after his crushing November 2003 11th round stoppage loss to Pacquiao. Which makes Pacquiao, the only man to seriously beat the Mexican warrior up since Junior Jones seven years earlier, a likely number one on Barrera's 'to do' list. Although Morales can make his point for that spot easily...

So with the bait of a genuine super fight in the form of a Barrera rematch on the hook for both men; a high-flying contest both in profile and dollar signs, a match that either man could mark time waiting for by taking on a solid 'stay busy' fight or going for a bargaining-chip belt against one of the other titleholders of the division, the question arises:

Why are these guys fighting each other?

Both men are in superstar Barrera's line of fire, and although they are doing well for their bankbooks in this bout, Barrera's star is shining right now, and a rematch with him would earn more cash and more glory as well.

Considering he already has a dramatic win over Barrera, Pacquiao won't gain much more leverage by beating the guy Barrera just defeated. And Morales, who would indeed impress everybody by conquering both of the men who destroyed his arch enemy (he stopped Junior Jones in four rounds in '98), would nonetheless be putting himself in line for a rematch that's already a natural anyway, and that would already be considered a major fight even if he had never met Pacquiao.

By fighting each other, they're only battling for the chance to lose their shot at Barrera, whom after 15 years of boxing, could still call it a day with one more loss, something which is still entirely possible against the likes of either Morales and Pacquiao should the winner of this bout get the call.

Although their histories with the 130lb champ Barrera allow that even with a loss, the loser will likely get the next shot after the winner of tomorrow night, this match sure is a hell of a way to wait in line.

Pressure-fighters by nature, Morales and Pacquiao are wilful sluggers as well as artful boxers. They are also proven warriors. This is not going to be an easy night for either man.

So why risk it? Both are already headed for a rematch with Barrera, who doesn't have many other options in the weight area. There are no belts of note on the line. And both boxers live in countries where the money they've already made will last a lifetime and more, so money isn't likely the reason (although I'm sure it's a nice part of the package).

Why? Because these guys are the Real Deal.

Because they take pride in the trade they ply, and lace up those gloves for the best of reasons. They're capital practitioners of the sport. The Best fighting the Best because that's what the Best do.

Their small size and the fact that English isn't their first language may hinder their celebrity wattage, but Paquiao and Morales, and their two Pound for Pound featherweight fellows Marquez and Barrera, are fighters for the ages; likely future Hall of Famers whose matches against each other will be tape-trader gold and have regular slots on Classic Boxing channels to come.

This bout isn't just a gift to fans and the industry, this is a full-blast Wake Up Call to the grumpy pundits proclaiming the never-ending 'Death of Boxing', the media with one foot out the door saying that boxing deserves to be a marginal sport, and the whiners and gripers still romancing the last great era, when Leonard, Hagler, Hearns and Duran were ripping up the ring:

Pay attention. This is our Leonard/Hagler/Hearns/Duran. This is boxing history in the making and athletic competition at it's boldest and finest.

This is our proof that the Science is still Sweet.