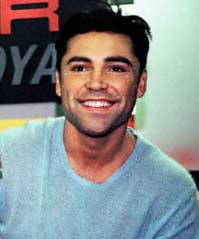 By Sean Waisglass: As the brief clips furnished by ESPN2's Friday Night Fights have shown, we may not know much about German WBO middle champ Felix Sturm, 20-0 (9 KO), but we do have evidence that he's got eyebrow-raising offence.

Obviously, highlights of one fight don't tell the whole story (Can he take a punch? Does he have stamina? What's his defence like?), but the short collage of clips shown on this past Friday Night Fights (as well as some months back before the bout was set) did reveal offensive skills that could make it a difficult night for Los Angeles' favourite son "The Golden Boy" Oscar De La Hoya, 36-3 (29 KO), when they meet tonight at the MGM Grand in Vegas.

The bout will be shown on PPV on HBO.

The brief highlights of Sturm's December bout against Ruben Fernandez showed a slightly hunched, chin-tucking, sharp-shooting left-hand specialist with great hand speed. The clips displayed a puncturing and pounding fast jab, and Sturm's ability to turn it with ease into a variety of hooks, uppercuts, or hookercuts.

In fact, the fighter his stance and style most resembles is that of one of his boxing idols - you guessed it, Oscar De La Hoya.

Sturm, 25, looks like Oscar circa 1996-97, when he was fighting Chavez for the first time and more specifically, Miguel Angel Gonzalez.

No doubt the brilliant and calculated De La Hoya brain trust have examined full tapes of the top-ten middleweight Sturm and designated him a worthy but winnable fight for Oscar, 31, in his middleweight debut - but credit has to be given for the oft maligned multi-division champ for taking on another solid foe in a new weight class.

It's not the first time he's dove into the deep end of a division: after a tune-up at 140 lbs he fought Chavez and Gonzalez, and his first welter fight was against all-time-great Pernell Whitaker. And although he was nothing spectacular, Spaniard Javier Castillejo was a good marker for De La Hoya when he jumped up to 154, providing a solid testing of the waters for the former junior lightweight.

And after tackling Vargas and the Mosley rematch during his tenure in the junior middleweight division, De La Hoya, boxing's premiere star, is admirably taking on a real challenge in his first bout at 160 - all the more impressive since it's a warm-up for his proposed September challenge of Pound for Pound undisputed middleweight champ Hopkins, who also fights on tonight's HBO broadcast.

But it wasn't always this way...

This two-pack De La Hoya has set up forever washes away the catcalls and hollers of fight fans and ring foes alike, who berated the Golden Boy for not taking chances after his controversial win over Pernell Whitaker for the WBC welter title in '97. After refusing a Whitaker rematch, he coasted with wins over a shot Kamau, an unworthy Charpentier, and then in a public relations gaff, passionately rematched a small and over-the-hill Chavez instead of the man he won his belt from.

The two-year drought of 97-98 caused enough furore that De La Hoya relented and stepped up to challenge and unify with the dangerous Ike Quartey. After winning another close and hotly-debated decision in an underrated bout that saw both fighters hit the canvas, De La Hoya seemed to develop a taste for challenges that has yet to subside.

He took on the still crafty Oba Carr in another very underrated competitive bout, but was still taking heat for taking on his two most difficult welters in Whitaker and Quartey at calculated and opportune times (past prime and after a long layoff, respectively), winning debatable decisions, then refusing to fight them again.

Then he unified with Trinidad, losing controversially for a change, in a bout that he looked to be winning skilfully for the most part. Even though he was building up an increasingly good resume of bouts, De La Hoya fanned the flames of critics by being widely perceived as having given away what was sure lead against Trinidad by running in the later rounds of a Super Fight that didn't fulfill expectations action-wise.

The raucous uproar over the last rounds against Trinidad seemed to finally rattle De La Hoya, and he promised to come back hard - taking on only the best, and knocking out as many as possible while doing so.

After losing another close one to fellow contemporary-great Mosley in a career defining time-capsule-worthy, action-packed modern classic that salvaged his public image, he moved up again instead of playing it safe, and battled his long-time nemesis Fernando Vargas in another thriller.

Along the way, the critics quieted down: fight by fight, by attrition, De La Hoya was becoming a brave and model pro in the eyes of all.

He then fought his conqueror Mosley, the only man to decisively beat him, for a second time, losing again, but much more debatably in the controversial rematch. So what does he do? With the wind of wide-spread respect pushing him along, a noticeably more relaxed and candid Golden Boy, no longer promoting himself with the calculated moves and words of a politician, moves up again, with jaw-dropping intentions to battle the larger, meaner, hungry and tough Pound-for-Pound Hagler-esque Hopkins.

Quite a transformation for a fighter long, loudly, and relentlessly dubbed "Chicken De La Hoya" by veteran fight scribe Michael Katz.

But despite his admirable Duran-like willingness to jump up and up in weight and take on the toughest fighters dwelling above, the sweet science scene who had once called for Oscar to fight only the best, is openly and sympathetically wondering whether this time, De La Hoya has bitten off more than he can chew.

Hopkins, despite his 39 years, looked as dangerous as ever in his last bout against William Joppy. And with Jones' crashing fall from the top of Pound for Pound lists, Hopkins has taken roost as the man considered best in the world by most.

With three closely fought competitive decision losses being the only blemishes on De La Hoya's ledger, will Hopkins be the one to finally tarnish the Golden Boy's shine enough that De La Hoya too takes a Jones-like dip in the opinion of the sports public?

Hopkins is an all-round, all-out ring-tactician with a warrior mentality. He's got time-honed skills tempered by experience, uses the complete package of punches inside and at a distance, possesses a great chin, has seemingly ageless stamina, uses relentless pressure, and isn't above roughhousing to shake up his opponents. And despite millions, pay per view top billings, and three belts, he's still lean, mean and hungry.

If all goes as planned and he fights Hopkins in September, it will be the kind of physical and mental pressure De La Hoya faced when meeting with the formidable and fierce duo of fellow champs Quartey and Trinidad in his welter heyday, only this time it'll be two divisions north and many hard fights later.

Assuming Hopkins maintains his fistic status quo tonight and in the planned Super Fight match in September, Oscar's going to have to be firing on all cylinders inside and out to even put in a game effort against the Philly middleweight champ.

Tonight, he'll be test-driving his battle readiness against a young, hungry, full-sized middleweight and undefeated boxer who may have enough tools to make things dramatic.

It's not going to be enough to win a close one against the seemingly capable Sturm when Hopkins is on the horizon . De La Hoya needs to be impressive - but this time, for his own sake, not the fans'.

And, if the fight turns out to be a dire warning of what lies ahead in Hopkins, maybe Oscar should consider giving the recently un-retired Tito Trinidad a call instead. Believe me, these days, very few would call him "chicken" for doing so...