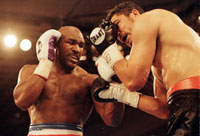 By Sean Waisglass: The recent death of Trevor Berbick and the resulting mention in his obituaries about how he was the last man to both fight and defeat Muhammad Ali jarred loose the disturbing memory of a televised pre-fight dressing room interview I've got on tape from that night in Nassau.

On the tape Ali seems drained, listlessly answering the interviewer's questions without any trace of his trademark sharp tongue and wit. His words are so hushed and slurred that it is difficult to understand what he is saying at times. Knowing he would absorb ten more rounds of punches shortly after that interview, and knowing how he would end up - speechless and shaking, crippled by the effects of Parkinson's disease - it's a horrible thing to watch.

One has to wonder how anybody involved in that bout could have let Ali step into the ring when it was already obvious that the former champ not only no longer had the chops to hold his own against legit young boxers, but was possibly en route to serious brain damage as well.

The same concerns have been raised recently regarding a current comeback-minded heavyweight legend and multi-time champ, Evander Holyfield, and will likely persist despite his victory over former contender Fres Oquendo last Friday night.

Previous to that match, similar questions were raised in article after article: Should a man who's endured so many gruelling battles amongst the forty nine bouts of his 22 years as a pro still be allowed to continue his waning career at the age of 44? This after having his boxing license revoked by the New York State Athletic Commission two years ago, after a near-shutout loss to fringe contender Larry Donald? Were those involved in his comeback dooming Holyfield to a similar fate as Ali or worse?

Although his close win over Oquendo obviously wasn't a return to prime era form, "Fast" Fres is still a legitimate heavyweight, and the victory no doubt still served as an eye opener to some degree for all those Holyfield doomsayers.

But even after his winning of the vacant USBA title, which will help get him ranked by the IBF, you can bet there will still be a vocal majority deriding Holyfield's quest to once again become the undisputed champ as a ridiculous and dangerous fantasy.

Here's a thought: although it would undoubtedly be better for Holyfield to retire (which I should go on record as stating is the choice I'd prefer he make), maybe we're all overreacting. And although his goal of winning all of the major belts seems unrealistic, maybe at least partially completing his quest isn't as fantastical as we think.

After all, this is the guy that everyone said was too small to move up from cruiserweight and make any real impact as a heavyweight. This is the guy that a boxing fan friend of mine semi-seriously thought might actually get killed in the ring against Mike Tyson based on reports that he had been dealing with a heart ailment. This is the guy that performed so badly against Lennox Lewis in their first match that the scandalous draw verdict actually resulted in something resembling boxing reform, yet came back and gave the future division dominator one of his toughest fights in their rematch.

Throughout the history of the sport, there have been boxers who've proved they deserve every benefit of the doubt before being stopped, whether in the ring or in their careers. Holyfield is as deserving a candidate for that benefit of the doubt as you're going to find. If there was ever to be another heavyweight to astonish the boxing world and at least come close to duplicating George Foreman's stunning reclaiming of a world title at the advanced age of 45, wouldn't you put your money on the 44-year old Holyfield as being that man?

When the NYSAC suspended Holyfield after he was dominated by Donald in late '04, it seemed more like showboating by the then-troubled commission than sound medical reasoning. Was the suspension really warranted? Surely there were boxers who were in greater jeopardy due to long-term in-ring abuse or cruel mismatching that still fought in New York both before and after Holyfield's ban. Did losing badly to a solid, sharp-boxing stick-and-mover like Donald really warrant revoking his licence? Holyfield's injury excuses for that loss aside, it should be noted that Donald went on to draw with spoiler Ray Austin in his next bout, and looked to have out-boxed current WBA titleholder Nikolai Valuev in his bout after that, losing a very questionable majority decision.

Other pundits pointed to Holyfield's pre-Oquendo record of 3-5-2 after ten bouts as evidence of his need to call it quits. But look at his quality of opposition: all but two of those fights were against current or former title-holders, and he was only stopped once -by the best heavyweight version of James Toney to ever enter the ring. Does that really seem like a bad enough run to warrant a suspension? Was a record of 39-8-2 against a near-constant line-up of quality foes really enough to force him to retire?

Then there's the current state of the heavyweight division to consider.

For years now post-Lewis, it's been proven that on any given night, any one of these big men can win - a theory recently confirmed by both Shannon Briggs and Oleg Maskaev. Despite having been considered washed up or damaged goods for years by fans and analysts, both underdogs knocked out their favoured opponents in the last minute of the last round to annex title belts, provocatively invoking that well worn sports axiom: "It ain't over 'til it's over."

Both those theories as they pertain to the heaviest division were further entrenched after Holyfield knocked down Oquendo (who had managed to stay on his feet in TKO losses against John Ruiz and David Tua), and narrowly out-pointed a boxer whom over the past years has given many a top contender and champ fits with his elusive and awkward style.

Many dwelled on the fact that it looked like Holyfield still couldn't put his punches together, but that's a difficult task to pull off against a jabbing runner like Oquendo - some fault has to be attributed to style match-ups.

Keeping that in mind, is it really that unthinkable that Holyfield could win himself a belt or two if the right circumstances aligned themselves? The huge size disadvantage against giant WBA champ Valuev would certainly present a difficult task for the former cruiserweight, and a match against IBF champ Wlad Klitschko... well, that would probably be ill advised. But isn't it plausible that Holyfield, who threw 35 punches in 30 seconds when he stopped Jeremy Bates in the second round three months ago, might be able to beat stamina-challenged WBO champ Briggs, who against Liakhovich looked like he was throwing 35 punches an entire round? Is it really totally unbelievable that Holyfield, one of the few men to actually knock down Oquendo, could upset the effective but often lumbering and sometimes glass-jawed WBC champ Maskaev?

It's debatable whether those belts would mean much to his legacy and unlikely he'll accomplish his ultimate goal of becoming undisputed, but if he were still able get that far along, should we really be trying to stop him?

On Fox Sport's show featuring the Bates fight, Holyfield and former titleholder Chris Byrd were on hand for post-bout analysis. Byrd stated to Holyfield that he surprised that he didn't carry Bates a few more rounds to get some more work in after such a long layoff, rather than stop him so quick.

Holyfield retorted that if a man couldn't carry himself, he sure wasn't going to carry him.

That revealing comment and the fact that he took on the tricky Oquendo so early in his comeback may be Holyfield's way of telling all those calling for his retirement essentially the same thing: He's not asking boxing - be it fans, doctors, commissions, or columnists - to carry him a few more rounds, he's just asking to be allowed to carry himself.

Whether he ends up surprising us or depressing us, after all Holyfield has proven in the ring - including pulling off his unspectacular yet still odds-defying win last week - maybe he's earned that allowance for at least one more significant fight. Even if the risks he's taking may outweigh their potential rewards.