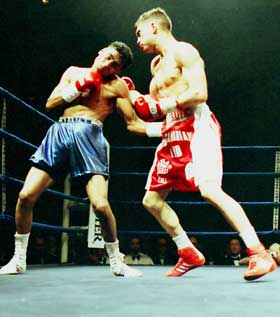 By Sean Waisglass: It's tough securing quality matches when you're a southpaw. The same goes for when you're undefeated. But when you're an undefeated southpaw from Canada with little name recognition, it can be downright miserable.

That's why Steve "The Canadian Kid" Molitor, 20-0 (6 KOs), a solid world-ranked 122 lb prospect from Mississauga, Ontario (just outside of Toronto) has had three scheduled matches fall through so far this summer - two in his hometown, one in Mexico - leading to an unwanted six month layoff.

That's also likely why he's willing to take on Debind Thapa tomorrow night at the Hanover Marriott in Whippany, New Jersey, despite it being a less than ideal situation.

For one thing, it's against a hometown guy. Thapa, a former Nepalese Olympian with a 20-3-1 (11 KO) record is based out of Atlantic City, and has fought 10 of his pro bouts there, including 4 of his last 5. Another thing is that Thapa, like Molitor (photos by Sean Waisglass), is a southpaw. It's hard enough for orthodox boxers to look good against a southpaw, but when two southpaws meet it's a rarity, and the lack of experience against fellow left-handers often results in an awkward bout. Exacerbating the problem is that Thapa is an unusually awkward southpaw; zipping around, leaping about, stopping and starting - sort of a poor man's Naseem Hamed.

But the bottom line is that it's a fight against a known boxer (Thapa has fought on ESPN) with a good record and that's just what the rising prospect Molitor, 25, needs on his resume. In fact, after the troubles securing any action since defeating Henry Arjona of Mexico half a year ago, and the eight-month layoff that preceded that, any match on his resume will do.

The long layoff leading up to February's bout was in part so Molitor could fix his blurry vision with corrective eye surgery, but was also the result of an extended extrication from notable Toronto manager/trainer Adrian Teodorescu of Atlas Gym, who helped train heavyweight king Lennox Lewis to Olympic gold and worked with current middleweight contenders Ian Gardner and Kingsley Ikeke in their early days.

Their partnership reached both its high point and endpoint when Molitor outfoxed bantamweight gatekeeper Hugo Dianzo (who had given former champs Paulie Ayala and Cruz Carbajal all they could handle a few year earlier) over twelve rounds in April 2004. The crafty Canadian tagged the rugged Mexican from all kinds of angles, and was gone before Dianzo could land a glove. He won a twelve round decision - it was his first serious test, and he had passed glowingly.

"He's a combination of style, heart and brains," Teodorescu had said of his charge. "He can be one of the most complete boxers we've ever had in Canada. He can punch, he can box, he can brawl. He can do everything."

It was a breakout win for the 18-0 prospect, but despite success inside the ring, his relationship with Teodorescu outside of it had soured. And so the boxer who had just notched his best win broke from the trainer that got him there.

"As a trainer he's one of the best in the world," said Molitor this past April. "He got me to 18-0, and all the credit goes to him. I owe my whole professional career to him." Despite the respected trainer's great credentials and the proven results in the ring, Molitor still felt it was time to move on after friction between the two had caught fire. "We just had to go our separate ways," explained Molitor. "I didn't think things were working out. The fighting style I had no problem with, we just weren't getting along." Teodorescu, a transplant from Romania had admirably worked with it's Olympic team from 1968-1980 in addition to farming a string of successful pros out of Toronto, but is also known for his Eastern Bloc-inspired hard-nosed attitude when it comes to boxing dealings.

Molitor turned to former NABF 175 champ and Canadian Olympian Chris Johnson, who after getting stopped by current champ Antonio Tarver in 2001, retired, moved back to Canada and started training fighters. Molitor, who grew up in Sarnia, Ontario, and was living in Toronto, moved to Mississauga, a burgeoning city just outside Toronto with a healthy fight scene, to work with the relocated Johnson.

Johnson, who had been fighting out of Atlanta, Georgia, added American elements to Molitor's Teodorescu-taught European-influenced style. When Molitor stepped back into the ring after eight months against Arjona this February in Toronto, the additions were evident - he was sitting down on his punches, popping out a stiffer jab, and standing and trading more. He looked more Winky Wright than Sven Ottke. He also looked rusty. Molitor was caught in the second round by a flash knockdown, although he returned the favour in the third and cruised the rest of the way to an easy 8 round decision victory.

Now just before the next big step up in his career, Molitor has again changed trainers after scheduling and availability issues with Johnson surfaced. Johnson recently opened his own gym and has been dedicated to his amateur team. So Molitor switched to another respected Mississauga trainer in Dewith Frazier, who currently trains 2-time ESPN-alumni and former Canadian middleweight champ Bryon Mackie and upcoming prospect Andre Azcurra. Frazier will likely add his signature strokes to Molitor's canvas: punches in bunches, and hooks to the body.

If Molitor can mix and match what he's learned from the three trainers he's worked with, he can make some noise in his new division - after making 118 for years, he's decided to stick with 122.

Despite recent inactivity, Molitor still has respectable experience with a mixed bag of 'little men' to draw from; he won the 118 lb Commonwealth title in 2002 against the tough Brit Nicky Booth on English turf, fought seasoned title challenger and journeyman Colombian Julio Coronel in New Mexico, sparred in camp with then-WBA champ Johnny Bredhal of Denmark and mostly notably, helped prepare multi-division champ Eric Morales for his bout with Paulie Ayala in late 2002.

The experience gleaned from sparring every day for two and half weeks in the camp of a modern great in Morales helped bolster the already hard-working Molitor's resolve. "Going in there with a good fighter like Eric Morales, it's a learning experience, and it's something I'll have with me the rest of my career," said Molitor before the Dianzo bout. "It helped me a lot, it motivated me to train harder."

Molitor is indeed going to have to train harder to stick with the top 122 pounders - North American champs Larios (WBC) and Isreal Vasquez (IBF), as well as recent challenger Wayne McCullough are all human windmills who give punchstat workers blisters. The super bantams are a tough bunch, and there's a wealth of rugged contenders who might change their minds about stepping in against an undefeated southpaw from Canada once they see he's ranked in the big three: Molitor's currently #3 IBF and #11 WBA at his former weight of 118, and #9 WBA in his new weight class.

His numbers will rise with a win over Thapa, and those often questionable but nonetheless necessary rankings will be his tickets to a title shot. "It feels good," said Molitor earlier in the summer regarding seeing his name climb the ladder. "I go into the magazine stores and I like to see my name in there - I just want to walk by and see myself on the cover," he said with a chuckle.

But Molitor has watched many a fighter coast on a ranking only to fall short when the time comes to step up, and was aware that a fight against a guy like Thapa, awkward, off-TV, and under the radar, could ruin well-laid plans and set him back during a time when the physically primed boxer has none to spare. "It's easy to get there," said Molitor of his rankings, "but you can lose it in a heartbeat." If things go his way in Atlantic City tonight, he'll skip that heartbeat and finally move closer to the title shot every young boxer craves.