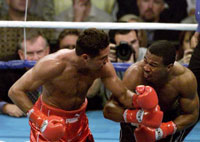 By Sean Waisglass: Now that cross-over-star-in-the-making Shane Mosley has been downed by Ronald 'Winky' Wright and plans for a mega-fight against Felix Trinidad now dashed - one has to wonder if already-crossed-over-star Oscar De La Hoya isn't travelling down the same path as his Sugary nemesis.

Mosley experienced a respectable deja vu of sorts last weekend: In January 2002 he scheduled a bout with hungry and under-appreciated veteran Vernon Forrest - a natural welter as opposed to former lightweight Mosley - in what was supposed to be Sugar Shane's last bout before moving up to another weight class for more lucrative challenges. Mosley was soundly upset by Forrest, and his plans derailed.

And so, it seemed like a ballsy tempting of the same when Mosley chose to battle Wright last week; again taking on a hungry and under-appreciated veteran boxer fighting in their natural weight class, while having a larger weight class/payday match with comebacking Trinidad on the horizon. Again, Mosley was upset, and grand plans were foiled.

It would be downright ignorant to fault any fighter for taking on consecutive hard challenges - but overlooking the very real possibility of losing to a credible opponent seems delusional in a boxing era where we're having a truly excellent amount of matches that see the best in the ring against each other, and thus regularly losing.

An admirable schedule in terms of taking on the best challenges, indeed (Forrest, Forrest, Marquez, De La Hoya, Wright? Damn, the guy's a competitor...). But ultimately, it has been a rough ride along Mosley's chosen career path, with the former Pound For Pound top contender now in limbo and struggling.

The question is: Will his rival De La Hoya take a hard look at Mosley's trajectory and avoid spending too much mental energy on his scheduled September bout with Hopkins, thus overlooking his June bout with Felix Sturm?

STURM NO SLOUCH?

Which brings us to Sturm, whom De La Hoya is scheduled to fight June 5 at the MGM Grand in Vegas for the German's WBO middleweight title. The Golden Boy shares top billing with The Executioner in separate build-up bouts.

A scan of Sturm's 20-0 record reveals not a single opponent familiar to the North American scene. He has only 9 knockouts to his credit, and will be participating in his first world-class bout. His bout before last was a split decision on German turf to an Argentine boxer who has also not fought any known commodities.

So why the worry? Surely Sturm is not a seasoned pro waiting and aching for his big shot like Forrest and Wright were...

True - but Sturm is a fresh and focused 25 to Oscar's well-worn 31. He is a natural 160 pounder, whereas De La Hoya turned pro at 130-135 lbs. And he is being thrust into a position to bust out and make a name for himself on the international scene akin to his Universum predecessors, the Klitschkos, who are now stars across the pond.

But what might raise the most eyebrows amongst boxing keeners was that in a brief compilation of highlights from his last fight shown on ESPN's Friday Night Fights not long before the De La Hoya bout was announced, Sturm displayed some very attention-grabbing stuff...

Obviously the clips released by promoter Universum were image-boosters and not nearly enough to make an educated judgement upon, but nonetheless, the guy looked very impressive: good posture, very fast, sharp and accurate punches, aggressive... And most noticeable was his left hand: He was shooting off crisp jabs that were borderline power punches at a blistering pace, then mixing in blazing hooks. And these weren't textbook hooks as much as they were natural-ability marvels - launched at subtly adjusted angles according to where the opening was, and done with a kind of reflex action that seemed instinctive.

And shooting that left hand out from his slightly hunched, tucked-chin pose, who did Sturm immediately recall? That's right - De La Hoya, an admitted idol of Sturm's.

Is this pre-super-fight 'warm-up' for De La Hoya actually another superstar-upset in the making? The press conference clips for the announced De La Hoya/Hopkins 'two-pack' (also shown on Friday Night Fights recently) had De La Hoya and Hopkins respectfully trading compliments and predictions, but where was mention of Sturm? Is the Golden Boy putting the cart before the horse, as the cliché goes, akin to Mosley?

Another possibility: the Sturm bout could turn out to be competitive enough that it starts Team De La Hoya wondering whether Hopkins might be too dangerous a port to steer their ship towards...

HOPKINS TO BE TRADED FOR TRINIDAD?

Now that Mosley has lost to Wright, and 'Winky' is the top dog at 154, the boxing world is waiting to hear from the returning Felix Trinidad as to whether the St. Pete's southpaw will replace Mosley as his comeback opponent.

Trinidad vs. Mosley would have been a glamorous match-up that would have seen the only two men to beat De La Hoya face off against each other in a battle of proven aggressive warriors. Now Trinidad's option is a match up against a tricky southpaw boxer with little marquee value - although it wouldn't surprise if the fearless Trinidad takes on the challenge.

But more intriguingly, how long do you think it will take the teams of Trinidad and De La Hoya to realize that with Mosley out of the picture and the fearsome Hopkins looming overhead, De La Hoya vs. Trinidad II would be the perfect Plan B?

De La Hoya would be a similar level of challenge for Trinidad as Wright, but worth much, much more money and glory. And although their first fight was an all-time dud in proportion to the hype, Trinidad's post-De La Hoya bouts were all wildly exciting - adding credence to the notion that although De La Hoya fought a smart fight, Trinidad was 'dead' at that weight.

Whether Oscar tests the waters at 160 with Sturm or not, it's hard to believe he'll take full-sized rough-and-ready meat-grinder Hopkins over fellow former welter champ Trinidad, who's coming off a long layoff.

Trinidad would be both an easier match and give the 'Golden Boy' a chance not only to avenge the first loss to tarnish his career, but also the most humiliating: Let's not forget that although De La Hoya was boxing beautifully for most of the bout - showing he had the style to out-fox the stalker Trinidad - he also elected to run for the last four rounds, and thus took a public drubbing for giving away a heavy lead.

It just seems like too perfect an opportunity to pass up... Even if it means signing up for another Arum/King grudge match as well.

Should De La Hoya defeat Trinidad, Hopkins will still be there - and a year older to boot - a perfect last challenge to end what The Golden Boy has proclaimed to be his last year in boxing.

March 18, 2004.