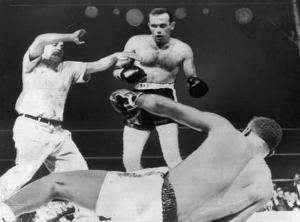 By Swedish correspondent Teddy Stenmark: When I woke up this Saturday I received an email from my longtime friend and journalist colleague , Olof Johansson (editor of the Swedish Boxing Mag – which was , unfortunately shut down after well over 30 years of publishing) telling me that Swedish legend, Ingemar "Ingo" Johansson had died.

A piece of Swedish boxing history was thereby put to rest. It really saddened me because the big guy had always been there for us boxing enthusiasts. Letting us know, that things weren't impossible. Even for a small country like Sweden, it was possible to achieve great things. Ingo proved that a warm summer night at Yankee Stadium in 1959 when he knocked out Floyd Patterson and became Sweden's first and I suppose only professional heavyweight champion of the world. Because let's face it, it will never happen again. And even if it does, it won't have the same impact as it had back in 1959 when the heavyweight throne was "pure", untarnished by silly alphabet organizations who have twisted the pro boxing world into a confusing mess that few genuine sports fans care about these days.

Back in the fifties, early sixties, everyone knew who the heavyweight champion of the world was. It was common knowledge. That unfortunately, is not the case today. If you ask the average person on the street who the world heavyweight champ is, a string of return questions is likely to be fired back at you, like, what champ? In what organization? In what Sport? No wonder our sport's heaviest champions do not enjoy the same status as the titleholder did back then. That is really a shame.

Although I have seen those black & White images from when Johansson floored Floyd Patterson seven times before referee Ruby Goldstein stopped the fight, several times ( I have it on DVD) I seem to be amazed every time and can't really understand that it really has occurred. It was just such an astonishing accomplishment that it's hard to grasp. I wasn't there when it happened of course (I am too young) but my father was and like many others from his generation, he could say exactly what he did that night in 1959 when Ingemar created boxing fever in our tiny little nation. He tuned in to Radio Luxembourg and listened to that big fight. Like everyone else. It was a national matter, boxing fan or not.

Personally, I met
Ingemar Johansson
on several occasions of course. It was inevitable coming from the same club as he did. Ingo was always brought in for exclusive shows or special occasions. He was the club's (Redbergslids BK) front figure and we were all so very proud to represent the same colors, which was blue and black by the way.
I didn't think of him as much when I was a teenager engaged in my sports trying to develop my own skills but now when he is gone it feels empty, somehow I always thought he'd be there, watching over the club and inspire new talents with his presence. In a way I guess he always will be, but memories have a tendency to fade with time so it's important to cherish his one particularly well. I am proud to have treaded the same ground as him, used the same training facilities, and early in my career even hit the same "speedball". I will miss him a lot. I understand that now.
February 1, 2009