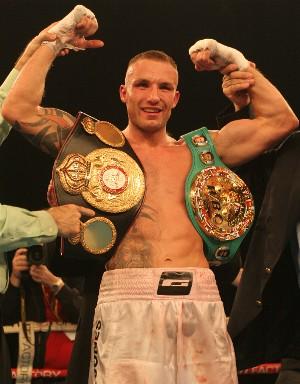 Mikkel Kessler: HoganPhotos.com

By Teddy Stenmark: Well, I cant say I am surprised by the fact that Mikkel Kessler studied German, Danilo Haussler inside two rounds and then dropped him in the third securing his reign as WBA champion in Oldenburg, Germany this passed Saturday.

Kessler is by far the best fighter pound for pound in Scandinavia at the moment. Although he has a pretty competent and skilled countryman in Sauerland promoted Mads Larsen, he is nowhere near the same category as Mikkel. Kessler is the No. 1 in the world at that weight at the moment with Calzaghe out of the picture.

A fight between Larsen and Kessler in Denmark is a huge attraction though and reporters were quick to launch speculations of a future Kessler-fight in the papers when it was revealed that Larsen might have a crack at Lucien Bute's IBF title sometime early next year.

Should Larsen get passed Bute, which isn't likely (if the fight even materialize) and cause an upset winning the IBF-belt , it would be almost idiotic not to stage a Mads Larsen-Mikkel Kessler unification fight.

<>Braekhus pick up Win No.10

Welterweight, Cecilia Braekhus picked up win number 10 outpointing Bulgarian, Borislava Goranova over eight rounds on the Kessler-Haussler undercard and the Norwegian girl had her foe down twice during the course but failed to follow up as she would have liked. Still she is coming along nicely and a title shot shouldn't be to far off.

Strongman Haugan To Turn Pro?

Reports out of Norway states that Strongman competitor, Arild Haugen wants to launch a professional boxing career at heavyweight. I have personally no Idea of what qualities he posses as a boxer but it all sounds like a joke to me. He has strength enough but the rest is a bit of a mystery to me.

Klemetsen Heads For The Boards

Word out of Norway is that Ole Klemetsen's critically acclaimed documentary "Blood & Honour" is headed to the theater stage. There seem to be no limits to the success of Ole and his father "Big John's doings. They are undoubtedly still a popular (loved and hated) duo in Norwegian media.

Markus Huhtala Back In Action

Finnish promoter Steel Ring might have super middleweight Markus Huhtala ( 6-1-1, 5 KO) back in action sometime next year. The talented 26-year old disappeared from the boxing scene in 2005 after suffering from a troublesome hand injury and lost motivation, but seem to have recovered from this and eyes a comeback when he gets back into shape.

Joensuu Beaten In Poland

More from Finland, undefeated Polish junior middleweight, Damien Jonak proved too strong and tough for Finnish prospect, Mika Joensuu (unbeaten in 11 straight fights) when the two met for the WBC Youth title in Zabrze, Poland on the 18th of October. Joensuu retired in the fourth round.

Mercer Back To Face Perkovic

Sweden is gearing up for a card in Norrköping at "Borgen" on November 21st with ageing Ray Mercer back in action against Croatian Ivica Perkovic and of course with loads of talent on the undercard. George Scott & Sören
Niklasson promotes.

Holmberg To Fight Again?

Pugnus Promotions, Anders Holmberg travels to New York to witness the Roy Jones – Joe Calzaghe showdown November eight but has also booked a few business related meetings "over there". The 38 year old who had his professional debut ( at heavyweight) earlier this year at the "Blue Horizon" in Philadelphia doesn't rule out another fight in the paid ranks.

October 28, 2008