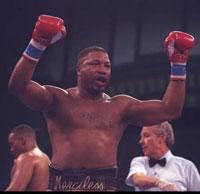 Ray Mercer(pictured) Fights September 5

By Teddy Stenmark: Attila Levin, who together with Ray Mercer and Joey Abell tops the big card in Karlstad, Sweden on September 5 informed local press that he is delighted to finally be back in Sweden again to fight. A country he hasn't boxed in since he was an amateur back in 1997.

Levin is currently, according to a recent interview in NWT.se, in Florida at the gym of Angelo Dundee, sparring with Joey Abell, Kevin Burnett and Sultan Ibragimov so the big Swede should arrive in Sweden in good shape. He will land in Scandinavia and Sweden on September 1st according to the article.

Ray Mercer of course will go in against Dutchman, Richel Hersisia in Karlstad over six two minute rounds, and Joey Abell has Alfred Cole in the opposite corner. Also on the show, former Finnish amateur star Robert Helenius against Dane Ingvardt Jörgensen, female welter, Anna Ingman, former IBF junior welter world challenger, Allan Vester, Daniel Hartvig, and former European title challenger at super bantamweight, Reidar Walstad of Norway.

******

Danish manager and agent, Henrik Risum informed us through a news release that his undefeated Kenyan welterweight, "Jesse" James Kimori 9-0, 5 KO:s will see action at the "680 Hotel" in Nairobi, Kenya on the August 23. Kimori will step in against Kenyan champ, James Kitasi (9-9, 1 KO) on a Sparks Pro-Boxing Promotions.

******

Norwegian welterweight Cecilia Braekhus will get a spot on the Sauerland Promoted Marco Huck-Jean Marc Monrose, Karo Murat-Gabriel Campillo bill at the "Seidensticker Halle", Bielefeld, Germany on the 20th of September.

******



The strong female Swedish amateur boxing team headed by among others double World champion, Anna Laurell ( middleweight) might get the taste of Olympic glory in London 2012 as AIBA with President Wu Ching-kuo, has decided to make a proposal to the International Olympic committee
to let the girls in.

Speaking of the Olympics,Swedish head coach, Majid Jelili sums up the two competitors, Naim Terbunja (middleweight) and Kennedy Katendes performances in Beijing on the Swedish Boxing federation's website with the words; "Our guys stood for solid performances , didn't show any respect for the strong competitors they were up against ( both got difficult Russians) and that showed they have developed as fighters". I agree of course they did a fairly good job both of them, but what about that Olympic boxing tournament? Jesus Christ!! What has happened? I agree with everyone thinking the sport of boxing in the amateurs has gone in the wrong direction. It clearly has, it's not traditional boxing anymore (with that computerized scoring system) where in the past the strongest, toughest and most determined fighters won (today you can be a better fighter and still walk away a loser). It has turned into something I don't understand and clearly lost interest in. AIBA has to do whatever they can to save it!

*****

Danish trainer Brian Mathiasen's work supporting the Transfix Boxing Club in Mombasa, Kenya (Brian provides the club with boxing equipment and help them in every way he can) has once again been documented on film, and a new documentary that follows Mathiasen with his African friends will soon be shown on Danish TV, sometime in early September.