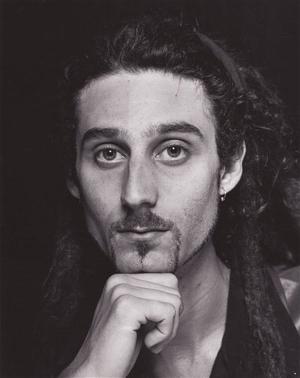 David Diamante

By Thomas Hauser

One night next month, moments before the opening bell, ring announcer David Diamante will take the microphone for one of the many fight cards he works in the New York metropolitan area.

Diamante is tall and slender with a gaunt face, aquiline nose, and piercing blue eyes. His voice is a gift and he uses it well. The tip-off that something is very different about him is his hair; dreadlocks that extend well below his waist and, unbraided, would reach to the floor. He started growing them in 1988 and hasn't cut them since, although he acknowledges, "The longer ones break off from time to time."

"I'm not a stupid guy," Diamante says. "I know I could cut my hair and make more money. But I'm not motivated by money and, right now, I like my hair the way it is. Maybe I'll wake up one morning and cut it because I want to. I'm a different kind of guy."

Adding to the self-description, Diamante explains, "I'm multi-layered. I see a lot of different sides on each issue. I love life. I'm spiritual. I'm a dreamer. I'm a rebel. I swim upstream. There's a fire that burns inside me. I love breaking the mold. My life has been an incredible journey. I'm into adventure and other cultures. I love traveling. I've been to dozens of countries all over the world. I like motorcycles. I'm into cigars. I live on the edge. I'm a perfectionist. If I'm going to do something, I want to do it well."

"But I've been through some dark times," he continues. "It's a sordid history. I've done crazy things and seen worse. I've been in jail for drug and drinking-related stuff. I've seen people stabbed in the heart and get their heads bashed open with baseball bats. One time, I saw a guy get shot point blank in the head. He was lying on the curb. He was alive but he was dying and his brains were coming out of his head. I had nightmares about that for a long time."

Diamante was born in Baltimore in 1971. His father grew up poor and put himself through law school. David's mother was a teacher and now works in his father's law office.

"My father and I don't get along, but I have a lot of respect for him," Diamante says. "He has a strong moral code and lives by it. Growing up, I had a lot of family issues; particularly with my dad. I did a lot of drugs from sixth grade on. I was self-medicating, but you don't have the perspective to understand things like that when you're young. For a while, it was a blast. Then things got nasty. I was running with a real bad group of guys that you could have called a gang. I did a lot of fighting and was suspended from school lots of times. There was this rage inside me."

Diamante graduated from high school in 1989. At the urging of his grandparents, he went into rehab when he was twenty. "Talking with one of the counselors," he recalls, "I had a moment of clarity when the stupidity of what I was doing to myself hit me. The problem was, when I got out of rehab, I was homeless with nowhere to go. I remember sitting down on the curb outside a liquor store with six cans of soda. A can of Coke, a can of grape soda, root beer, Sprite, orange soda, and ginger ale. I mixed them together, drank them, got sick to my stomach, and slept in the park that night, hating my life."

Three days later, he met a girl at a punk rock concert.

"She was really cool," David remembers. "Great looking, rode a motorcycle. I had the shakes and explained to her that it was because I'd been clean for three days and my body was adjusting. She told me she understood because she'd gone through the same thing and had been clean for two years. I was hoping we could hang out together but she had to go to a Narcotics Anonymous meeting, so I went with her. I walked into this room, and I saw all these guys in the meeting who were like the people I'd hung out with. Guys with tattoos and motorcycle helmets. I was like, 'Wow; there are cool people who are sober.'"

Diamante felt he had to get out of the Washington DC area to stay clean. There were too many negative associations in his old neighborhood, so he went to California. He thought he'd live in Los Angeles, but wound up in San Francisco. He had a relapse. "My life was a mess and I was worse," he recalls. Then he returned to Narcotics Anonymous.

"I got clean for good when I was twenty-one," David says. "December 4th is my clean date. I've been clean for more than sixteen years. I don't do drugs anymore. I don't drink at all."

Journeying through life, Diamante has worked as a fry cook, dishwasher, stock boy, and bike messenger. He has tossed pizza, been a DJ, and put in time as a bouncer at more than a few strip clubs in California. Closer to the arts, he started playing drums in fifth grade and has been a member of several punk rock bands. In recent years, his main gig was emceeing at Scores East (an upscale adult club in New York).

"Scores was an interesting place," Diamante says. "I worked there three nights a week from seven at night till about 5:30 in the morning. I fronted for the club and orchestrated what happened on the nights when I was on. I ran the rotations, talked to the patrons, and played music the whole night. I love naked women; I love playing music; and the money was good. So it was a win-win-win situation."

Scores lost its liquor license and closed at the end of 2008. As for what he'll do next, David notes, "I have some stuff brewing, but no final word yet." The sweet science will benefit if ring announcing is part of his future.

Diamante has never boxed competitively. But he started sparring in his late twenties while living in East Oakland and still spends time in the gym. He got into ring announcing about five years ago.

"Watching television," David explains, "I'd see guys like Ed Derian, Mark Beiro, Michael Buffer, and Jimmy Lennon. I liked them a lot. I believe in doing what I want to do, so I approached Justin Blair [who runs amateur fights at the Church Street Gym in Manhattan] and asked if I could do one of their shows. He said yes, and they've been using me ever since."

Diamante has worked about twenty pro cards. Three shows stand out in his mind.

In September 2005, David was the ring announcer for Jimmy Lange vs. Perry Ballard at George Mason University in Virginia. "I went to school there for a while," he says, "so that night was special for me." Seventeen months later, he hit the big-time with an HBO Boxing After Dark tripleheader: Paulie Malignaggi vs. Edner Cherry, Sechew Powell vs. Ishe Smith, and Andre Berto vs. Norberto Bravo. That was followed by James Moore against J. C. Candelo in March 2008 at Madison Square Garden.

"There's no school for ring announcing," Diamante says of his craft. "It's on the job training. You learn as you go. My style as an announcer is traditional out of respect for the sport. I never lose sight of the fact that it's not about me; it's about the fighters. If I get nervous before a fight, I remind myself that I'm not the guy in the corner. These guys go into the ring and risk their lives. I watch these guys fight and I'm in awe."

"But I've always been a showman," David continues. "I understand what goes into the experience when someone goes to a live event. It's about the fights but it's not only about the fights. A good ring announcer can rev up the crowd and even the fighters and change the experience for everyone."

As for his own personal journey, Diamante says, "I did a lot of work on myself to get to where I am in my life. Now my thing is, I try to come nice and show respect for people. But give me my respect and don't cross the line. If you cross the line, there might be a problem." He pauses to reflect; then adds, "I am who I am, and I'm doing the best I can. To come out of everything I've gone through, to have my health and the life I have now is a blessing."


Thomas Hauser can be reached by e-mail at thauser@rcn.com. His most recent book ("The Boxing Scene") was published earlier this year by Temple University Press.