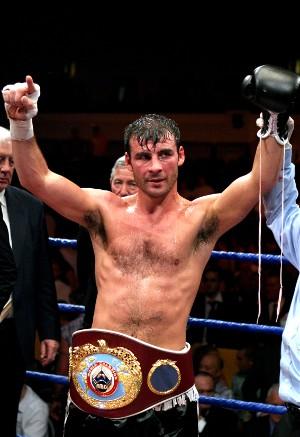 Calzaghe - didn't lose a round

By Thomas Hauser
The New York State Athletic Commission has made enormous progress with Ron Scott Stevens as chairman. It might now be the best commission in the country.

With leadership comes responsibility. If the NYSAC is to remain in the forefront of boxing regulation and reform, this is what will be required of it in the future:

(1) Conduct a serious study regarding the advisability of same-day weigh-ins and act upon it. Early weigh-ins began as a way of getting extra television coverage to hype fights. Now they're the vehicle by which a fighter who can no longer maker weight on fight night is allowed to dehydrate, weigh-in early, and enter the ring ten or fifteen pounds heavier thirty hours later. That raises health issues and also issues of equity when a fighter is considerably heavier than his opponent. With same day weigh-ins, if there's a problem, it's harder to fix. But that might not justify the charade that exists today with lightweights fighting at 150 pounds and welterweights competing at 165. I don't know what the proper resolution is, but a serious inquiry is in order.

(2) Decrease the number of mismatches. A "mismatch" is a fight in which the sklll level and physical attributes of the fighters are such that their encounter is more of a public sacrifice than a competitive sporting event. This is more than a health issue. It also relates to the integrity of the sport and the product that is sold to fans. Promoters and managers push hard for mismatches as a way of building their fighters. But the ultimate responsibility for approving fights lies with the state athletic commission, which should just say "no". It's unrealistic to expect that every fight will be a competitive match-up on paper, and the NYSAC has become increasingly vigilant in this area. But at the very least, the underdog's skill level should be such that he is expected to provide problems in the ring that have to be solved.

(3) Upgrade the performance of referees and judges. The NYSAC conducts seminars for its officials. But despite these programs, there are still some mediocre referees and judges in New York; the powers that be know who they are; and they should be weeded out.

(4) The NYSAC now requires that managers, advisors, booking agents, and anyone else who negotiates contracts for a fighter or takes a piece of the fighter's purse as his business representative be licensed. Stevens says, "Full compliance has almost been achieved." Full compliance should be the goal.

(5) The law requires that numerous fight-related contracts be filed with the NYSAC. This includes the bout contract, boxer-promoter contract, boxer-manager contract, site contract, and all television contracts. But the law isn't always followed. The imposition of significant sanctions in instances where non-compliance is found to exist would encourage full complaince.

(6) Prohibit betting on fights by licensees. At present, there is no specific prohibition against fighters, trainers, managers, promoters, even government regulators, betting on fights (including fights that they're involved with) as long as the bet is properly placed (e.g. walking into a legal sports book and betting on the fight). No one who is licensed in conjunction with boxing should be allowed to bet on any fight (and particularly not a fight that they're involved with). The ban should be policed the way Major League Baseball does it. Get caught once and you're gone for life.

(7) Continue as a strong vocal advocate within the Association of Boxing Commissions for uniform national standards with regard to medical issues. Not every state can do what New York does (pay for MRIs and other costly medical testing for fighters). But New York should push hard for minimum national standards with regard to pre-fight physical examinations for fighters and national rules with regard to such issues as whether a fighter who has suffered uncontrolled bleeding in the brain should be allowed to fight again.

(8) Restore credibility to the New York State titles. Too often, fights are approved as New York State "championship" bouts without being worthy of the designation. The NYSAC takes the position that these titles create activity and excitement. And unlike the world sanctioning organizations, the NYSAC doesn't charge a sanctioning fee. But in the opinion of many, it cheapens the belts when one or both of the combatants is a mediocre club fighter. And it's silly when an out-of-state boxer fights for a New York State title.

(9) During the coming year, the New York State legislature will consider legislation aimed at legalizing mixed martial arts. Rather than sit on the sidelines, NYSAC personnel should offer their expertise in this area before the fact, not afterward.

(10) Other proposed legislation will seek to provide a framework for the conduct of white-collar boxing. The NYSAC should also have input in this debate.

(11) Further explore the use of instant replay during a fight to determine (a) whether or not a knockdown has occurred and (b) whether a cut has been caused by a head-butt or a punch. Instant replay works in other sports. It can work in boxing too. There's a problem in that many fights aren't televised, which would lead to different sets of rules for televised and non-televised fights? But in non-TV fights, the alternate referee can advise the referee if he is certain that there has been a bad call. Baseball, football, and basketball officials look to each other for help. Boxing officials should too.

(12) Implement a rule that would give a fighter's cutman five minutes to stem the flow of blood caused by an accidental head-butt. Fighters are given up to five minutes to recover from a low blow. The same amount of time should be allotted here too. The cutman would not be allowed to offer instructions, and he wouldn't be given additional time if the cut reopened later in the fight. This rule wouldn't always lead to a fight continuing. The placement and severity of a cut is often more significant than the amount of blood lost. But often, the flow of blood from an accidental head-butt unfairly affects the flow of a fight.

* * *

SCORECARD: HBO throws a lot of statistics at boxing fans. Here's another statistic. It's now mid-April. HBO has televised fifteen fights on HBO Championship Boxing and Boxing After Dark this year. And the favorite has won ALL FIFTEEN.

Last weekend's doubleheader from Wales typified the non-competitive match-ups that have become synonymous with HBO Boxing. The opener was a grotesque mismatch between Amir Khan and Ste fy Bull. How bad was it? As Bull ran around the ring bringing back memories of Marrade Hakkar against Bernard Hopkins, Jim Lampley told viewers, "This takes fighting to survive to an absurd level." The end came in round three.

Then Joe Calzaghe stepped into the ring to face Peter Manfredo Jr. As Larry Merchant said afterward, "Peter Manfredo is a television-made star. Joe Calzaghe is a real fighter."

The theory had been that Manfredo would fight aggressively, force the action, and make an interesting brawl out of things for as long as the bout lasted. But against Calzaghe, Peter looked like a deer caught in the headlights of a military tank. A premature stoppage by referee Terry O'Connor ended the encounter in round three. But Manfredo did nothing during the prior seven minutes to suggest that the outcome would have been any different (or much delayed) had the fight gone on.

"The difference in talent level was abundantly clear," Lampley told viewers after the stoppage. Then he suggested that, the next time Calzaghe steps into the ring, he take "a real fight."

There wasn't one second when the outcome of Calzaghe-Manfredo or Khan-Bull was in doubt. Meanwhile, the same night for a much smaller license fee, Showtime televised Diego Corrales versus Joshua Clottey; an entertaining match-up that had pathos and drama.

In it's last three shows, HBO has travelled to Germany, Denmark, and Wales to televise four fights. The underdog has not won a single round in any of them. Are the people in charge at HBO ignorant with regard to the difference between a mismatch and a COMPETITIVE ACTION fight? Or do they just not care?


Thomas Hauser can be reached by email at thauser@rcn.com.